This year's Hari Raya celebrations will be a little different given the ongoing health crisis many countries are currently facing — nonetheless, it's still very much a treasured occasion that brings loved ones together. Take this #stayhome season as an opportunity to connect with those who matter and convey your well-wishes for them in creative and endearing ways.
Try organising a mass Zoom meeting and enjoy a meal with your relatives and grandparents, or perhaps doll yourself up in your Raya best as you catch up with your girlfriends over Skype. If the latter sounds good to you, check out our favourite Raya style picks below, and pick up tips on how to wear them beyond this festive season.
Back to batik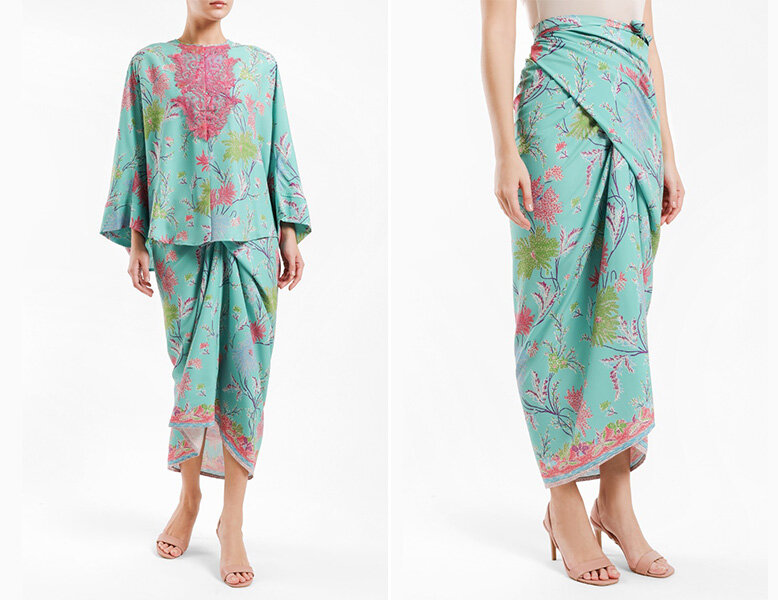 Honour tradition while staying ahead of the fashion curve with this eye-catching batik two-piece set. The blouse's A-line cut and long sleeves exude a refined and tasteful vibe, while its pink embroidery detail along the front adds a bright modern touch to prevent it from looking dated or matronly. The sarong skirt, when draped across the hips, beautifully reveals details of its lovely batik print featuring delicate flowers and leaves.
The man behind this beautiful design, Radzuan Radziwill, deserves a quick mention too; he has been dedicating his time towards stitching personal protection equipment (PPE) to support nurses and frontline workers in hospitals in Malaysia.
Post-Raya pairings: Match the blouse with a pair of slim-fit beige trousers and comfortable nude heels for an elevated casual look. The sarong skirt goes perfectly with wardrobe classics too, such as high neck long sleeve shirts and chiffon blouses.

Texture treat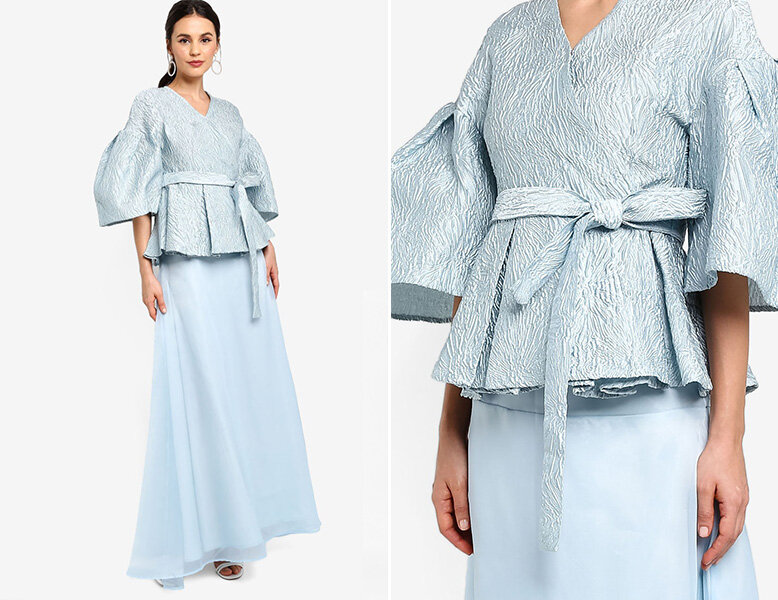 This dreamy, powder blue ensemble is made for modern-day, modest Cinderellas. The dramatic blouse features a unique crinkled texture, feminine balloon sleeves and a waist tie fastening detail, and juxtaposes nicely with the simple solid tone flowy skirt. With the blouse being such a stunning standout piece, it's best to keep your accessories to a minimum so that your overall outfit looks polished and put-together.
Post-Raya pairings: Play up the blue theme and create a casual glam look by matching the blouse with a pair of worn-in, denim blue jeans. Get more wear out of the long skirt too when you pair it with a graphic tee and a pair of sneakers for quick trips to the bank or the supermarket.
La vie en rose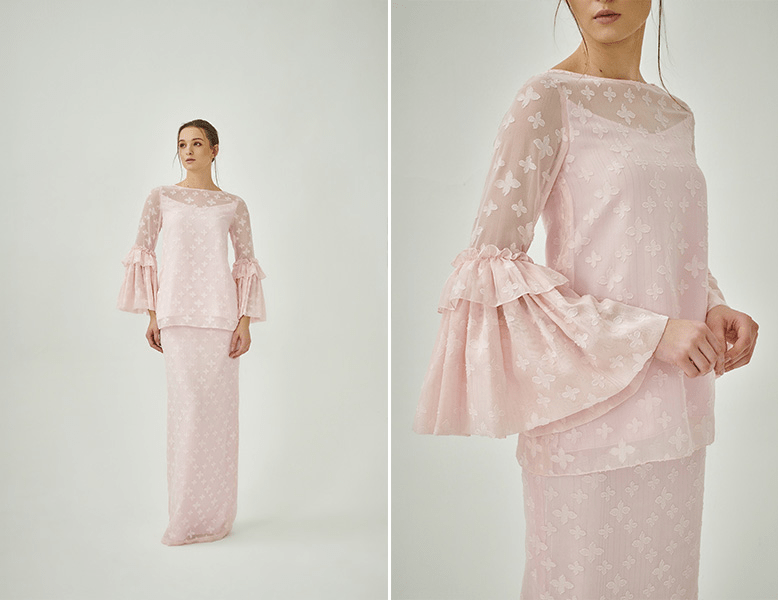 Soft pink hue, ruffled sleeves and sophisticated lace detailing — this design has everything you'll ever want in a feminine outfit. The blouse featuring sheer panels across the neck and shoulders contribute to the outfit's airy, romantic aesthetic, while the skirt has been designed with skirt box pleat details at the back to keep in line with the pleated sleeves that gently flare out at the elbows.
Post-Raya pairings: Toughen up this girly piece with on-trend, black pleather overalls if you are in the mood to switch things up. As for the skirt, it goes wonderfully with button-up blouses in soft shades of cream, white and grey, and would look right at home in a business casual setting.

Selling sunset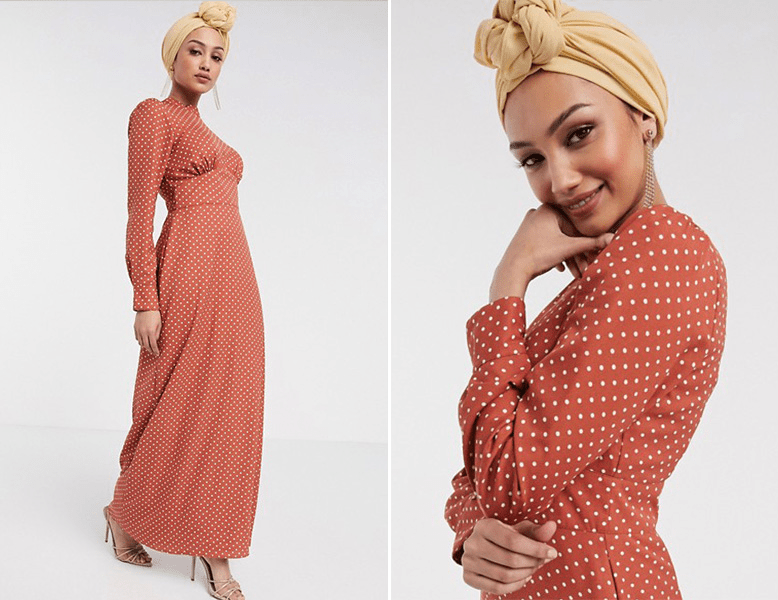 If you are one to shy way from colour and would rather opt for shades such as browns, blacks and greys — it's time to step out of your comfort zone by slipping into this rust-coloured polkadot dress, which is equal parts elegant and playful. This dress gently hugs you in all the right places, such as your waist, while keeping things relatively conservative with its long sleeves and maxi length.
Post-Raya pairings: Put on a pair of gold heels and you are all set for a glam catch-up with the girls, hopefully after this current health crisis ends. You can easily dress this down too with a pair of Superga's and a trendy belt bag.
Complete the look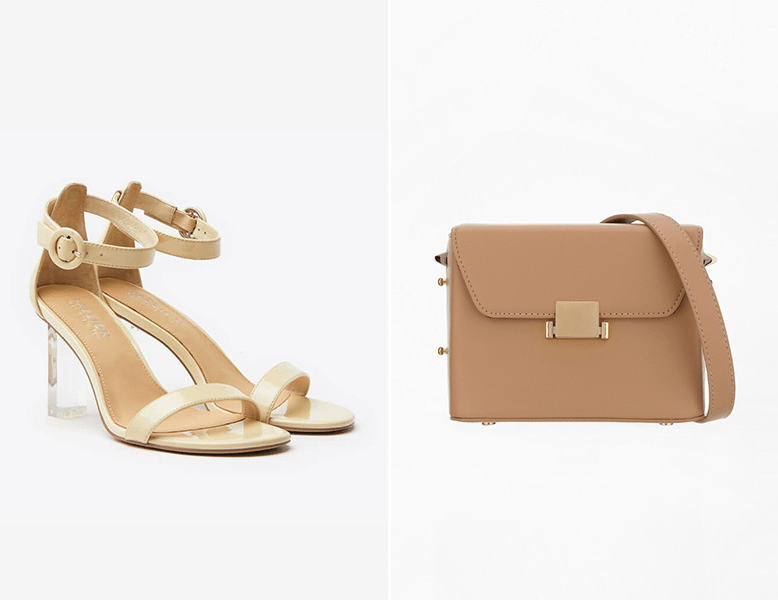 A little neutral goes a long way. Nude accessories provide the perfect finishing touch to your Raya outfit. Plus, they can easily be worn over multiple occasions in the future. These Ankle Strap Sandals will help give the illusion of longer legs, and are also in line with the 'barely there' footwear trend with its transparent block heels. The bag conveniently stores all your essentials too, such as your phone and lipstick. Its crossbody design also makes it a perfect companion for any occasion.
(Cover photo from: alia-b.com)
Next, check out the high-fashion looks that you can cop for cheap.
Comments, questions or feedback? Email us at [email protected].