Face masks and hand sanitisers at the ready — dressing up in the age of COVID-19 may have caused us to prioritise functionality over aesthetics to a certain degree, however, many of us have also become much more creative in expressing our individuality.
From bedazzled face masks and futuristic-looking face shields to colourful, eye-catching mask makeup looks, having fun with fashion is still possible as long as we continue to observe good, personal hygiene habits and practise social distancing. Read on as we round up five must-have pieces you will need as you adjust to the new 'normal'.
The protective mask
Wearing a cloth face covering or a mask is one of the proven, critical preventive measures which you should diligently practise to reduce the risk of COVID-19 spread. While the frequent use of masks may cause your skin to experience discomfort or irritation, you are still strongly advised to continue masking up in order to protect yourself and the people around you.
Instead of dwelling on the downsides or the inconveniences of wearing a mask, look on the bright side of this situation and embrace the face mask as part of your daily fashion ensemble. Countless fashion brands have given their stylish take on this new essential, hence you are bound to find a face mask that will perfectly suit your style and needs. And if you can't find the perfect one, why not try making one yourself?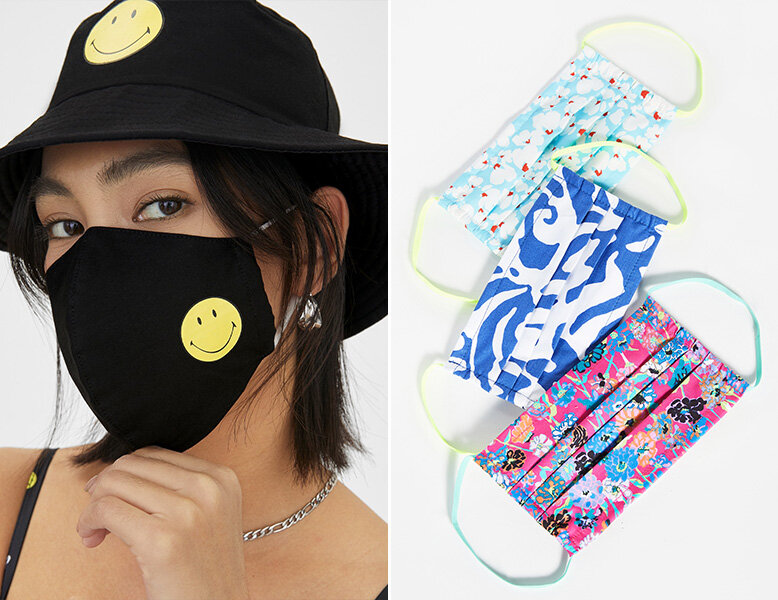 Of course, there are also so many stylish options available now too. The Pomelo Fashion x Smiley smile face mask is a great option for the aspiring 'hypebaes' in our Clozette community. Functionality-wise, it's made of liquid-repellent, antibacterial fabric and is reusable for up to 10 washes.
On the fashion front, it features a cheerful smiley motif on the mask and comes in a versatile jet black shade for easy styling. There's also a matching bucket hat if you'd like to take the look one step further. For those who prefer a more vibrant, cheerful iteration of the face mask, Tanya Taylor's floral face coverings are worth considering as well.
The comfy co-ord

What's not to love about owning two versatile basics for the price of one? Co-ords, short for co-ordinates, are the ultimate indoor-meets-outdoor wardrobe essential as they offer style without compromising on comfort. It's also one less worry for you to deal with if you need to quickly step out for an errand run.
Slip into this matching ensemble if you are feeling uninspired (or a little lazy) in putting together an ensemble, or wear the pieces separately with other items in your wardrobe to create different looks that match your lifestyle and mood.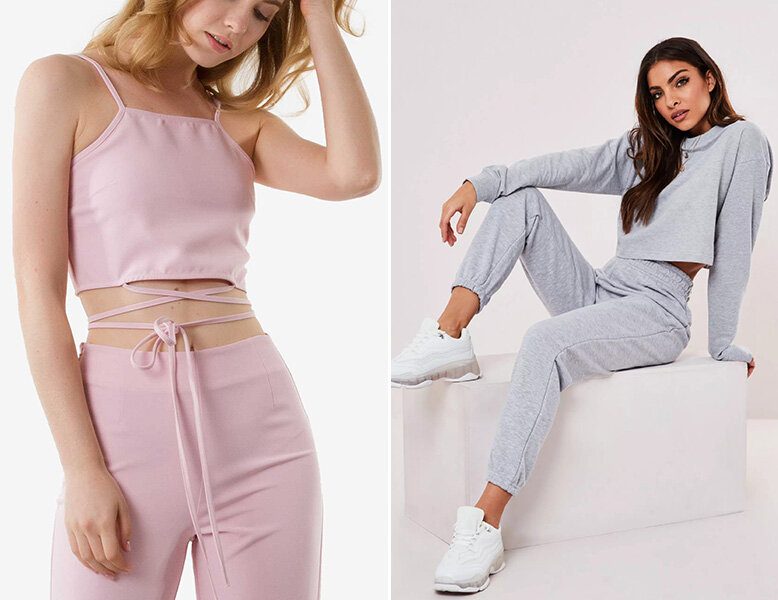 The NoBasic two-piece set comprises of a trendy baby-pink crop top and a pair of high-waist straight pants. For a sportier option, look to Missguided's grey cropped sweatshirt and joggers co-ord set. Need some ideas on styling sweats? Here's our nifty guide.
The handy mask pouch
Remain vigilant even as you're going about your daily outdoor activities with your face mask on. As you are dining at a nearby restaurant or café with your besties, don't forget to store your mask safely in a pouch instead of carelessly leaving it on the table or behind your seat. Consider investing in a re-sealable bag, such as the eco-friendly Lexngo Silicone Flexi e-Zip bag above that is made from 100 per cent food-grade silicone.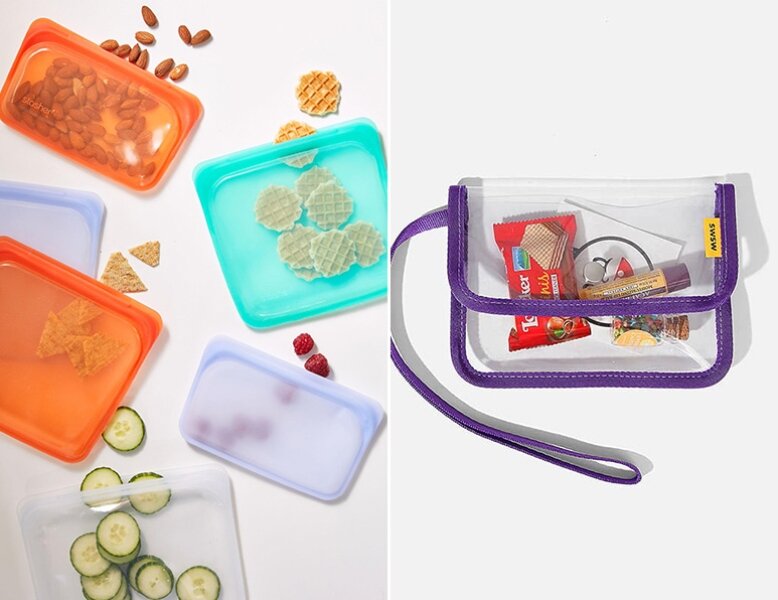 Other stylish alternatives to consider include Stasher's small reusable silicone snack bags (available via Urban Outfitters) and SWSW's PVC pouch (available via Sift & Pick). The former features the brand's patented Pinch-loc™ seal to store your items in place, while the latter is available in a variety of bright and bold shades including yellow, green and blue.
The fashionable and functional purse

As much as we love toting around our favourite mini bags, it might be wiser for us to retire them for the time being as we learn to prioritise safety and practicality. Before heading out, it's important that we bring along the key, new 'normal' essentials with us, including a hand sanitiser, antibacterial wet wipes as well as disposable surgical masks (in the event where someone is in need of them.)
If you're on the hunt for a roomy carry-all, check out Kate Spade New York's market woven medium tote, which will instantly put a smile on your face with its colourful, vibrant striped design. This tote also comes with a drop zip-top closure and interior pockets to store your essentials safely and stylishly.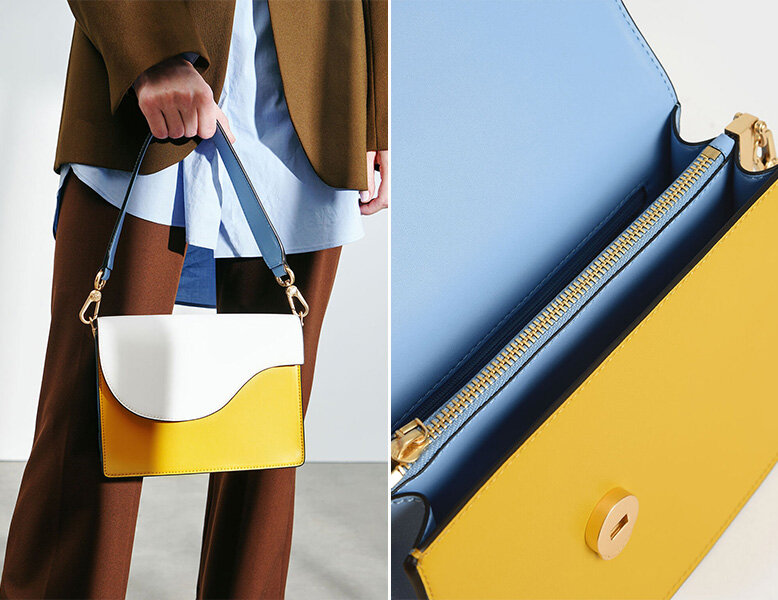 Another purse that caught our eye is Charles & Keith's shoulder bag, which comes with push-lock closure and a single spacious compartment. Its cheerful yellow and baby blue shade provides a pop of colour to your neutral ensembles, while its adjustable, detachable strap allows you to wear it in multiple ways.
The statement hair accessory
If you ever needed a good reason to attempt the '90s-inspired hair accessory trend, this will be it: putting your hair back with a hairpin (or two) helps to reduce the likelihood of you touching your face, which is an important habit that we ought to break to prevent the spread of harmful viruses and germs. This fun accessory has been widely embraced by some of our favourite singers, including Dua Lipa, Hyuna and Jennie Kim of BLACKPINK.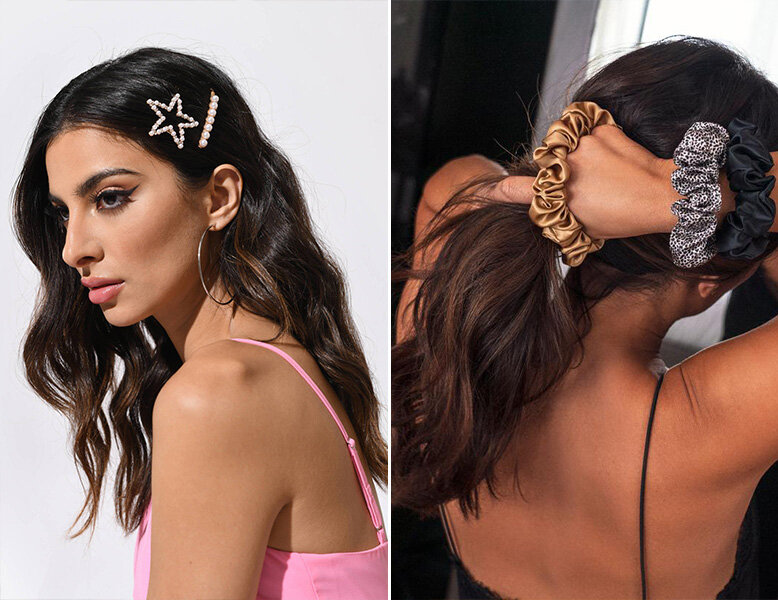 Have fun pinning your tresses behind your ears with these faux pearl-encrusted hair clips by Tobi. (Quick tip: try braiding the looser strands of your hair before securing them in place with a hairpin — this helps to minimise frizz and flyaways.) A gentler and fuss-free alternative you can also consider is a Slip scrunchie, which is made of mulberry silk to avoid hair creases.
Which of these new 'normal' style essentials do you already own?
(Cover photos from: pomelofashion.com, zalora.sg and tobi.com)
Next, learn how beauty would be like in the age of the new normal.
Comments, questions or feedback? Email us at [email protected].