The International Air Transport Association caused quite a stir when they warned that air travel won't go back to its pre-crisis status until 2023. With no choice but to embrace the current circumstances, the term 'new normal' was added to our vocabulary as a way to cope with our now. This meant constant vigilance, improved and thorough sanitation practices, masks becoming a daily essential, and of course, safe social distancing. With a sudden and inevitable shift in lifestyle, it's no wonder why most of our priorities have also changed. We are focusing more on needs than wants. And, unsurprisingly, one of the industries hit by this major change is fashion.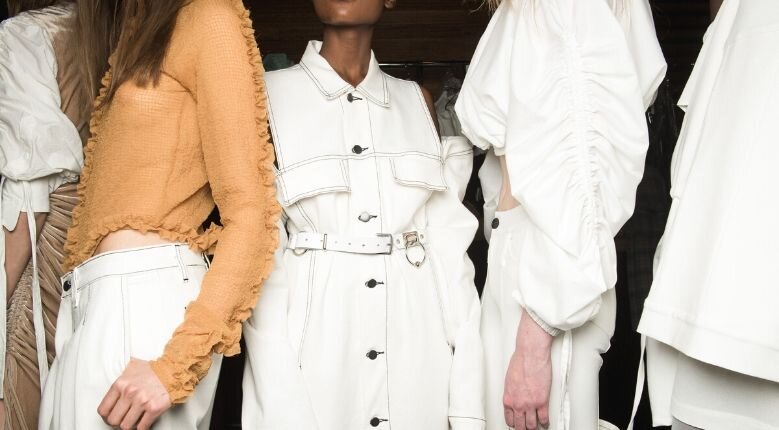 According to
recent reports
, projected sales within the fashion industry from all around the globe have accounted for billions of losses since COVID-19. Both small scale businesses and long-established conglomerates were forced to halt operations, or worse, shut down completely
as a result of a dip in sales
. On the consumer front, workers from non-essential industries are also getting used to remote working, leaving little to no room to actually dress up.
With this altered reality changing our lifestyles juxtaposed against our need for new clothing, we can't help but wonder: does fashion still have a place in this new normal?

Garment choice and after-wear care, according to health experts
First, let's get our facts straight. Is there a proper way to dress and care for our garments to protect ourselves from the coronavirus?
"COVID-19 is a respiratory disease spread via droplets that can enter the system when droplets carrying the virus come into contact with your nose, mouth or eyes, directly or indirectly, through your hands. It is extremely contagious and to date, there is still no cure or vaccine," said
Dr. Kenneth Loo
of the Kenneth Loo Family Clinic.
Despite its effects through skin-to-skin contact,
research findings
suggest that COVID-19 transference through clothes and shoes are highly unlikely. This is because the virus' lifespan tends to
differ depending on which surface it clings to
, fabric being one of the least susceptible. Regardless, health experts still recommend that we take extra care and be non-complacent when it comes to the after-wear care of our clothing.

Dr. Loo advised that aside from usual precautions like mask-wearing, hand washing, constant sanitising and avoiding touching of the face, "changing out of your clothes" as soon you get home and showering "before you come into contact with the rest of the family" are highly recommended.

Similarly, the World Health Organization's guidelines say nothing about further precaution on our outdoor wardrobe. Clothes that are worn outside are still advised to be washed via your usual laundering methods, as long as the household is cleared of individuals with COVID-19 symptoms.
Who's wearing what?
For Manila-based content creator and trading company executive
Faye Balogo
, the current General Community Quarantine (GCQ) status in the city meant reporting back to the office. Aside from a neoprene mask, a notable accessory that has made its way into her 'new normal' wardrobe is hats.
"Before, I would only wear a hat as an accessory when taking OOTD photos," Faye shared. "But now, every time I go out, I always make sure to bring a hat for extra protection."

As for her other 'new' essentials, Faye said, "I also carry a hand cream now since I tend to wash my hands and use alcohol and sanitisers frequently and that can be really drying."
In Malaysia, merchandising executive
Sherry Goh
, shared that while she's still working from home at the moment, planning outfits that will look good with a mask has become some sort of a hobby. She also foresees more "outerwear, like cardigans or jackets" into her work wardrobe, which in her opinion elevates a look and adds an extra layer of protection without necessarily looking over-the-top.
In Singapore, we turned to Clozette's Community Manager Sabrina Wong, whose recent work commitments meant stepping back into the office. Sabrina shared that with Singapore's humidity, combined with the need to wear a mask, breathable clothes like activewear have become her go-to.
"Wearing my activewear to work is not only comfortable but convenient to exercise in after working hours," shared Sabrina. "Perhaps, in the future, the new normal would be to wear our activewear to the office!"
"I'm eyeing Gym Shark's activewear which has a wide range of products. With their type of versatile-looking activewear pieces, I think women don't have to be afraid of looking too revealing while still showing a bit of skin confidently should this 'new' type of work setup continue in Singapore."
While there seems to be less adjustment required on our end as consumers, it's a whole other story for professionals working in fashion.
Filipino designer Wilbur Lang on powering through the transition using technology
"The pandemic has affected small to large businesses and that does not exclude mine," said Filipino designer Wilbur Lang. "I have multiple clients who decided to cancel their orders. Mostly are custom made pieces."

Despite his business taking a hit during the pandemic, technology serves as an upside to keeping his work as a creative afloat. This covers new appointments and consultations done online, as well as getting supplies through e-commerce platforms. He also noted that since there is a halt in production due to cancelled fashion shows, he now has more time to be more thoughtful in his upcoming design.
"Before, I used to complain a lot about not having enough time to sketch or reflect more onto making collections," Wilbur confessed. "Everything is so fast-paced. I used to do two full collections a year and since I have a small team, we have to do a lot of time management. [Now], I mostly spend more time reflecting and sketching for my next curations."

When asked of his thoughts as to how this period in time will be remembered by both designers and fashion enthusiasts alike, he remained optimistic: "This is a time where designers came together and provided alternative PPEs (personal protective equipment) for healthcare workers. Instead of closing down the studios and ateliers, the fashion industry is able to use its resources to provide aid to frontliners."


CYC's Loo Fern Fong on compromise, versatility and innovation
Singapore menswear brand
CYC
's Managing Director
Loo Fern Fong
shared similar sentiments. She expressed that even prior to the Circuit Breaker being implemented, both their brand's employees and management had to come up with a compromise to continue operations.
"It felt like we were falling into a deep chasm. We got our retail staff to use up their annual leave. We pleaded with the landlords to reduce rental. In March, we told everyone to go on a four-day workweek and take a 15 per cent cut in salary. I took a 30 per cent cut in mine," she said.
As the situation grew more unpredictable, she was still thankful that through proactiveness and versatility, they were able to come up with mask designs even prior to the growing need in Singapore for both locals and foreign workers. When the need for reusable masks rose, they were able to slowly bounce back as a business while still helping out the community.

Sharing her epiphany regarding the situation, Loo Fern said "Running a business is like doing an Ironman challenge. We must be prepared to be adaptable and flexible to the changing landscape and environment. However, we must also be mindful of our capabilities and resources and not overstretch ourselves."


Stylist Jeann Ng on clothing as a sanctuary

Speaking of keeping the right balance between flexibility and capacity, it's long been established by mental health experts that fashion has the power to serve as a weapon and a 'safe space', especially under trying conditions. That's why despite hitting a pause on physical consultations and shopping trips when COVID-19 hit the region, stylist Jeann Ng still ensured that her services are made accessible to her clientele. Similar to Wilbur, technology came to her aid.

"I saw an essential need to adapt to the change, hence I have introduced virtual style consultations with the use of virtual colour drapes and technology to analyse colour and body shape influences for my sessions," said Jeann.
However, since more people are working from home, consultations are not as often as they were. Even so, Jeann offered a piece of style advice to those who are wondering about the place of fashion today: "Casual dressing would be the hot spot in the wardrobe." Focusing more on fashion's effects than its intricacies, she continued, "Wear what makes you happy — something that fits and flatters your shape and is authentic to your personal style. [Also, don't forget to] mix and match items. The more you can mix and match, the more outfit combinations you'll have and the more fun you'll feel in expressing your personal style [despite the current necessary changes]."
Making smart choices in fashion
Now — just to finally get this out of the way — you might be thinking: "Sure, I get the struggle, but should we really be worrying about the future of fashion despite everything that's happening?"
First off, there's nothing wrong with thinking about fashion no matter what the social climate is, especially since it is proven to
help with productivity and suppressing bouts of anxiety and depression
. Plus, beyond cancelled shows and temporary shutdowns — along with other challenges shared by Wilbur, Loo Fern, and Jeann — we should also give the fashion industry some credit for
continuously contributing to the fight against COVID-19
despite experiencing major hits.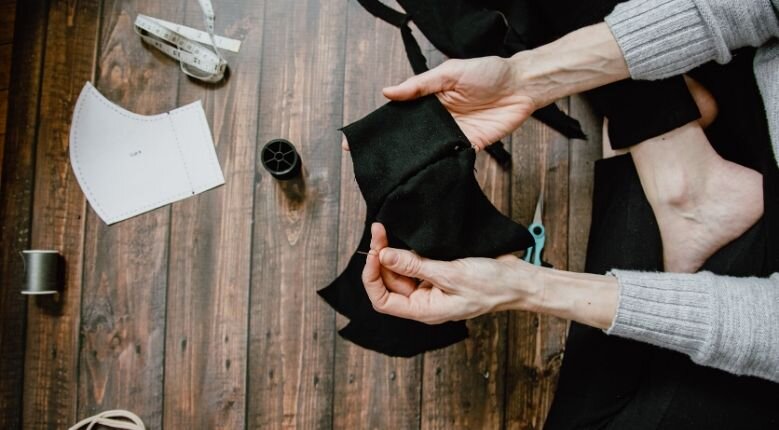 Most importantly, behind its glitz and glamour, the fashion industry is also a source of livelihood for many. Its future connects beyond just 'vanity' but also with the global economy. So, as long as you're being smart with your choices and not overdoing it on the retail therapy department, there's nothing wrong with thinking of fashion as a necessity.
Bottom line is, there is a way to balance personal style with safety. Whether we're looking at it technically or practically, it's safe to assume that the 'new' normal isn't as different from our 'old' normal — fashion-wise. There's still plenty of room for creativity, self-expression, and experimentation, just with an added level of functionality and caution.
What's next?
"It is not difficult to imagine the new normal where we never leave home without a mask," Jeann noted. "As more innovative mask designs surface, more people would switch away from surgical mask to creative mask designs, so they appear to be less indicative of a 'health condition'."
Loo Fern agreed, saying, "We found that even in the choice of masks, those with 'classic' personalities will only wear black or blue, more [laidback] personalities will wear neutral colours, 'romantics' will want to wear masks that will match their shirts and 'dramatic' personalities will want bright, cheerful prints to light up their days."
Wilbur also concluded that fashion being viewed as "casual protective gear" will continue far into the future.
"More people would be very cautious of what they wear especially when going outside," he said. "Clothes will be more functional and of even better quality since most won't have the luxury of buying clothes often."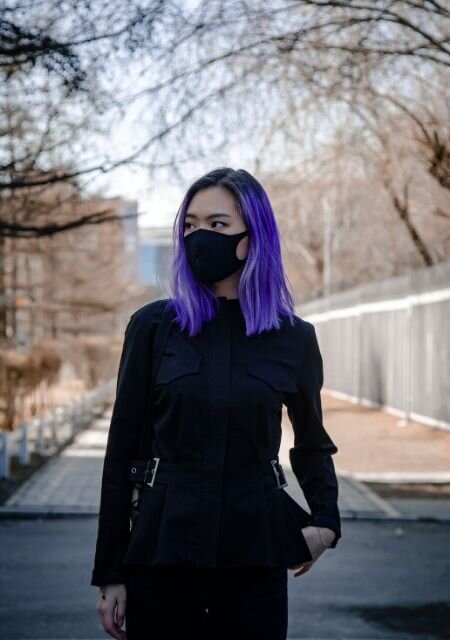 As for what they think this period in time will be remembered in history?
"The 2020 reset," said Loo Fern. "This is the first time in world history that almost every country is taking similar actions to combat the virus. With the lockdowns in almost every country, many businesses are taking a beating and need to restructure in order to survive as this is not a short term event. Business people also have to reset our priorities to ensure the sustainability of our businesses."
"If I were to nickname this era, it would be 'The Mask Up Evolution'," Jeann quipped. "This is because we've seen how fashion designers and brands are adopting this new accessory in their product lines with fanciful designs, branding, etc. And of course, because wearing a mask nowadays is not just for health reasons anymore but has also become a fashion statement."
Finally, Wilbur replied, "Viral 2020s. Aside from the obvious COVID-19 reference, it seems like 2020 has some kind of viral news or event every month if not every day. It's one calamity after another. But I do hope the next half of the year would turn out good."
We hope so, too, Wilbur. We hope so.
Comments, questions or feedback? Email us at [email protected].