In the past few years, we've witnessed heartbreaking news regarding destinations that left a mark on all traveller's memories. Due to worsening environmental concerns, the stunning Maya Bay in Thailand and the sparkling Boracay Island in the Philippines had to close to pave way for rehabilitation efforts. Other traveller hotspots like Indonesia's Bali is also suffering from problems like a dwindling water supply on the island, among others. These three places aren't the only victims of over-saturated tourism — the list is endless, and the deterioration their natural resources are experiencing only worsens. At present, it all seems so grim, but with eco-friendly travel becoming a trend for jet-setters this new decade, perhaps we still have a shot at a brighter future.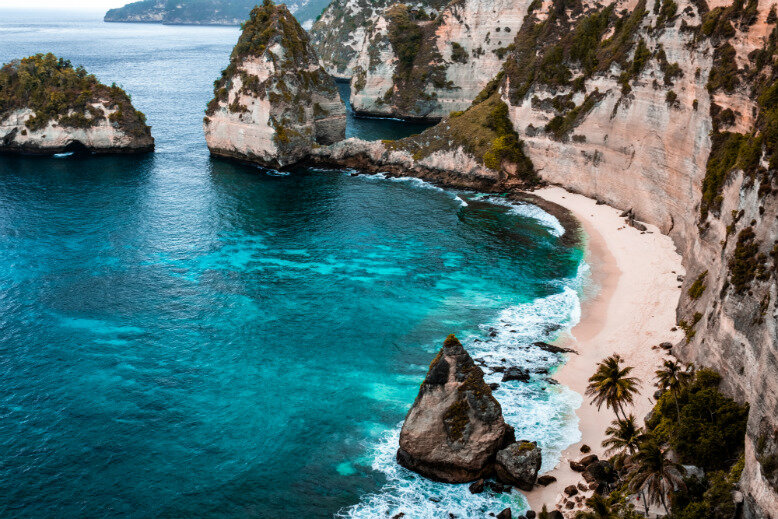 White sand shores of Bali
As the decade of the 2020s unfolds, travellers are becoming more aware of the impact they have on the environment. According to a study by Agoda, more and more want to make eco-conscious travel choices this decade. This sentiment is especially strong with those coming from within the region — perhaps because of their first-hand experience of the negative impact tourism had on their islands. It's a laudable initiative, but in reality, eco-friendly travel is easier said than done. What is it really and how is it done? Read on to find out.
Weighing the possibilities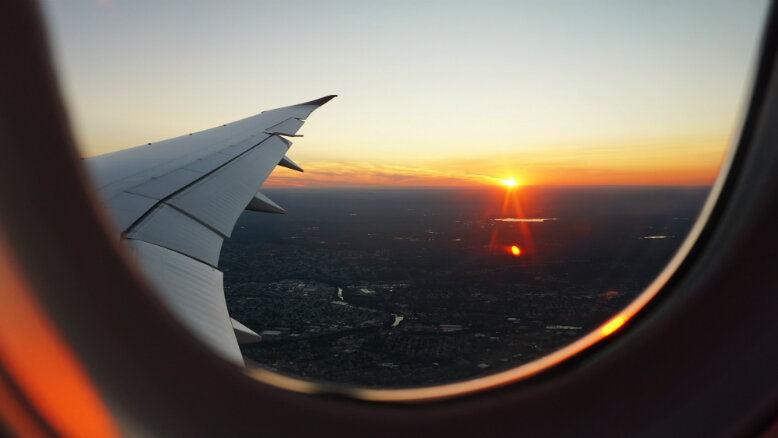 Your getaway transportation alone produces so much carbon footprint that affects the environment
Everything we do, no matter how small, causes a butterfly effect on the environment we live in. When we go about our daily tasks and even in our travels, we leave footprints like carbon emissions that contribute to environmental problems. With that, it's important to understand that we can't be totally 100 per cent eco-friendly. "As much as we try to do our part in planning eco-friendly trips for our guests, we cannot control many other aspects of travel that have always been there and would take a lot of years (maybe even decades) to try to revolutionise and change," says Monica Songco, co-owner of Bookie PH, a DIY travel agency that aims to make travelling hassle-free. But what we can do, at least, is to minimise the damages we cause.
It all starts at home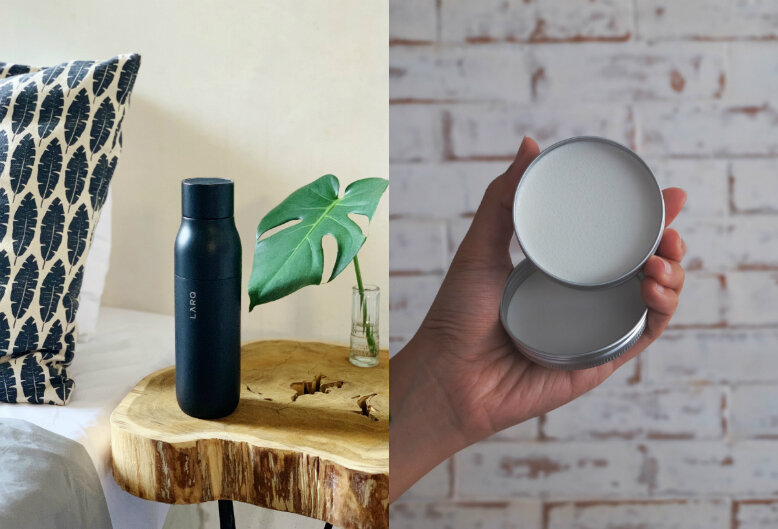 Left: Reusable bottle; Right: Wawais PH's Organic Sunscreen (Photo from: bookie.ph)
"The first step to sustainable travel is, foremost, sustainable living. I think most of us can agree that if we're not conscious or aware enough at home, then it'll be quite difficult to apply this when we are on the move," Monica adds. It's important to reflect on our day-to-day choices, then gradually moving on towards reducing our carbon footprint. That means giving up on single-use items like plastic straws, utensils, and bags, and bringing along re-usable alternatives made of metal, bamboo, and other sustainable materials. If possible, try to gradually shift to using only organic products. Brands like Wawais PH offers a selection of travel-friendly organic products. But be mindful Turning off appliances, lights, and water when not in use is a complete must. If we make it a habit to reduce our energy consumption and waste at home, we're bound to practice it even when we leave to explore the world.
Aside from all those, we can apply these adjustments to our style and beauty practices too. As Chetna Bhatt, founder of sustainable lifestyle brand Ashepa brand, mentioned, "this means adopting a mindful approach, that looks beyond instant gratification and towards long-term impact." Other than getting your fashion needs from eco-conscious brands, you can also explore renting clothes to lessen impacts of over-production. With regards to beauty, you can give your skincare routine an eco-friendly overhaul and use cosmetic products that weren't tested on animals
Book wisely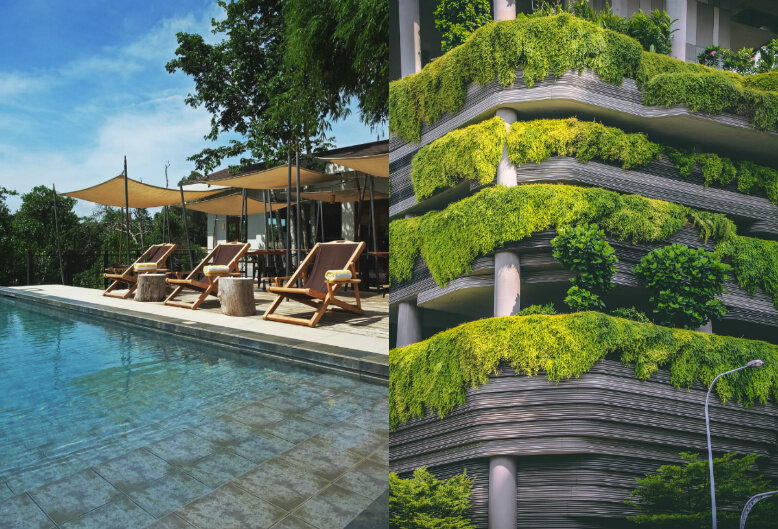 Left: Funny Lion Inn, a luxury eco-boutique hotel at Coron Palawan (Photo from: bookie.ph); Right: ParkRoyal Collection on Pickering, Singapore, awarded Asia's Leading Green Hotel
Making eco-friendly travel choices really is challenging, since, as mentioned, some aspects of the travel industry remain unchanged for decades now. For one, we still print out boarding passes and tickets, laying waste to more paper, and single-use toiletries are still offered by many establishments. But that doesn't mean we have no way to take change into our hands. More businesses and hotels are adapting to more sustainable operations. With the internet, it's now easy to research which ones practice eco-conscious efforts. So, as much as possible, we should support them and their advocacy by buying their goods or booking them.
Leaving a mark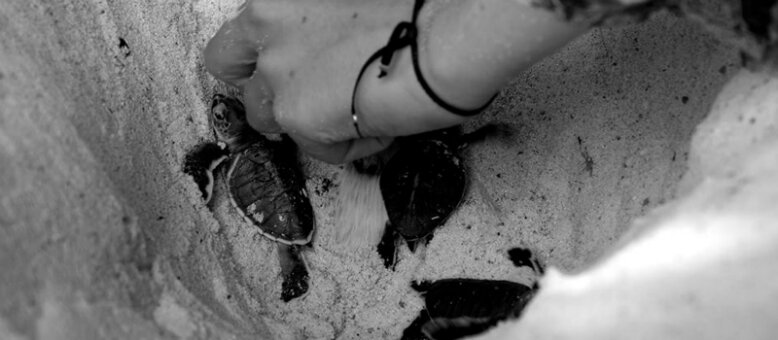 With their turtle hatchery, Tanjong Jara Resort in Malaysia is just one of the many resorts in the region working towards preservation. (Photo from: tanjongjararesort.com)
The efforts to undertake eco-friendly travel don't only stop with the planning stage. Aside from booking sustainable merchants and bringing along reusable items that you use every day along with you on your trip, your actions should continue even on your trip. One quick example is not having your towels replaced every day during your stay. Tons of travel-related sites and apps are also available to help you plan your eco-conscious trip. For example, certain booking companies make it a point to visit their partner establishments first-hand, so they can help travellers filter out their options for an eco-friendly trip. There are plenty of ways to help if you take your time to research, but it could be as simple as the adage: "Take nothing but pictures, leave nothing but footprints, kill nothing but time."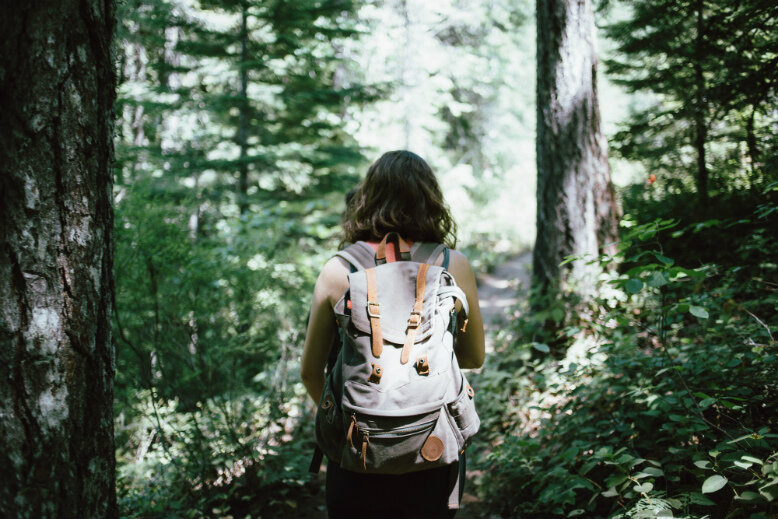 Eco-friendly travel goes beyond mere appreciation of nature
Though we're seeing a rising trend for eco-friendly travel this 2020, there's still so much to learn about truly being environmentally-conscious. A number of travellers and institutions in the industry alike still lack awareness on the impact they have on the globe. But that doesn't mean we shouldn't do our part to change and spread the word. Our little actions are more needed than ever, and they still hold much power to preserve what we have for the sake of tomorrow. As Monica puts it: "In the long run, you may be missing out on seemingly fun and Instagram-worthy moments but are taking a step towards saving the environment, because hey, there are a whole lot of things to do and experience other than those you see on your feed."
Want to take a small step to sustainability? Start with your skincare with these tips.
Comments, questions or feedback? Email us at [email protected].