They say that trends come and go. But from the never-ending tie-dye "trend" to the reimagined Crocs, it seems the fashion cycles have shortened further. A surprising trend making a comeback right now are corsets — or a reinterpretation of the old-school shapewear. We've seen it on the virtual runway of Dior's Cruise 2021 show. On the streets of LA, Hailey Baldwin Bieber (who's been known to sport a corseted top every now and then) just stepped out in a denim one made by Vivienne Westwood. So it's safe to say that corsets are making a gradual comeback in our everyday style. Why not stay ahead of the curve (pun intended) and try it for yourself? Here are some cute corset tops you could shop right now.
Pomelo Puffed Off Shoulder Corset Style Top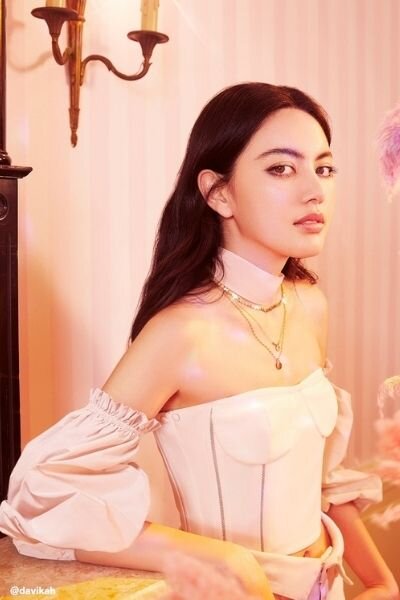 Pomelo modernises the corset with this top. You could wear it as a tube top or with the puff sleeves for an off-the-shoulder moment. If you're apprehensive about the tight fit, the polyester and spandex material will hug your curves in the best possible way. Did we mention that Pomelo makes this cute corset top up to XXL? Trust us, you'll find the perfect fit.
Style it up: For this, pair it with your favourite high-waisted, bootleg denim jeans for that casual but stylish moment.
Miaou Campbell Corset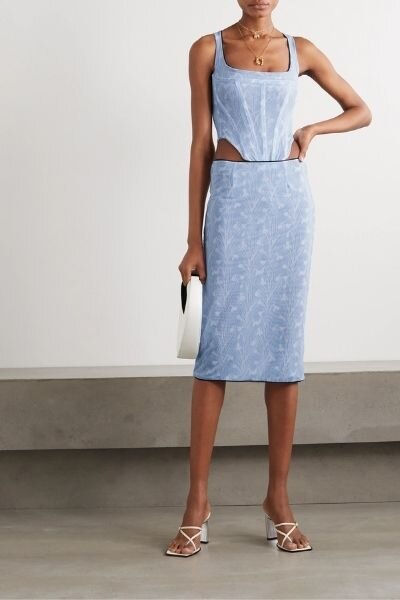 For a printed option, this Miaou Campbell Corset takes a traditional spin on the corset with its boned structure that cinches your waist. But don't let the boning fool you, it's rather comfy since it's made with printed stretch-mesh fabric. The sky blue hue is very easy on the eyes and makes it ideal for a daytime look.
Style it up: Turn it into a co-ord outfit with the matching Miaou Moni Skirt for an effortlessly elegant OOTD.
Minjukim Round Corset Top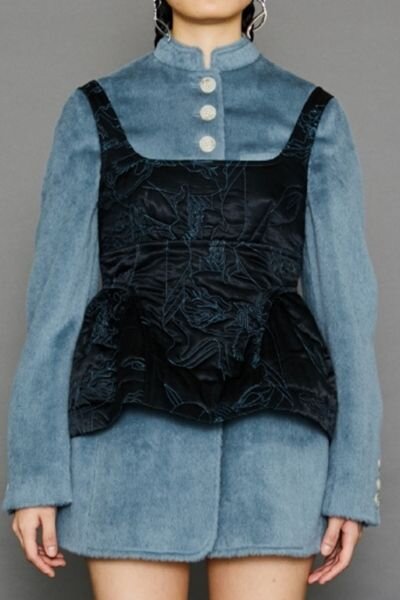 Channelling a darker, more gothic take à la Go Mun-Yeong from It's Okay Not To Be Okay, Minjukim's Round Corset Top in black from her "Knight of Night" collection would be perfect for evening engagements. The cotton and polyester blend looks like velvet, further upscaled by the subtle blue print weaved across the fabric.
Style it up: Wear it with black heels, crisp slacks, and a blazer for work or dress it down by layering a long-sleeved top underneath.
Dion Lee Contour Combo Corset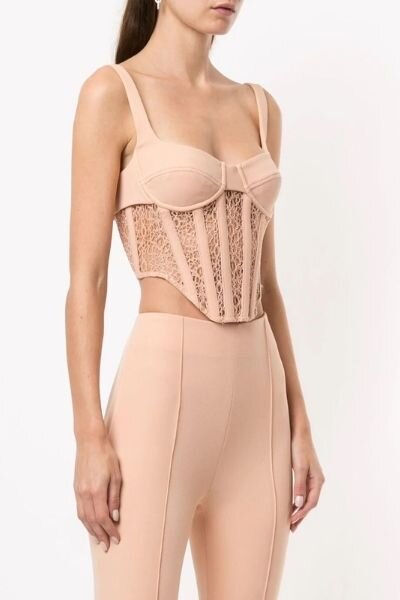 Another luxe designer option is the Contour Combo Corset from Dion Lee. The Australian designer is known for his structured pieces and this cropped corset top is no exception. The curved hemline creates an hourglass shape — tight ties, not required — while the lace panels add a hint of daintiness to the design.
Style it up: Wear it with the complementary set of trousers in the same sandstone pink colour and throw on a sleek black leather jacket for a sweet and edgy 'fit.
With Love The Brand Vinci Top
Ever thought of switching out the crisp white button-down for a cute corset top? The Vinci Top from With Love The Brand gives the closet staple a run for its money. The tight-fitted corset has a flattering square neckline and billowing sleeves that are cuffed at the wrist, creating a very romantic silhouette.
Style it up: Because of its simplicity, this versatile piece can go with almost any type of bottom, from jeans to trousers to skirts. Have fun playing dress up!
(Cover photo from: pomelofashion.com and net-a-porter.com)
Looking for a more laid back style? Here's how you can nail the cottagecore aesthetic.
Comments, questions or feedback? Email us at [email protected].