What exactly is the 'Cottagecore' aesthetic, also known as 'Farmcore' or 'Countrycore'?
Imagine if you could escape from a stressful, bustling environment for just a few moments and retreat to the vast, quiet countryside where cell service isn't a necessity. There, you spend the day unwinding with a book as you lounge around on the grass in your long, flowy dress with puffy sleeves.
That's exactly what cottage core, inspired by a romanticised interpretation of western agriculture life, is.
If you've yet to notice, the 'Cottagecore' aesthetic has actually been creeping into our wardrobes (and our social feeds) much more than we have realised — not that we're complaining, of course. The look is about embracing soft colours, natural fabrics and roomy, layered clothing. As the aesthetic is also very much centred around the idea of a simpler life that's harmonious with nature, you are welcome to participate in hands-on activities, such as baking, cross-stitching and floral arrangement to fully 'immerse' yourself in the 'Cottagecore' life.
Ready to learn how you can nail this trending look? Read on to find out.
Live in long, flowy dresses
It's time for you to retire your denim jeans and graphic tees, as your new wardrobe staple shall be the long, flowy dress. Fabric-wise, your dresses should be made of light, breathable material, such as cotton and crepe. As seen above, content creators Andrea Chong and Jenn Chia embody the aesthetic with their chic, matching floral dresses and straw hats. (May we also add how gorgeous they look in a field of beautiful roses?)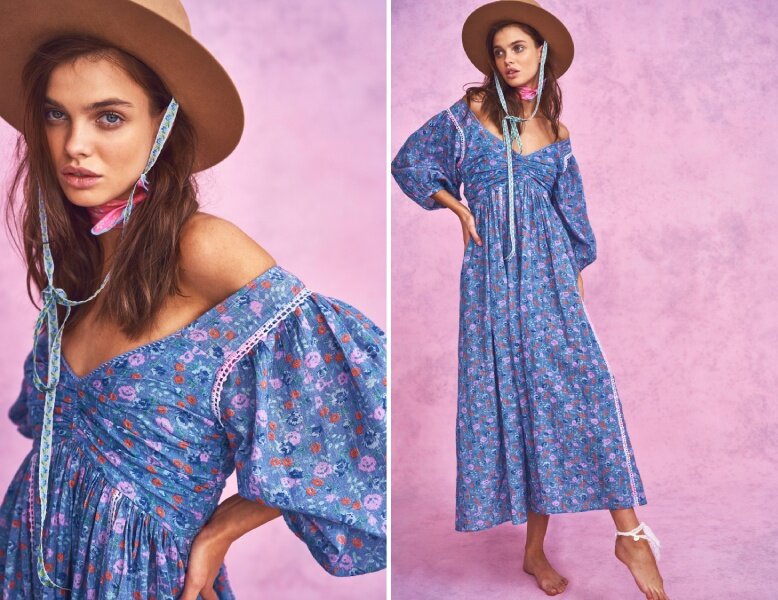 Check out: New York City-based lifestyle brand LoveShackFancy's lovely 'Roslyn' dress, which features windowpane cotton dobby fabric, a delightful floral print and embroidered lace trimming. Plus, it's also designed with generous elbow-length sleeves and a loose skirt that falls from the waist. (For more fabulous frocks, click here to discover our round-up of comfortable house dresses from local labels that we love.)
Pick up cross-stitch or embroidery
Trust us, you'll be fine even if you were to disconnect from your phone and laptop for just a few hours in the evenings or during the weekend. It's important that you learn to relax your mind and unwind with an activity that's a little more down-to-earth and hands-on. Enter cross-stitch, a form of sewing which fans of the 'Cottagecore' aesthetic enjoy spending time on as a mindfulness activity and as a means of self-expression.
P.S. Peep the behind-the-stitch shot shared by UK-based sister duo @sewbotanicals, who jointly run a shop on Etsy selling charming hand-embroidered art, DIY kits and PDF patterns.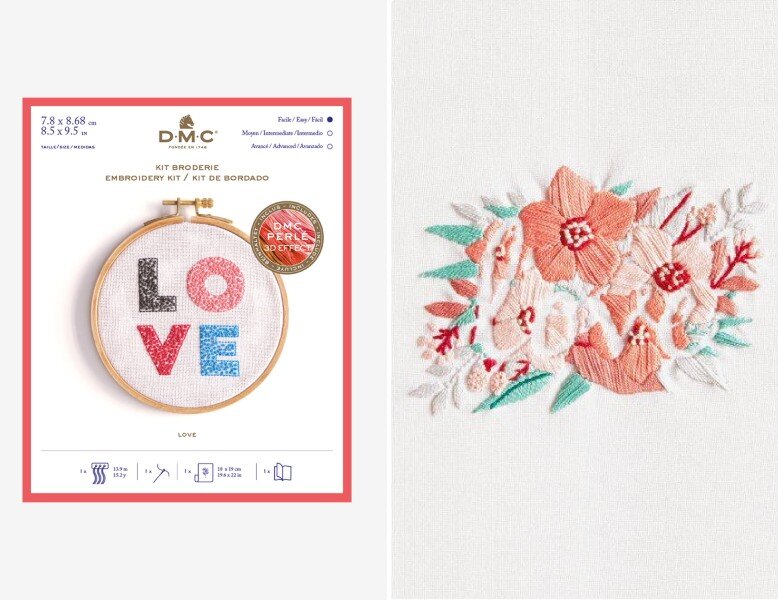 Check out: Contemporary needlework supply store Wish I Were Stitching's fun catalogue of crotchet, knitting and stitching supplies that are sourced from all over the world. To begin your cross-stitch journey, consider picking up the DMC 'Love' Cross Stitch Kit, which is perfectly suited for beginners. The kit comes with 15 yards of pearl cotton, a set of instructions and other essentials to get you started.
For those of you who have already dipped your toes into the world of needles and thread, level up with the DMA 'Love Flower' Pearle Effect 3D Embroidery Kit, which also provides all the tools you need to create your very own floral embroidery.

Stock up on vintage-looking separates
Beyond your loose-fitting dresses, it's also worth for you to expand your wardrobe with a few vintage-looking separates. Above, we have New York-based content creator Kat cuddling up to a vase of fresh blooms in a green cardigan and a pair of high-waisted shorts. Think loose linen suits or overalls if trousers are very much your thing. You are also free to explore puffy-sleeved blouses, roomy button-up shirts and patterns such as paisley, floral and gingham.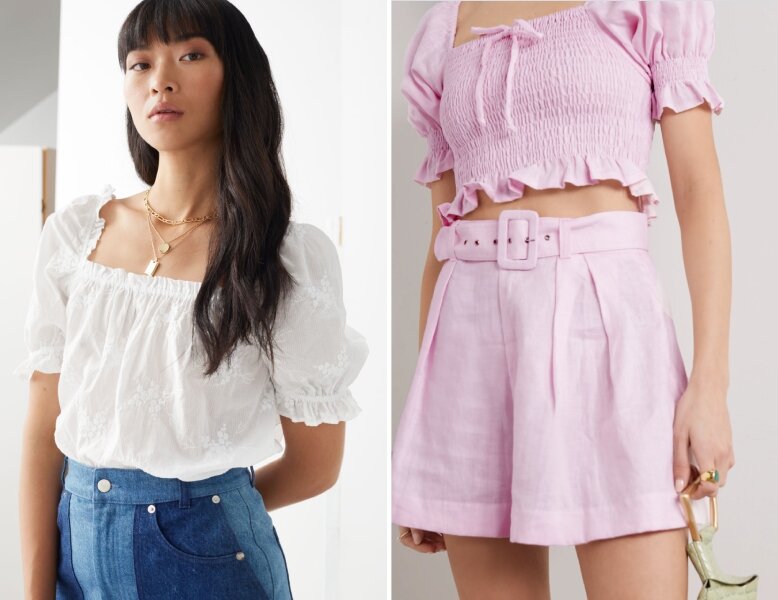 Check out: & Other Stories' organic cotton blouse designed with a square neckline and puff sleeves. It's pretty much the perfect everyday piece you can easily style with a pair of high-waisted shorts, such as this belted linen number from Faithfull The Brand. These 'Priscilla' shorts provide an added dose of femininity to your look with its light pink hue and flattering fit-and-flare shape.
Embrace dainty accessories
Don't forget to complete your 'Cottagecore' look with a few dainty accessories. You are free to don hand-crafted creations where possible, such as a knitted hat, minimalistic earrings and bracelets. Alternatively, you are welcome to get stack-happy too and create your own ensemble of accessories to showcase your unique personality. We love Art Director Zeena's vibrant shot of her rings and floral scrunchie and are inspired to level up our jewellery game too.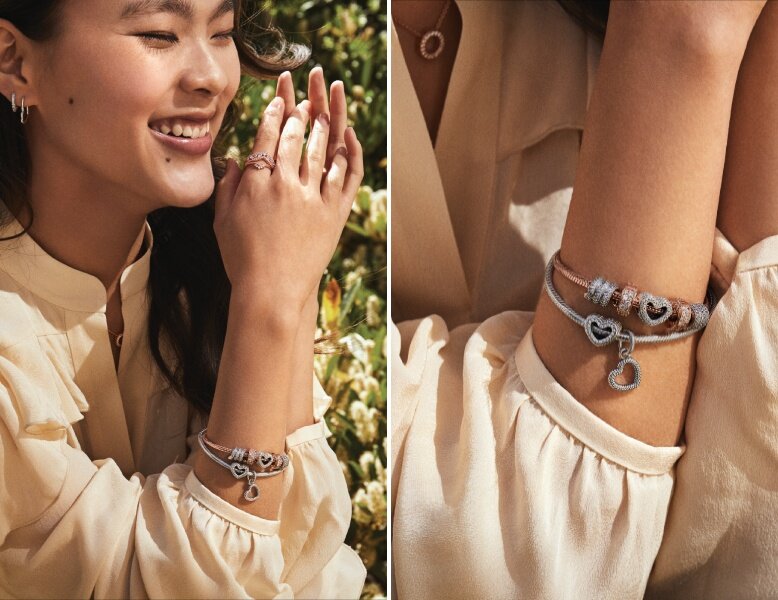 Check out: Danish jewellery brand PANDORA's newly launched PANDORA Icons collection, a modern take on the brand's core collection which stars the snake chain pattern and classic 'O' pendant. More than just a stunning piece, the sparkling marquise double-wishbone ring also doubles up as your good luck charm, seeing how wishbones symbolise hope for the future. There's the chic snake chain pattern open heart charm too, which you can easily add to your current repertoire of PANDORA charms — it's perfect for everyday wear or for special occasions.
Collect earthy, home & living items
Last but not least, nailing the 'Cottagecore' aesthetic is very much about embracing a 'slow' lifestyle too. Aside from picking up a new hands-on hobby such as cross-stitch (as recommended above), you are also encouraged to build your own cosy living space comprised of earthy, lifestyle items. To get you started, look to lifestyle brand Anthropologie's table setting shown above, which features floral touches and a variety of warm-hued natural textures.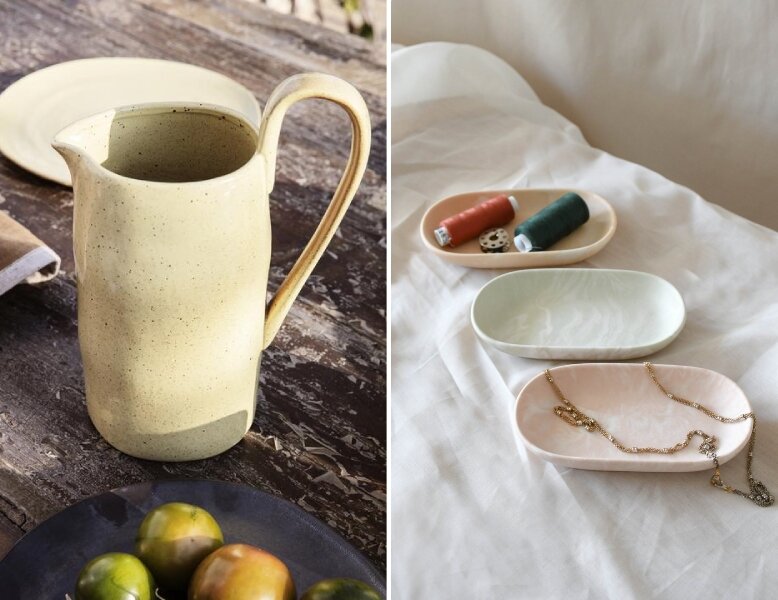 Check out: The Editor's Market's range of lifestyle products, which are a delightful addition to their current line-up of chic yet affordable apparel. The modern-day 'market' currently has a dozen lifestyle brands under their belt, including Danish brand Ferm Living. The jug is made of glazed porcelain and it's the perfect piece to help store your chilled juices on a hot summer's day.
For tiny trinkets, such as your midi rings and earrings, pick up Weekend Sundries' handcrafted Swirl Dish, which is cast locally in Singapore in the brand's studio. The label accepts customised orders too if you wish to go for a colour just for you.
With these five handy tips, you are now ready to rock the 'Cottagecore' aesthetic in style and with confidence. What's your favourite part about this trending look?
(Cover photos from: @theeditorsmarket, theeditorsmarket.com and pandora.net)
Ready for more #fashspiration? Click here for our tips on styling the 'viral' strawberry dress that's been trending on our feed.

Comments, questions or feedback? Email us at [email protected].