"Wear your heart on your sleeve" beautifully conveys the significance of expressing one's true emotions and feelings. To inspire you further to live your truth and wear your best traits with style and confidence, Clozette teamed up with Singapore-based illustration studio Company Of The Brave to launch a limited-edition IWD 2021 T-shirt collection, which honours three traits that carry a great deal of significance among Clozette's female-centric community in the current times — Tenacity, Authenticity and Compassion. (Check out Clozette's collection walkthrough on Facebook LIVE below.)
To empower women in need, with every t-shirt sold from now till the end of April 2021, Clozette will also donate SGD10 towards Daughters of Tomorrow, a charity organisation in Singapore that supports underprivileged women with confidence building and practical support programmes.
By women, for women
The three designs in the Clozette x Company Of The Brave IWD 2021 T-shirt collection have been carefully conceptualised to convey the meaning and purpose behind each admirable trait. These 100 per cent cotton round-neck T-shirts also boast a comfortable and relaxed fit, where they feature double-needle bottom with sleeve hems stitching for extra durability.
Read on to discover the inspirations behind the collection and pick up t-shirt styling tips from #TeamClozette's Features Writer Sheryl and content creator Amanda Olivia @manda.olivia.

Channel #girlboss vibes with tenacity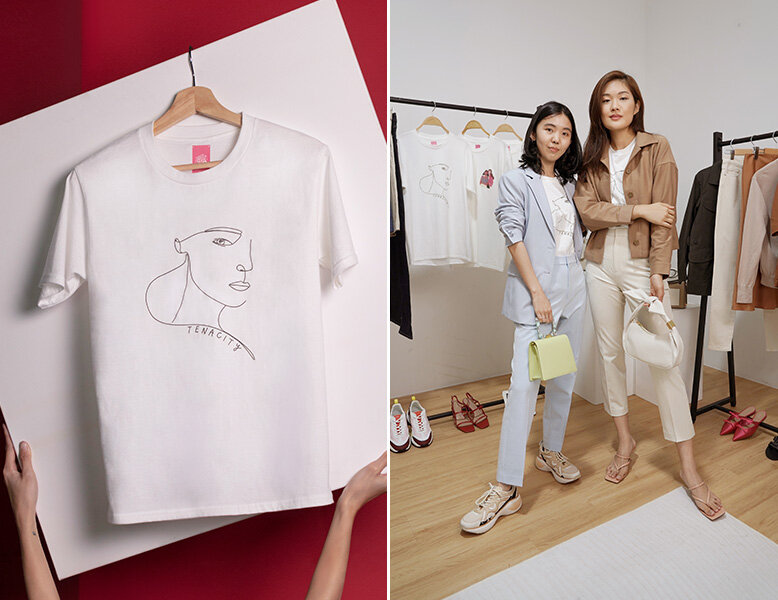 Steadfast. Determined. The ultimate #glowgetter. The Tenacious woman is unfazed and relentless in her pursuits, especially in this time of uncertainty.
Take style cues from #TeamClozette's Sheryl, who created her modern-day #girlboss ensemble by pairing the "Tenacity" T-shirt with a pastel blue blazer and ankle trousers. Headed to brunch after a boardroom meeting? Switch out your laptop bag and heels for a trendy pair of chunky sneakers and a top handle purse and you're good to go.
For the chic, creative professionals in our community, consider re-creating Amanda's neutral-powered outfit, which looks great for impromptu meet-ups with clients and like-minded collaborators. Above, she paired her T-shirt with a collared tan jacket, ankle trousers, knot detail bag and thong heeled sandals.
Be bravely authentic and let your unique style shine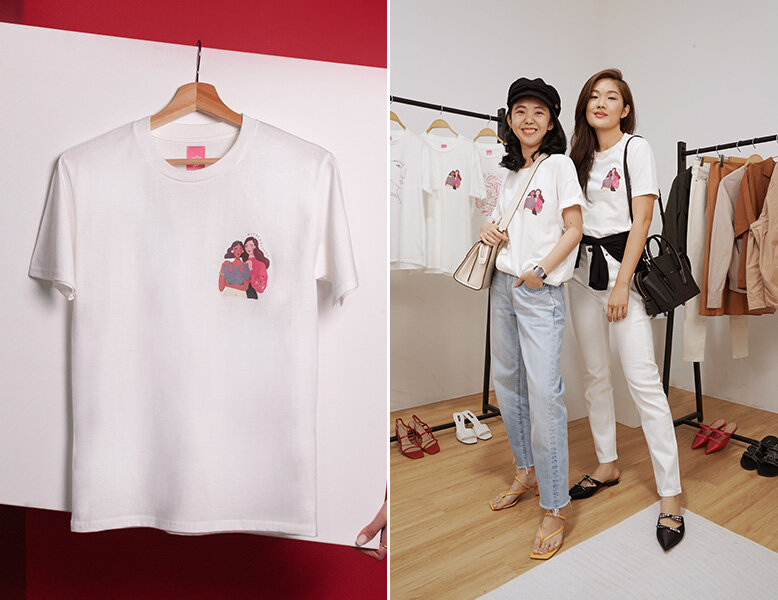 Genuine. Honest. The real deal. The Authentic woman dares to come out of her own shell and stands up for her own values and beliefs without getting swayed by the expectations of others.
Not big on feminine 'fits? Attempt a casual, "borrowed-from-the-boys" look just like Sheryl has by slipping into an oversized "Authenticity" T-shirt and a pair of vintage-looking denim jeans. Complete the look with a fashionable crossbody purse, heeled sandals and a newsboy cap.
Hands up if you're a #femalepreneur! Try your hand at creating your very own fuss-free, monochromatic look just like Amanda's with an all-white outfit that's accented with cool, black items, including a bag with embossed details, a lightweight cardigan and on-trend mules.

Practise compassion in a comfy #stayhome ensemble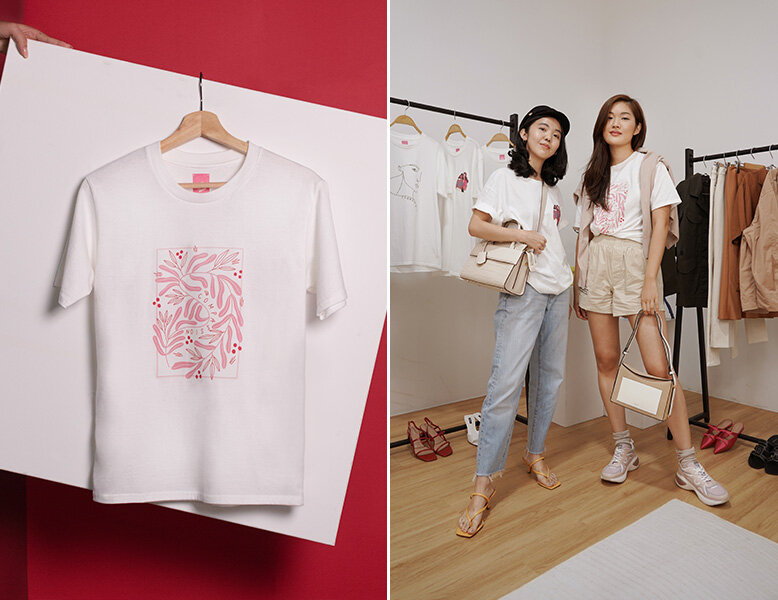 Thoughtful. Loving. Benevolent. The Compassionate woman remains empathetic towards not just others and her surroundings, but towards herself as well while she chases her dreams in a competitive field.
Amanda showcased her stay-home, self-care ensemble, which consisted of a "Compassion" T-shirt, a soft pink cardigan and a pair of gym-style shorts. Adding a sporty, 90's-inspired spin to the look, she accessorised her outfit with a handy shoulder bag, long socks and sneakers — perfect for quick trips to the grocer's or casual meet-ups with friends.
WIN! Shopping vouchers to build your empowered woman wardrobe
Now that you've discovered the collection, tell us: which trait resonates with you the most? Participate in our giveaway above to stand a chance to win shopping vouchers.
Wear your best traits with pride in the Clozette x Company Of The Brave IWD 2021 T-shirt collection! With every T-shirt sold from now will end-April 2021, Clozette will donate SGD10 to charity organisation Daughters of Tomorrow to support underprivileged women in need. Click here to add the collection to cart now.
Comments, questions or feedback? Email us at [email protected].