Fancy a brioche, a baguette or a croissant? You might think that we're talking about different types of fresh, flour-full baked goods that we'll be adding to our breadbaskets come Sunday brunch. However, we're actually referring to some of the most Insta-worthy bag designs at the moment, which happen to be named after bread and pastries. Read on for five bread-inspired bags that you should know now.
Where it all began: Fendi's "Baguette" Bag
If it's worn by Sarah Jessica Parker's Carrie Bradshaw in Sex and the City, you can be sure that the item will remain a cult classic for many years to come. Italian luxury fashion house Fendi can be credited as one of the original designers of the trending '90s-inspired shoulder bag as its Baguette bag sports this iconic silhouette.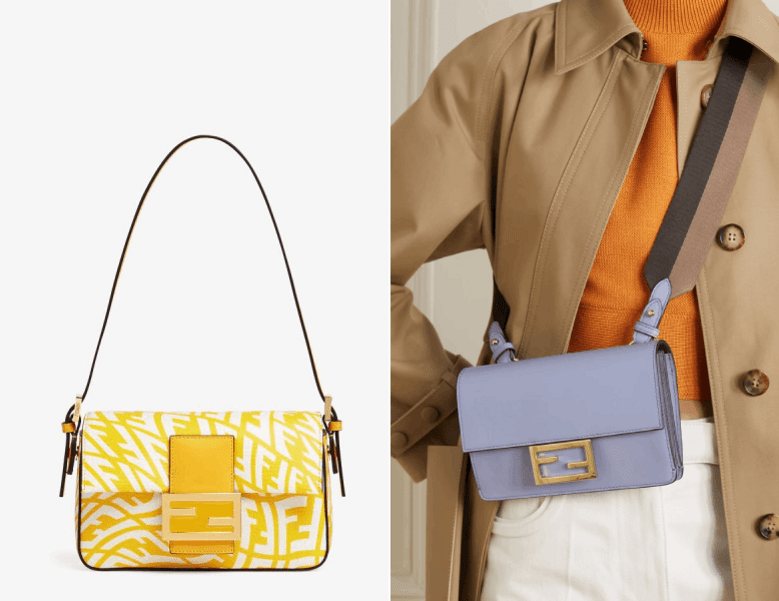 Launched in 1997, the purse was endearingly named the Baguette as its rectangular shape resembles the long, narrow French loaf and it's designed to sit perfectly under your arm as well. On this note, Fendi has been creatively reimagining its iconic bag over the past two decades or so too, with its most recent range of Fendi Baguette 1997 bags boasting 10 eye-catching designs in assorted materials and colourways.
GIA STUDIOS' "Croissant" Pouch
Croissant-shaped purses were predicted to be one of the key accessory staples in 2020 after Bottega Veneta introduced their iteration of this silhouette with their Shoulder Pouch. GIA STUDIOS' Croissant pouch bears a fun resemblance to this flaky French pastry with its crescent-shaped design and fabric folds too, although it has a softer, less structured base compared to Bottega Veneta's.
GIA STUDIOS is fairly new to the market (it was launched in May 2018), however, it has made serious fashion waves for its precise tailoring and minimal designs. Fun fact: The brand is founded by Vietnamese fashion designer Lam Gia Khang, who was the second runner-up of the first season of Project Runway Vietnam in 2013.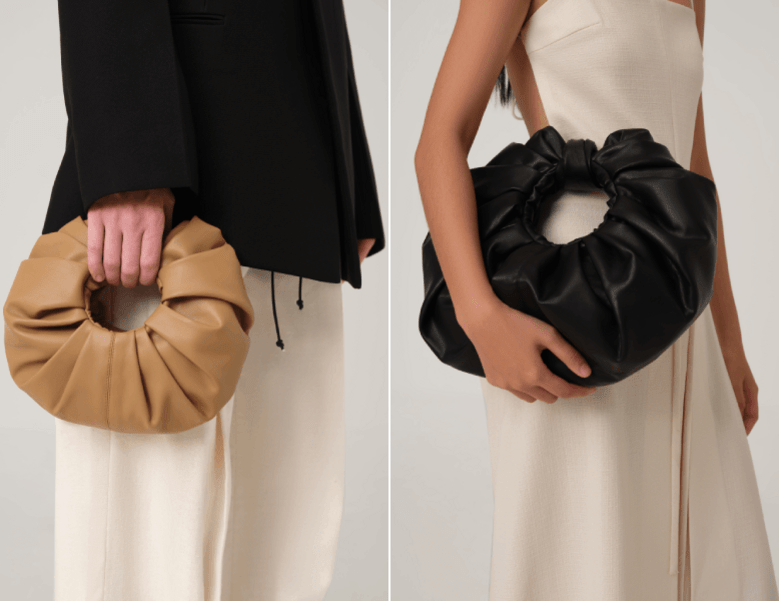 The Croissant is available in two types of materials: vegan leather and satin, and comes in two sizes too. With its rich, ruched detailing and buttery texture (pun intended), the Croissant definitely helps you to make a subtle style statement and will pair beautifully with your neutral ensembles.
SAMO ONDOH's "Bun" Bag
Over in South Korea, contemporary bag brand SAMO ONDOH has named a few of its designs after food items, such as the Gnocchi (a type of Italian pasta), the Egg, and its signature style, the Bun. Fans of the brand include American-born-Korean rapper Jessie, singer HyunA and K-drama actress Oh Yeon-Seo (pictured above).
Similar to a bun's flat bottom, the Bun is designed with a sturdy rectangular base too. It also has a magnetic closure to secure your things in place and detachable shoulder straps that you can purchase separately to further personalise your look.
MANU Atelier's "Pita" Bag
Moving to Turkey, leather goods brand MANU Atelier's Pita bag is worthy of a mention too, with its chic '90s silhouette and wide range of colourways for bag lovers to choose from. Combining premium leather with pure handcraftsmanship, the brand has found incredible success in the affordable leather goods market and plans to officially launch on China's 902-million-user-strong Tmall platform this July.
At first glance, the Pita appears to sport a clean, no-frills shoulder bag design. However, upon closer inspection, you'll be able to appreciate its finer details, such as the brand's signature logo emblem, exclusive hand-cut multi-panel pattern and interior suede backing. Opt for candy pink if you can't resist powdery pastel shades, or go for the classic route with their toffee-coloured option above.
Yuzefi's "Brioche" and "Dinner Roll" Bag
It wasn't too long ago when we acquainted ourselves with Yuzefi's popular Loaf bag. Since then, we've become fans of their sculptural, ingenious designs, including the Brioche and the Dinner Roll (pictured above). Plus, it doesn't hurt to know that celebs such as Shay Mitchell and Megan Fox have been spotted wearing their designs as well.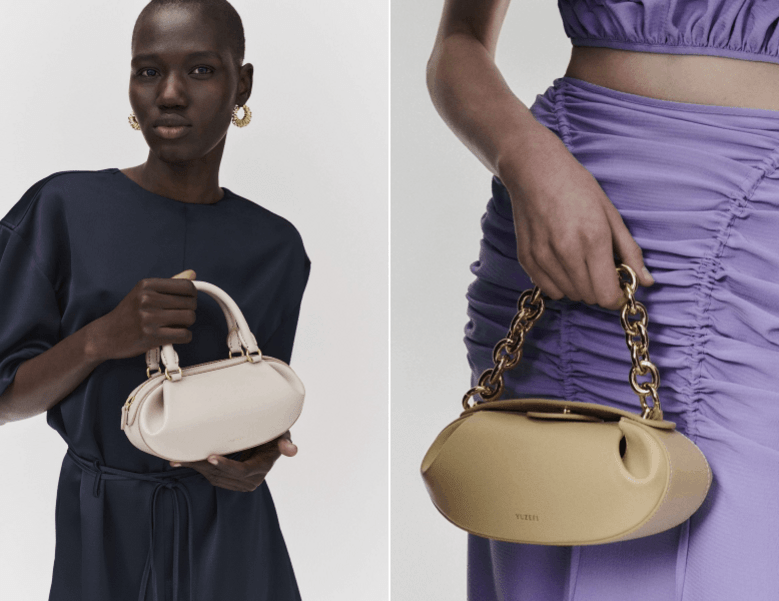 Yuzefi cheekily touts their Brioche bag as a "wearable snack" and we couldn't agree more. This adorable bowling bag is designed with leather top handles if you wish to cradle it gently in your arms. The bag also comes with a removable leather strap for you to wear as a crossbody. Meanwhile, the brand dubs its Dinner Roll bag a new take on its signature Loaf bag, where it boasts a chunky chain handle and is significantly smaller in size.
Did these fun bread-inspired bags satisfy your "carb cravings"? If so, which one's your favourite?
(Cover photos from: gia-studios.com and @manu_atelier)
Have you heard of the Wolf Cut hairstyle? It's the hottest hair trend of the moment and we have all the details here.

Comments, questions or feedback? Email us at [email protected].