Number one rule of thumb when shopping for clothes: go for the one that gives you utmost comfort. We can't stress this enough, especially if you're buying bras. But to get that comfort, first, you have to ensure you're wearing the right size for you. After all, your underwear gives your body the support it needs so you can go about your day feeling great. And to help us all out with that, we had a chat with Ina Capulong, CEO and Design Head for homegrown Filipino intimate wear brand ImPerfect, who gave us tips that can guide us in finding the right bra size and perfect fit.
Reading the signs
Most of us already have an idea of our size when we go shopping for underwear, but sometimes, what we think is best for us isn't actually perfect for our unique shape. Having already measured hundreds of women since their conception, ImPerfect has found that three out five women are wearing the wrong bra. A lot of them, according to Ina, "forced their boobs into ill-fitting cups, suffered from tight bands, and let go of preferences because good bras are just so difficult to find."
So how do you know that what you're wearing isn't the one true pair of cups for you? Listen to your body. Have you been feeling discomfort or pain? Is it harder for you to maintain a good posture? Do you see some marks left on your skin when you remove it at the end of the day? If you answered yes to at least one of those, it's probably not the right type or size for you. Double-check your size with this simple bra size measurement guide from Ina: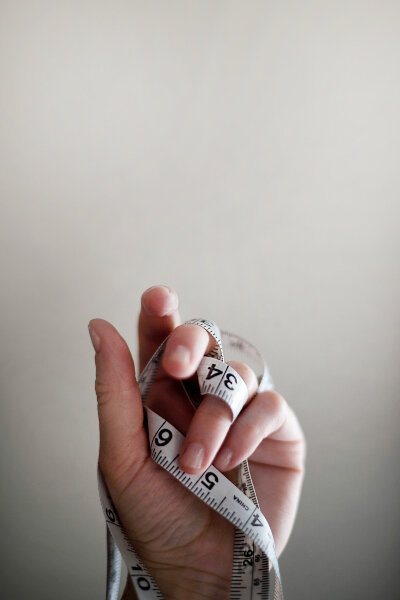 Prepare
Get your handy measuring tape out and ready. Go braless, or, if not, at least wear one without an underwire or padding to get the accurate numbers. Wrap the measuring tape around your underband, or the part of your chest right under your breasts. Hold it so that it's snug, without being too tight or loose.
Measure your bust a.k.a., the fullest part of your chest
Use a tape to measure directly above your nipples, taking care to not pull on the tape tightly. Note the numbers down. The underband measurement in cm corresponds to the numerical aspect of your size (usually 34 onwards) while subtracting the bust from the underband will get you a number which corresponds to your cup size (A onwards). You can refer to the chart below for the cup size conversions.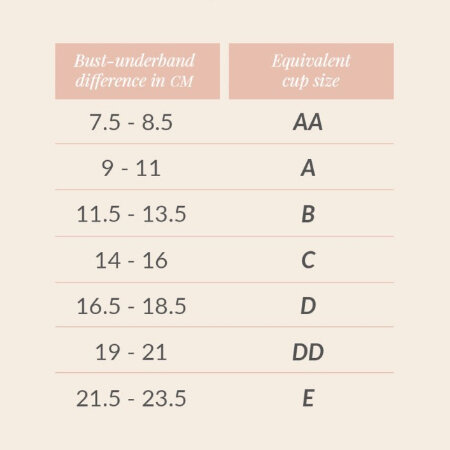 Consider your body type
Ina reminded us, however, that while getting the right measurements will help you find your perfect fit, there are still many other elements to consider. "Be honest and descriptive!" she advised. "Are your boobs far apart or separated, do you have side boobs or a wider back? All of these help in finding the bra that suits your body perfectly."
Aside from that, keep in mind that your bra should also accommodate your body type. "Most bras that are sold assume "perfect" proportions and rarely embrace imperfections," Ina noted. She pointed out, for example, how those with athletic build might need bras with wider bands but not necessarily bigger cups. Conversely, women with petite frames yet fuller breasts might need snug underbands yet bigger cups. And finally, those with bigger frames and bigger busts will need underwear that gives both breathability and support.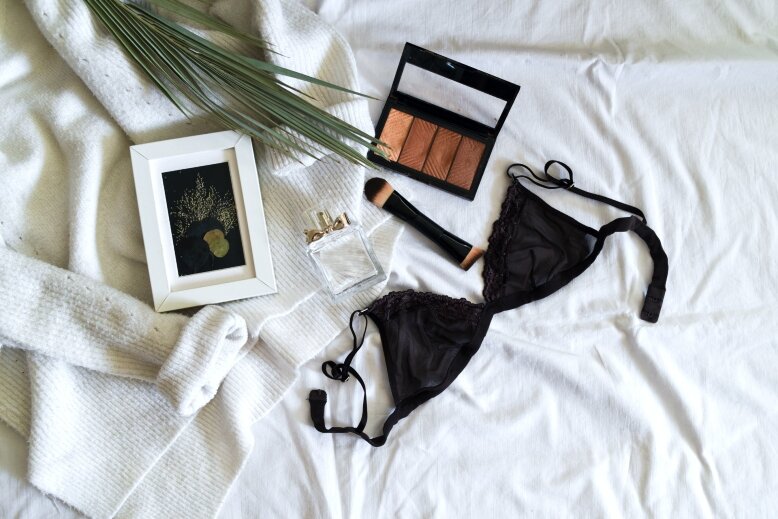 "Complex bodies need thoughtful attention and care," Ina emphasised, so embracing the real you and considering all these unique characteristics of yours will help when getting a bra. Find one whose design, silhouette, and material would best hug your shape.
Feel good, look good
All these attention for a small piece of clothing that will probably remain hidden? Of course! Making do with the wrong bra that doesn't support you properly "can cause discomfort, pain, undue changes to shape and posture, and may result in other health risks," Ina warned. Plus, your intimate wear can contribute a whole lot to your outfit too. For one, a chic, correctly fitting bra can be a substitute to your crop top. And if you do choose to wear it under your clothes, the support and lift it gives can also affect how clothes fit and look on you. "A plain and simple outfit can work for you if you let your undergarments do the work," Ina added. In short — the perfect-fitting bra is the absolute must-have for an empowering day.
(Cover photo from: elif tekkaya via Pexels.com)
Comments, questions or feedback? Email us at [email protected].