There's an upcoming rom-com film Love in Taipei, and it might have stirred in you a hunger to chart your own fun little adventure in Taiwan. If you're also the kind of traveller who wants to get a taste of an exciting city life but wants to get closer to nature too, this one's for you. Check out these five spots you don't want to miss in Taipei, Taiwan's capital city.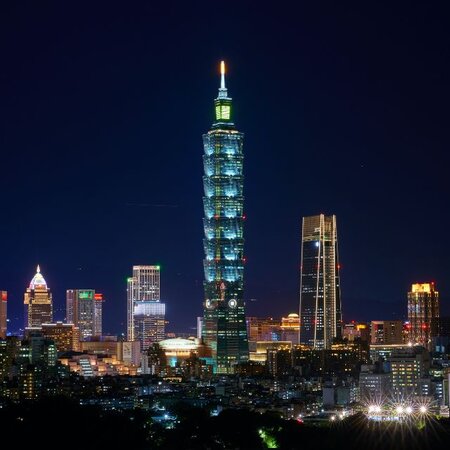 What is the best time to visit Taiwan?
But first, is it okay to head out to Taiwan during this time? It's a subtropical country so there's a high chance that rainfall can occur at any time throughout the year. On the bright side, this is what makes Taiwan's lush, natural landscapes possible.
Many say that it's hard to narrow down the best time to visit Taiwan as each month comes with its own slew of activities and festivals. But for its capital Taipei, you might want to plan on visiting during the country's autumn months (which take place from September to early December). It's expected to have clearer skies and less chance of rain. We also bet that you won't regret being surrounded by its lovely hues of red and gold (and perhaps have that main character in a music video moment). Did we mention that having a Singapore passport can get you faster clearance at the island's airports?
Ready to jet off? Let's now zoom into these five spots for an unforgettable trip in Taiwan.


Top spots to visit in Taipei, Taiwan
1. Taipei 101
If you think of Taiwan, this huge, pagoda-like skyscraper would usually come to mind (it held the world's tallest building title in the past). If you're not acrophobic, go up on a super speedy elevator (which will take less than a minute) and visit the tower's observatory on the 89th floor for a breathtaking view of the city. But don't worry if you're not up for it; Taipei 101 also boasts an awesome mall where you can relax, shop, and eat to your heart's content.
Location: No. 7, Section 5, Xinyi Road, Xinyi District, Taipei City, Taiwan 110
Opening hours: Daily from 9AM to 10PM (shopping mall hours differ)
Phone: +886 (0)2 8101 8800


2. Chiang Kai-shek Memorial Hall
You'll need to go up 89 steps (one for each year of Taiwan's founder Chiang Kai-shek's life) to see this glorious white marble monument up close. But if you're a fan of majestic architecture and historical sites, then this will be worth it. The memorial hall shares the park with other landmarks such as the National Theatre, National Concert Hall, and more. You can also look forward to walking around its pretty and well-tended gardens. With that in mind, make sure to grab a hearty meal first and heap up a lot of energy to enjoy your time at this spot.
Location: No. 21, Zhongshan South Road, Zhongzheng District, Taipei City, Taiwan 100
Opening hours: Daily from 9AM to 6PM
Phone: +886 (0)2 2343 1100


3. Maokong Gondola
If you'd like to take in the most out of the sights in Taipei in a short amount of time, or get away from the tourist crowds and get some peace and quiet, take a ride on the Maokong Gondola. Taking you about a thousand feet up from the ground, the cabin ride will allow you to spot mountains, plantations, tea houses, and more. The journey will take you about 17 to 37 minutes (the time is dependent on the system).
Location: No. 8, Section 2, Xinguang Road, Wenshan District, Taipei City, Taiwan 116
Opening hours: Tuesday to Thursday from 9AM to 9PM, Fridays from 9AM to 10PM, Saturdays from 8:30AM to 11PM, Sundays from 8:30AM to 9PM (closed on Mondays, except for the first of every month and public holidays)
Phone: +886 (0)2 2181 2345
4. Beitou Hot Springs
Ready to relax and shut out the world for a sec? Head over to Beitou Hot Springs for a luxurious spa experience similar to those of Japanese onsens. Some say its waters have healing properties that help treat diseases such as fatigue, eczema, and arthritis.
Location: No. 2, Zhongshan Road, Beitou District, Taipei City, Taiwan 112
Opening hours: Tuesday to Sunday from 9AM to 5PM
Phone: +886 (0)2 2893 9981


5. Shilin Night Market
Before you leave Taipei, you might want to take home souvenirs or explore local street food at the Shilin Night Market, one of the largest night markets in Taiwan. You'll find a variety of food stalls (the number is estimated to be about 500!), clothes, ceramics, and other gift-worthy items.
Location: No. 101, Jihe Road, Shilin District, Taipei City, Taiwan 111
Opening hours: Monday to Friday from 4PM to 12AM, Saturday and Sunday from 3PM to 1AM
Which spot would you love to visit first?

Comments, questions or feedback? Email us at [email protected].