It's no news to us fashion enthusiasts that style trends come and go. Just a few months back, we saw retro styles of the '80s take over the runways of New York and London during their respective fashion weeks. Everything that has defined past decades is back — and they're bigger and better than ever before. But how do we incorporate these iconic pieces in our everyday ensembles without looking outdated? To help with that, we turn to Shine de Castro and Hazel Perez, two fashion influencers from our very own Clozette Community. Ahead, the ladies share how they style tricky '80s fashion trends.
Reviving the fitness craze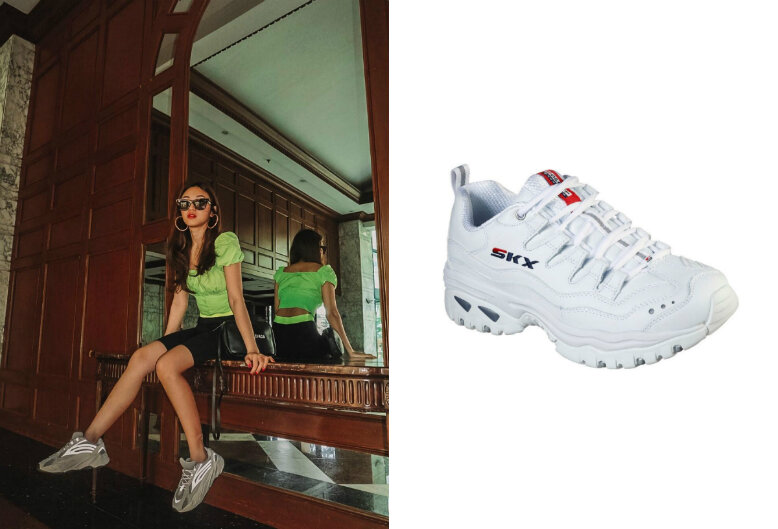 The '80s saw a continuation of the fitness craze that started in the '70s. As a result, everyone started incorporating pieces normally regarded as sportswear into their everyday outfits. One iconic piece then that's resurfacing again today is the chunky trainers. Shine loves incorporating these bulky pairs to basic pieces because they add a unique personality to her whole look. "I also love pairing it with athleisure tops and bottoms," she adds and you'll find her either switching up the retro fitness look by pairing plain black cycling shorts with a puffy-sleeved top for a sporty chic vibe. "When I want to go for that really comfy look, I'll wear chunky sneakers with track pants or sweats plus a cute cropped top so there's still a little bit of the feminine side showing." Want to cop her style? For starters, invest in chunky trainers like this pair of Skechers Energy - Timeless Vision. With its stark white colourway, you can easily match it with virtually anything.
If the sleek sporty look isn't your style, you can also play around with pieces that offer baggy, androgynous silhouettes. For Hazel, "sporty details with bold colours and patten rule." Like her, find a sweater with quirky details and pair it with some sweat pants like these Skechers Women's Knit Pants. Amp up the nostalgia for the sporty '80s fashion trends by showing off your fave socks. Finally, Hazel says you can finish it all up with "an eco-bag for the superior look you are aiming for."
Glitz and glam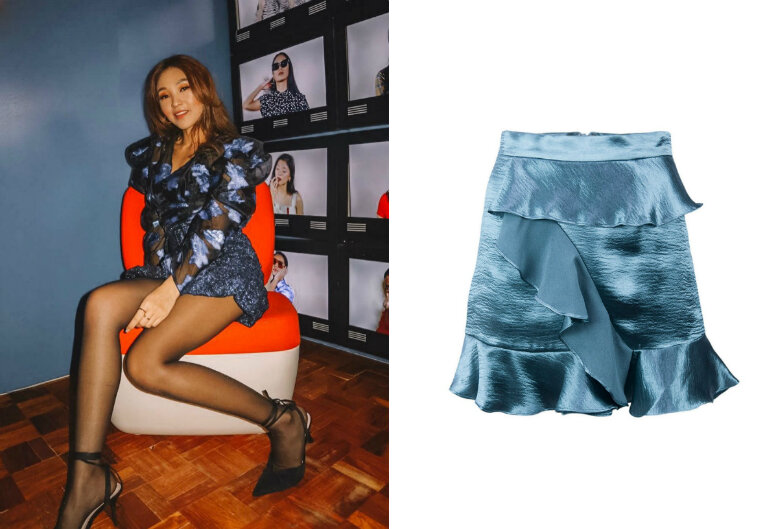 As you probably have noticed, most of the '80s fashion trends were all about ostentatious glamour. Aside from the loud colours, people at the time wore heavy jewellery and shimmering metallic clothing as influenced by American soap operas like Dynasty. And this year, these glamorous styles are returning. Metallic fabrics are in again and Shine definitely goes for it when she's to attend a special event. "It will definitely make you more noticeable, especially if you pair it with matching bottoms. You will definitely look like you prepared for that day." For a party, Shine wore a puffy-sleeved top with metallic floral embellishments with a glittering blue skirt similar to this ruffle mini from Lie. Talk about taking sophistication to another level!
But dazzling outfits aren't just for special occasions. If you feel that your OOTD is too plain, Hazel offers another alternative. Grab outerwear with a striking sheen like a vinyl jacket or a metallic windbreaker like this reflective purple one from Bershka. "Experiment and layer up to soften that blinding beam of metallics," she suggests. Of course, don't forget to accessorise with your fave tote bag for a chic look.
Playful power dressing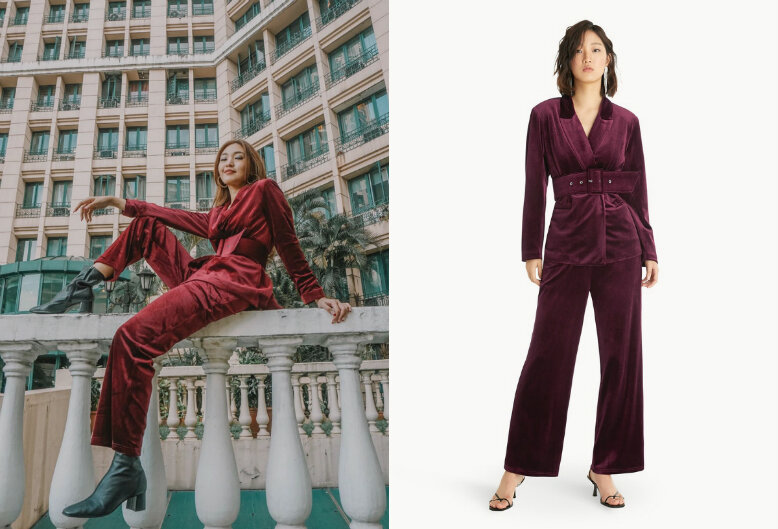 By the 1980s, women with professional careers have become a norm but the struggle for their authority to be respected in the workplace remained. Finding the need to assert their authority and control, career women turned to fashion. With that, suits were re-invented for women's use by designers like Giorgio Armani and became in-demand. The stiff sharply cut tailoring adopted padded shoulders for a strong vibe that emulates the masculine silhouette. It's been decades but the suit still serves to empower women in this day and age. "This is really my go-to outfit when I need that extra confidence," Shine explains. You can wear it colour-coordinated for that "girl boss" vibe. But for a more striking look, you can opt to wear a burgundy velvet suit like this one from Pomelo.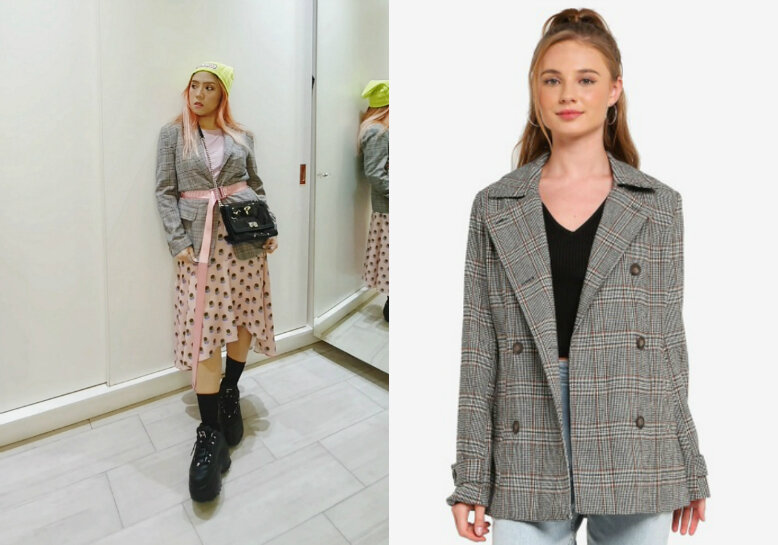 For out-of-office affairs, you can do away with matching co-ords like Hazel. She advises to "pair it up with your fab asymmetric skirt and chunky shoes" but make sure to highlight your silhouette and cinch your waist with a statement belt. Take notes from her and experiment on pieces that truly define you. Perhaps you can try out this grey plaid blazer from Forever 21. The versatile print of this piece makes it easy to match with other types of prints.
Denim Dream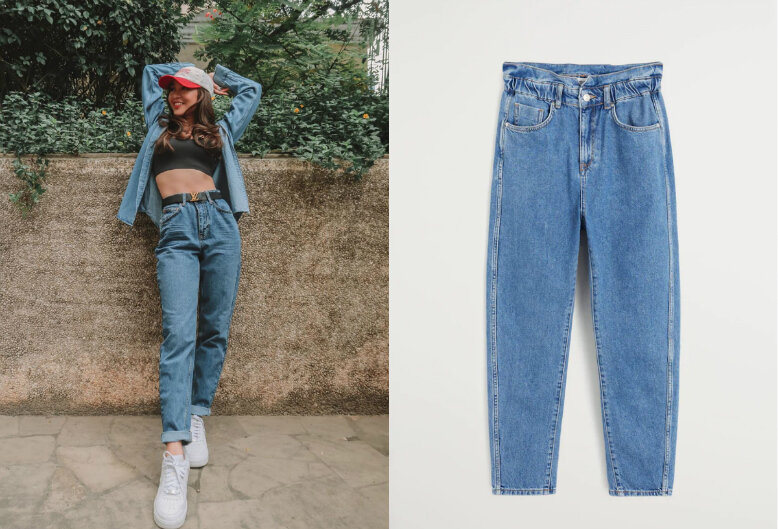 Another one of the most popular '80s fashion trends, of course, were jeans. As it is today, they were everyone's go-to for casual wear. Back then, they came in many silhouettes — from tight to straight-legged — and those that looked light and faded, especially those stonewashed or acid-washed became staples of the time. Now, the more relaxed types of jeans, like the mum jeans, in particular, is returning as a wardrobe essential this decade. Shine herself is a fan of mum jeans. "They're just the comfiest!" she says of the bottoms that were once deemed tacky. For a laid-back look, she says she wears it with comfy sneakers and a cropped top. That way, the slight bagginess of the high-waisted straight-leg jeans is given contrast by the fitted top. With that combo, "the girly in [her] still shines through." Ace the girl-next-door denim on denim look with these Mango slouchy jeans.
Loud and proud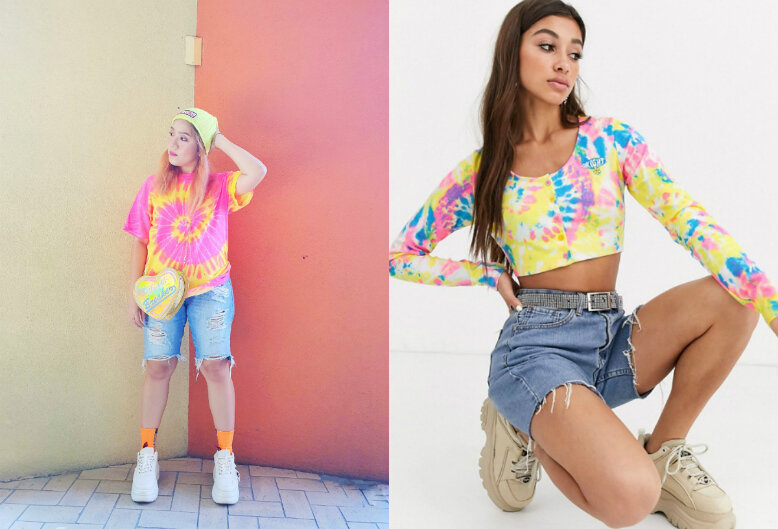 Of course, speaking of '80s fashion trends, we wouldn't forget to include what truly defined the decade: colour. Vivid hues were everywhere and flashy neons became in-style. It was a time when there were no holds barred and everyone freely experimented in fashion. As fun as it possibly is, however, donning pieces with vivid prints can be quite overwhelming. "This is not everyone's cup of tea," Hazel acknowledges. But, she suggests you can "pull it off with your favourite basic trousers or shorts." Go with a tie-dyed top like this crop button-up from O Mighty or a piece with a loud abstract print, but make sure to not go overboard by wearing it with plain pieces like white sneaks and jeans.
Adopting the bold aesthetic of '80s fashion trends into your everyday wear is undeniably daunting. But if there's anything we learned from these two Clozetters, it's that the key is always staying in-tune with your unique personalities. There's no right or wrong in fashion — what's important is we have fun as we express our truest selves through our style.
(Cover photo from: @ShineeeDee)
Comments, questions or feedback? Email us at [email protected].