From visiting historical sites to finding the best authentic cuisine, travelling is one of life's greatest adventures. Our "Travel Notes" series features travel itineraries from real people as inspiration for your future escapades.
One of the reasons why we travel is to experience the earth's marvels. From unbelievable land formations, crystalline bodies of water, and impeccable cultures influenced by the natural resources, the world is full of things to see. In our opinion, the Aurora Borealis is one of the most mesmerising sights out there. One of the best places to catch it? Iceland. But did you know that there's more to it than just the breathtaking natural illuminations?
Startling geysers, surreal ice caves, and great places to eat. We had a chat with Star Clozetter Esther Kwan on how to enjoy Iceland for seven days and six nights.
Preparing for the trip
Access and season of travel
Singapore and Malaysia passport holders can enter Iceland without a visa for up to 90 days as tourists. Philippine passport holders, on the other hand, need to secure a Schengen visa via respective embassies, consulates or agencies designated to the country/countries you're visiting. Travel time per country of origin also varies. From Singapore and the Philippines, it typically takes 17 to 26 hours depending on the transfers and airline of choice. Meanwhile, it takes between 22 and 27 hours from Malaysia.
Esther shared that if seeing the Northern Lights is your priority during your travel in Iceland, knowing when to go is key. Iceland during summer is least ideal, as there can literally be no nighttime at all during this season. This is due to the sun being up 'til 24 hours given the solstice. She said that the lights are at their prettiest during the colder seasons. Her previous visit was set during October, just around autumn, as she didn't want to suffer through the freezing cold of winter.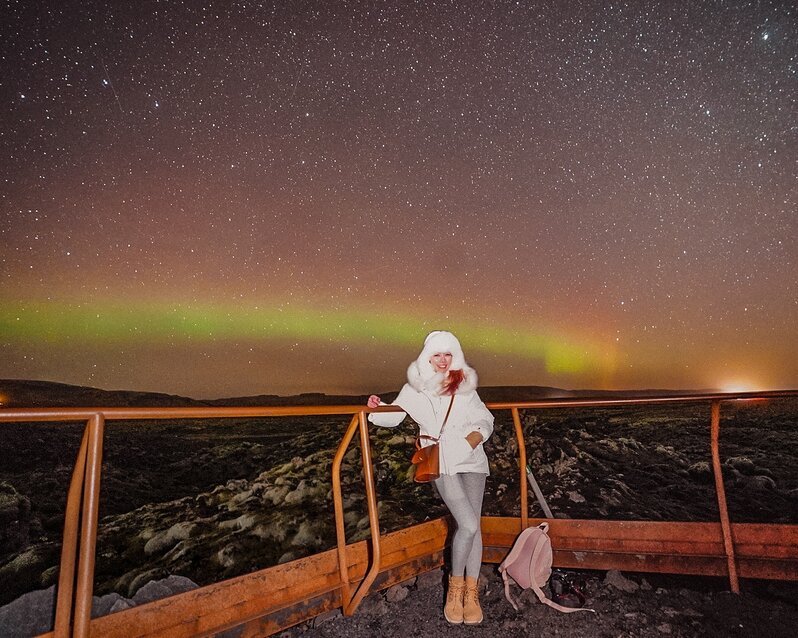 In catching the Northern Lights, knowing when to go is key

In terms of planning where to go, she shared that Iceland has so many scenic spots to choose from so you need to take into account the duration of your visit in contrast to your chosen itinerary. If you only have one week, she recommends hitting the South and West side of Iceland as they offer some of the most ideal must-sees (especially for first-timers). But if you have more than two weeks to spare, you can definitely tour the whole country.
Wardrobe essentials
Once you've got the locations and the timing ready, planning what to wear is next. Esther emphasised that this is a very vital step in planning a trip to Iceland. "I actually underestimated the cold because the weather forecast for October was zero to five degrees and I didn't bring along clothes that were suitable for subzero," she spilt. She said that while the temperature forecast was more than accurate, the icy cold wind was the one to watch out for as -18 degrees can feel like negative five degrees when a breeze hits.
Wear wool or thermal wear for the cold
For specific essentials, stocking up on wool or thermal wear (Uniqlo has a Heattech range) is also your best bet as cotton or other thin fabrics won't do you any favours given the cold. Then, having both a windproof or waterproof jacket specially designed for subzero weather should follow. This is to prevent both wind and moisture to enter your inner layers. Puffer vests, not jackets, are also in her list as they provide extra warm layers without being too bulky. For bottoms, Esther recommends going for fleece leggings than jeans as they make for more flexible and comfortable pieces while still keeping you warm. For shoes, toss your regular shoes for snowshoes as you'll definitely need the warmth, grip, and durability they provide given the extreme weather conditions.

As for accessories, first would be smart "touchscreen" gloves for your phone. These are gloves with friction-capable tips to allow you to still control your phone without sacrificing your fingers to the cold. Next, headgear or earmuffs to keep your noggin' warm. Lastly, a couple of thick scarves for both extra heat and styling — because we can't leave out being fashionable no matter what the temperature is.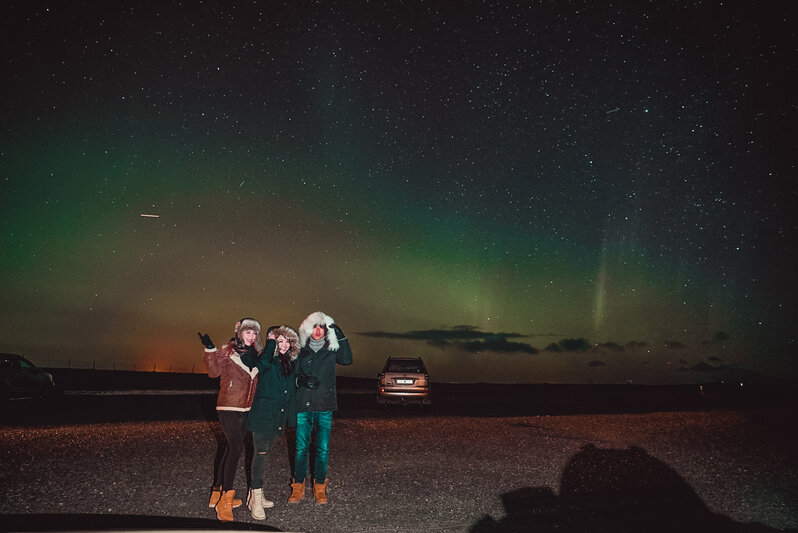 Schedule a Northern Lights tour in the first days of your trip
Itinerary and on-ground travel prep
Moving on to more pre-trip planning, Esther recommends booking a Northern Lights hunt tour and scheduling it during the first couple of days in your itinerary. This is because most tours allow you to rejoin in the succeeding days should you miss the Aurora on your first booked date. For moving around on the daily, booking a car rental or getting a tour shuttle service (if you don't intend to drive) is also ideal as it would save you the hassle of transfers between different spots in Iceland.
As for travel hacks, she shared that pinning and saving your destinations on Google Maps for offline viewing will also help you get around. It also helps to pack some Asian cup noodles in your luggage should cravings kick in, or for a quick breakfast before heading out to explore.
P.S. For more deets on winter survival, we have another extensive guide here.
Day 1: Embracing your inner water nymph
Pingvellir National Park (Thingvellir), Geysir Hot Spring area, Gullfoss Waterfall, Seljalandsfoss Waterfall, and Skógafoss Waterfall


The first day is dedicated to water, which one may think is not ideal during cold weather, but you'd definitely be surprised. The various waterfalls look extremely pristine in contrast to the hazy shades of winter, giving it a whimsical feel. However, Esther found the Geysir Hot Spring area to be fascinating, with eruptions at the Geysir hurling boiling water up to 70 metres in the air (sounds scary but not really, as long as you're in reasonable proximity).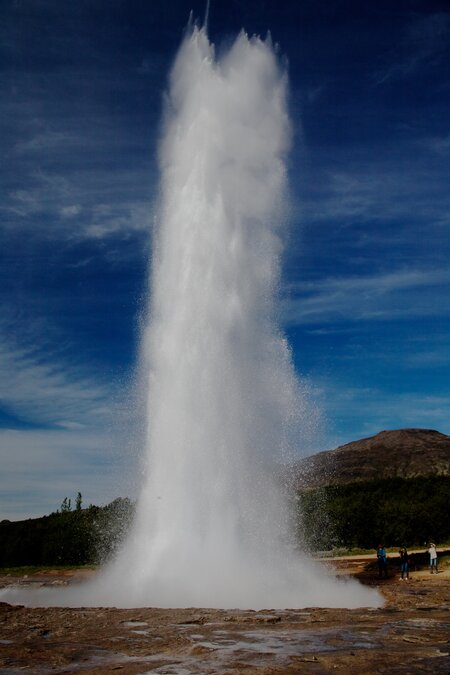 Geysir Icelandia
Here she learned that the surface water works its way down to an average depth of around 2,000 metres where it gets in contact with hot rocks. The pressurized water then results in the geyser effect of hot water and steam spraying out of the geyser's surface vent making a hydrothermal explosion. "This geyser just proves how amazing Mother Nature is," she quips.
Day 2: Getting around glaciers
Glacier Walk on Vatnajökull Glacier, Fjaðrargljúfur Canyon, Jökulsárlón Glacier Lagoon, and The Diamond Beach




Take a Glacier Walk on the
Vatnajökull Glacier
For day two, it's about exploring more of what nature has to offer. The highlight of the trip was the Glacier Walk on Vatnajökull Glacier, where they had to rent crampons so that they could walk on the ice glacier. "This was so cool but also a little terrifying. I had to stomp my feet in hard so that the crampons would dig into the ice for better grip," Esther shared. She continued by saying that their tour guide explained that the glacier is harder in October so the glacier can tend to be slippery. Apparently, it's more convenient to do the walk during December as there would be snow all over the glacier, making the crampons grip easier.
Day 3: A Star Wars detour?
Natural Ice Cave, Reynisfjara Black Sand Beach, and Reynisdrangar Basalt Pillars
Day three's highlight for Esther was the terrain on the way to
Katla Ice Cave
. She mentioned that the terrain during their visit was black in colour due to volcanic rocks that were lightly dusted with snow (kinda like icing sugar). When the wind blew, the snow would fly up and it would look like the ground was smoking. "It felt so futuristic," Esther said.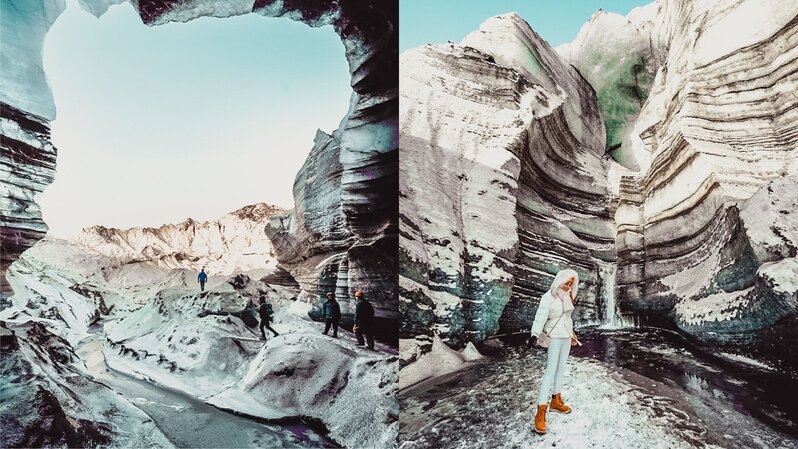 Katla Ice Cave
For Star Wars geeks out there, she also recommended the site as it was apparently one of the filming sets of Star Wars: Rogue One. There's even a formation in one of the entrances to the cave that resembled Yoda's silhouette!
Day 4: Exploring the city
Reykjavik City
Esther shared that sometimes, even with extensive planning, things can not go your way. That's what happened to their fourth day in Iceland, as their plans to go whale watching was cancelled due to the weather. It's a good thing that Iceland doesn't run out of scenic destinations, with a tour around Reykjavik City replacing their agenda for the day.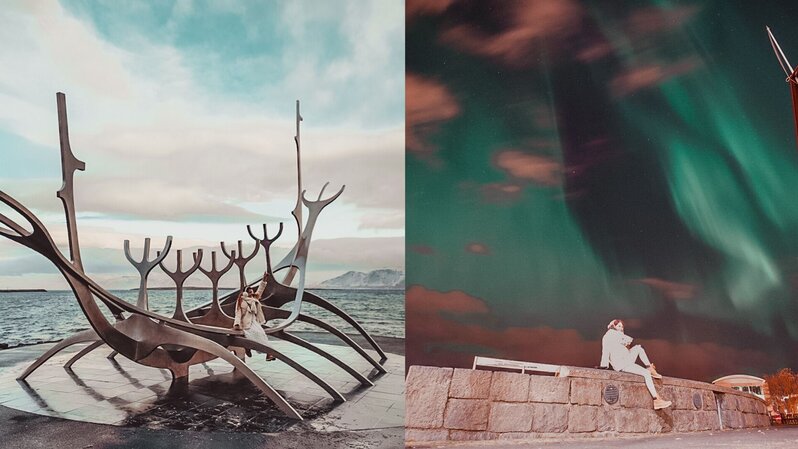 Reykjavik City
While it's a day for downtime during what was so far an exciting and adventure-filled trip, day four still became as memorable as the others as it was when she tried a lot of exotic cuisines. She recommends Íslenski Barinn for their great selection of exotic meats such as fermented shark (tasted like ammonia), puffin (tasted like duck) and whale (tasted like steak).

Day 5 and 6: Experiencing the renowned Blue Lagoon and settling for some downtime
Blue Lagoon, Hotel Ranga, and Hotel Laxnes
Ever curious about the famed Iceland Blue Lagoon? Esther shared that while it is an amazing experience, you might want to take extra care before actually taking a dip. "Apply conditioner to your hair before going into the blue lagoon," she recommends as the mineral deposits apparently have the tendency to make your locks feel very dry and tangled. She shared that it's been two weeks since she's visited the lagoon (at the time of writing) and she still hasn't managed to wash all the minerals off. So be warned!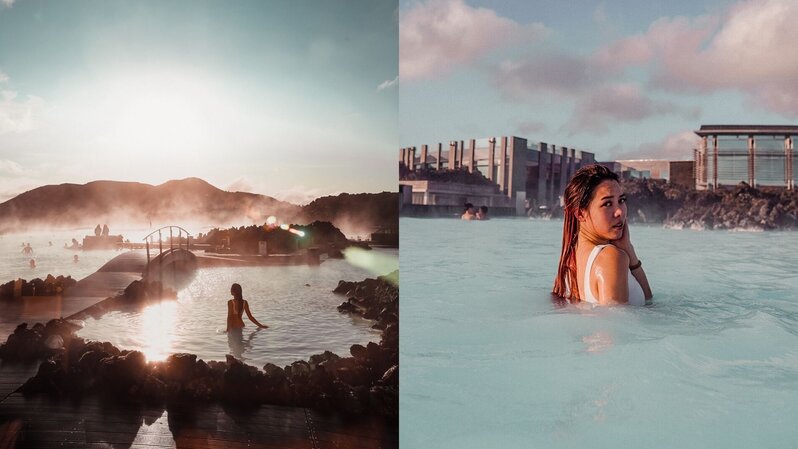 Blue Lagoon is rich in minerals
After a relaxing day at the geothermal spa, they went to check-in at Hotel Ranga. Esther said that she can't praise this hotel enough for having the best service, amenities, rooms, and of course, food. The hotel also has an Aurora alarm in the rooms which you can activate. This will notify you if the Northern Lights appear outside. Esther also highlights that the hotel is located away from the city so there's little to no light pollution around the area, making it one of the most ideal places to spot the Aurora.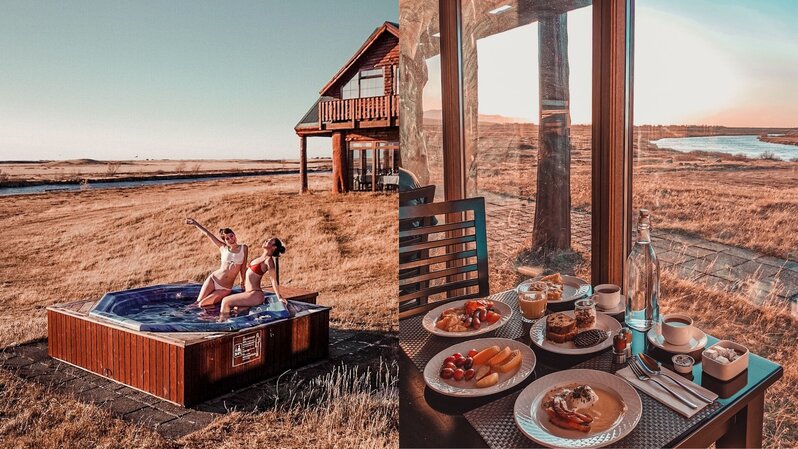 Hotel Ranga has an Aurora alarm in the rooms
A downside for foodies would be the lesser number of food options around the area to go food tripping in. Still, she guarantees that Hotel Ranga's amazing food selection would definitely leave you satisfied.
The following day, after exploring Hotel Ranga's hot pool, it was time to check out. As they planned a day tour to the West of Iceland for their seventh day, Esther moved to Hotel Laxnes to be her base camp the rest of her trip. Located in a small town away from Reykjavik City, this is also clear from light pollution, making it another great spot for watching the Aurora at night. The locals are also very friendly around this area.
Day 7: Seeing the glory of Kirkjufell
Kirkjufell and Kirkjufellsfoss
Ending the trip on a high, Esther headed to Kirkjufell, the most photographed mountain in Iceland. Known for its distinctly shaped peak and its dramatic landscape amidst a surrounding water formation, a trip to Iceland is never complete without basking in its glory. Visiting Hruan to get a taste of deliciously fresh seafood is also a must-try when visiting this location.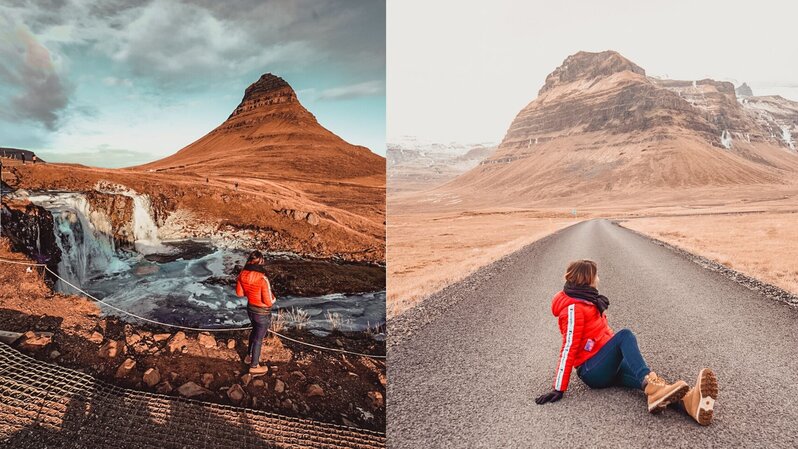 Kirkjufell is the most photographed mountain in Iceland
Overall, Iceland is a breathtaking destination that will surely leave you with tons of both amazing photos and memories. An ideal location in seeking almost all of what nature's wonders have to offer, Iceland is worth adding to your travel bucket list if you haven't already.
Comments, questions or feedback? Email us at [email protected].