Aside from seeing travel photos fill our Instagram feeds, another thing that greatly sparks our wanderlust is watching Korean dramas. A lot of series that have aired in the first half of the year alone featured such iconic backdrops we can't get our minds off like that mysterious forest in The King: Eternal Monarch or those hip nightlife hangs in Itaewon Class. These settings, often shot cinematically, always heighten the scene's atmospheres — whether they're heart-wrenching or swoon-worthy. They pull you in that you just can't help but want to be on the screens with the characters as well. And if you're looking to really visit and explore such memorable locations, here are some 2020 K-Drama filming locations you can add to your travel itinerary when it's safe to explore again. It'll probably take a while before that trip happens, but wouldn't the wait just make relieving the scenes close to your heart all the more exciting?
Ahopsan Forest from The King: Eternal Monarch
No doubt, one of the most picturesque 2020 K-drama filming locations that we had a glimpse of so far is that bamboo forest in The King: Eternal Monarch. We first chance upon the forest when Emperor Lee Gon tries to chase the hooded figure with his loyal steed, Maximus. Shot in Ahopsan Forest in Busan, the privately owned location sets the perfectly mysterious backdrop for the drama. Here, the Emperor finds the portal to the parallel world, and as the story progresses, we see him visit the place again with Kim Go Eun a couple of times as they go back and forth their worlds. On the show, it's found within the palace grounds, but thankfully, you can still visit the iconic spot in real life as it's open to visitors. For KRW5,000(~USD4.15), you can roam around the groves to your heart's content. It doesn't guarantee you'll find the portal or Lee Min Ho here, though.
Fun fact: Ahopsan Forest is a popular K-drama filming location. You might also recognise it if you've watched Moon Lovers: Scarlet Heart Ryeo and 100 Days My Prince.
Oriole from Itaewon Class
Bingeing Itaewon Class had you wanting to check out Park Saeroyi's DanBam? Visit cafe and rooftop bar, Oriole, which you'll easily recognise as the fictional new DanBam, where they relocated to after being bullied out of their original place by Jang Ga Group. You won't find the specialty Korean dishes they were serving in the drama, but the Western fare the real-life spot offers is equally hearty and delectable.
Fun fact: You'd expect to find the restaurant in Itaewon, because, well, that's where the drama was set. However, the 2020 K-drama filming location can actually be found in the neighbouring Huam-dong, which is still in Yongsan district in Seoul.
Nulnocheon Cherry Blossom Road from Hi Bye, Mama!
Remember the final scene in Hi Bye, Mama! where Kim Tae Hee bids goodbye to the world in a cherry blossom lane? Well, you can relive that heart-breaking yet beautiful scene when stopping by Nulnocheon Cherry Blossom Road. Found at the Imjingang Falls Forest Camp in Paju, this picturesque location perfectly reflected the bittersweet end and hopeful beginnings the characters met.
Fun fact: The Imjingang Falls Forest Camp is worth visiting not only for those wanting to immerse into the beauty of nature. For history buffs, or anyone keen to learn, the destination also features exhibits that tell the sad history between the North and the South.
BOM Farmers' Garden from The World of the Married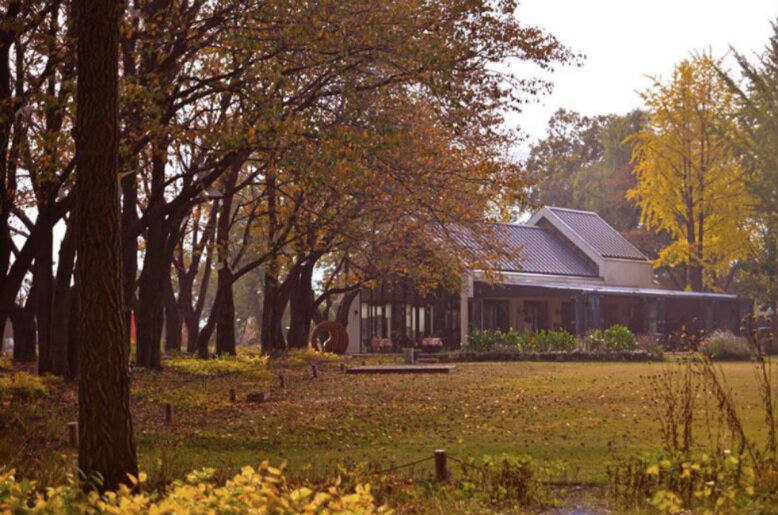 Who can forget the tense scenes of top-rating 2020 K-drama, The World of the Married? If you're still reeling from all the twists and somehow want to reminisce them in your fangirl trip to Korea, why don't you start off at the beginning when Ji Sun Woo uncovered who her husband's mistress was? Visit BOM Farmers' Garden in Seoul, the very venue where Lee Tae Oh's birthday and the controversial revelation took place. Since the filming location is an event place and a restaurant, it's open to the public wishing to have a taste of good food, but hopefully not of Dr. Ji's fate.
Fun fact: Aside from being a restaurant serving sumptuous organic dishes with ingredients sourced from their very own garden, BOM Farmers' Garden also showcases works of art that you can check out for your dose of culture and inspiration.
Lake Lungern from Crash Landing On You
Last but not the least, if you're looking to travel beyond Asia, why not set your eyes on Switzerland as seen on Crash Landing On You. See the mesmerising sights that brought Yoon Se Ri and Ri Jeong Hyeok together. There were a ton, but what remains our favourite is Lake Lungern in Obwalden where our star-crossed lovers settled in at the finale. Have a picnic as they did on the grassy hills overlooking the sparkling blue waters. While you're in the European destination, make sure to check out the Sigriswil Panorama Bridge that set the stage for the series' trio's first encounter too!
Fun fact: If a chill picnic's not your thing, you can hike up the surrounding trails in the area that lead to flowery meadows. For more action, you can also opt to kayak or sail along the vast lake.
(Cover photo from: @sbsdrama.official)
Meanwhile, bring your tastebuds on a journey with these Korean street food recipes.
Comments, questions or feedback? Email us at [email protected].