We're right in the midst of celebrating #SecondHandSeptember, a meaningful occasion which aims to encourage fashion-loving consumers to hit pause on buying new clothing for the month and to consider making more sustainable wardrobe choices for the sake of our environment. With this, it's only right that we re-evaluate the items in our wardrobe and aim to get as much wear out of them as possible. By doing so, we are not only being a little kinder on our wallets but on the environment too.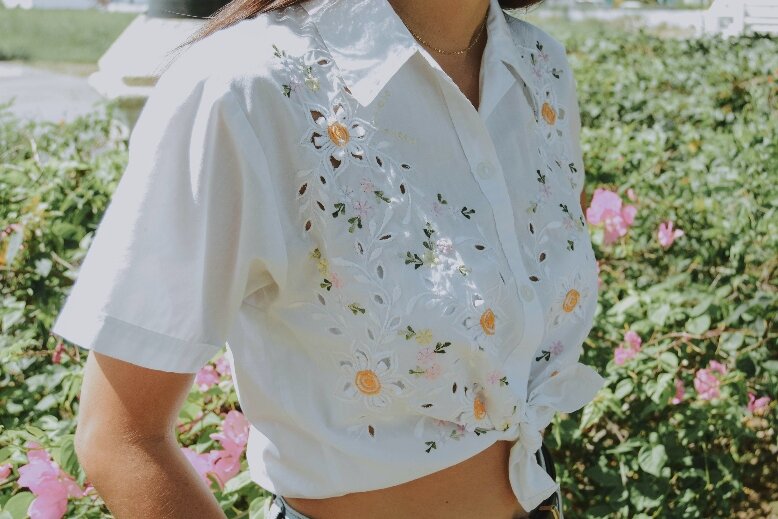 So before you toss that ill-fitting shirt in the trash, think twice and consider sending it to the tailor's instead or try fixing it within your own means. To help you get started, we've rounded up our top 10 styling tips from a few Instagram and Tiktok content creators to show you how you can make your clothes fit better without having to burn a hole in your pocket.
1. Convert your standard singlet into a '90s strappy top
Draw more attention to your upper body frame by converting your straight neckline singlet with adjustable straps into a '90s strappy top that is Spice Girls-approved. This tip is particularly useful for those who have a more boyish-looking frame and are hoping to create the illusion of curves through their dressing.
Styling hack: Follow @fashionbyally's lead by adjusting both shoulder straps of your singlet to the longest possible length. Then, pull the straps over your head and onto the opposite sides. You are now ready to rock the '90s strappy top for your next fashionable outing!
2. Create your own front knot shirt
Nothing screams summer like a front knot crop top with a cute bathing suit. But before you whip out your credit card and add these trendy-looking crop tops to cart, consider saving your coin and work with your current collection of classic button-downs instead. With this genius hack, you will get more wear out of your wardrobe classics while saving a little money at the same time.
Styling hack: As demonstrated above by @kristinakacheeva, transform your classic white shirt into a feminine crop top by buttoning it until the top of your belly button. After which, tuck both ends of the shirt onto the opposite sides by looping them underneath the gap between the two buttons.
3. Fashion eight different tops from a single scarf
In the mood to show a little skin during this weekend's brunch date? Reach for your silky printed scarf instead of your usual repertoire of blouses and have a go at creating your own flirty, sleeveless top. If you don't own one, consider picking one up from your
local vintage clothing store.
They tend to offer a larger variety of designs and offer them at wallet-friendly prices too.
Styling hack: Bookmark @devina.duggal's IGTV and follow her handy tips on how you can nail this hack with ease. (Our favourite style is the halterneck design!) Aside from your printed scarf, you'll also need a black or dark-coloured strapless bralette and you're all set for your transformation.

4. Flaunt your figure by revamping your loose dresses
Feeling confident about your curves? It's time to celebrate your body by turning your loose dress into a figure-hugging frock. This hack requires a few easy steps and it allows you to rock the same dress in two different ways.
Styling hack: Check out @missfashfluent's handy step-by-step video guide, which starts off with her turning her dress inside out. Take two elastic hair ties and stitch them onto the inner sides of the dress. Using an old shoelace, loop it between the two hair ties and pull it until it reaches your desired 'waist' length. This feature allows you to adjust the waist area to one that best suits your figure.
5. Look sleek in a bodysuit
Pesky bra straps and bra lines, be gone! If you haven't heard,
bodysuits are officially back on trend
and we love how sleek they look whenever we pair them with our trusty high-waisted bottoms. That being said, it can be frustrating if the bodysuits that we own do not come with built-in bra cups.
Styling hack: @inmyseams recommends that we use the bra cups from an old bra and tuck them underneath the inner lining of the bodysuit. Then, secure the bra cups in place with a small safety pin. For a more permanent fix, sew the bra cups onto the lining instead.
6. Make more room around the waist area of your jeans
Whether you're currently baking a tiny bun in the oven or have over-indulged yourself in an all-you-can-eat buffet, you may face the pesky issue of your jeans feeling a tad too snug around the waist area. Here's a temporary fix that will help accommodate your growing belly.
Styling hack: As illustrated by @tessmontgomery above, start by looping your rubber hair tie around the button of your jeans. Then, pull the ends of the tie towards the buttonhole before looping it back over the button again. Last but not least, conceal the additional 'allowance' around your waist with a belt.
7. Restyle your button-down into an asymmetric top
If you have a couple of loose button-down shirts in your wardrobe, this one's for you. Try out this useful hack, which can help transform this no-nonsense officewear item into a cocktail-ready statement piece.
Styling hack: @fashioninflux looks chic and put-together in her asymmetrical top, which she 'created' using her blue, vertical-striped button-down. Start off by wearing the shirt as it is before pulling one of your arms out of the shirt sleeve. Then, fold the sleeve underneath your armpit and tuck it into the gap between two of your shirt buttons that sit closest to your stomach area. Finally, secure this 'bustier' portion of your blouse by tucking it into your bra cups and use a boob tape if needed.
8. Taper your straight-leg trousers without requiring pins
You love your classic straight-leg jeans, but you're also hoping to switch up your denim fit from time to time. Consider attempting the tapered jeans look as it shows off one of the slimmest parts of your body (your ankles) while giving your ensemble a more laidback, casual vibe.
Styling hack: Do like @arevceline by pinching and fold over the sides of your jeans before rolling them upwards. Fold them tightly so as to secure the new jean length in its place. This tip is great if you're on the shorter side, and are often left with trousers that are too long for you.
9. Transform your sweater into a slouchy tee
This may sound like a no-brainer especially if your first thought would be to fold up your sleeves, however, opting for this traditional route might add unnecessary bulk around your arms and shoulders. Turns out, there's a simple yet effective way for you to achieve the slouchy loose tee look that's trending right now, without you having to purchase a new oversized tee.
Styling hack: @laureenmuy flipped her sporty pink sweater inside out before folding up both of the sleeves neatly to her desired length. With this tip, you are also able to secure the length of your shirt sleeves without having to re-adjust them throughout the day.
10. Turn that crossbody bag into an over-the-shoulder purse
You've outgrown wearing your crossbody bag over your chest ever since you graduated from school, and the long straps on the bag aren't helping your case either. You've also been eyeing a few '90s-inspired purses on the 'gram, but aren't ready to shell out extra dollars for them just yet. How about we turn that crossbody into a fashion-forward purse instead?
Styling hack: For this, @valerialipovetsky took the adjustable strap portion of her brown leather crossbody and folded it down towards the right end of the bag, before securing the shortened shoulder strap in place with a tight knot. She completed her hack by tucking the knot inside the purse.
Which of these hacks did you find the most useful?
(Cover photo from: Unsplash)
Next, learn how you can transform your home into a haven through colour.
Comments, questions or feedback? Email us at [email protected].