As we edge closer to celebrating Singapore's 54th year of independence on National Day next week, we also remember that this year marks the Singapore Bicentennial — the 200th anniversary of Sir Stamford Raffles' arrival in Singapore in 1819.
Last Tuesday, the
Textile and Fashion Federation
(TaFF) launched
Spotlight: Singapore Stories 2019
for the second time running. This year, seven homegrown brands —
Weekend Sundries
,
Kayloo Prints
,
Esther Tay
,
CYC
,
Joan Guo
,
Kanyeka
, and
CAYRA
— created capsule collections inspired by the Singapore Bicentennial, reflecting the rich heritage of the country.
The evening began with a fashion presentation featuring two creations per label at the
TENCEL™ Studio
on the third floor of
Design Orchard
, which was graced with the presence of Senior Minister of State, Ministry of Culture, Community and Youth Ministry of Communications and Information Ms. Sim Ann. The show was followed by a reception at
The Cocoon Space
on the second floor, where the full collection was on display for guests to preview in greater detail.
Selected Singapore Stories creations will be available at the Design Orchard shop on Level 1 for purchase throughout the month of August.
Clozette is proud to be the digital content and fashion show partner for Spotlight: Singapore Stories. Click
here
to read more about each designer and the inspiration behind their Singapore Stories collection.
If you're curious about what happened at the showcase, scroll on to see some highlights below.
Opening Speeches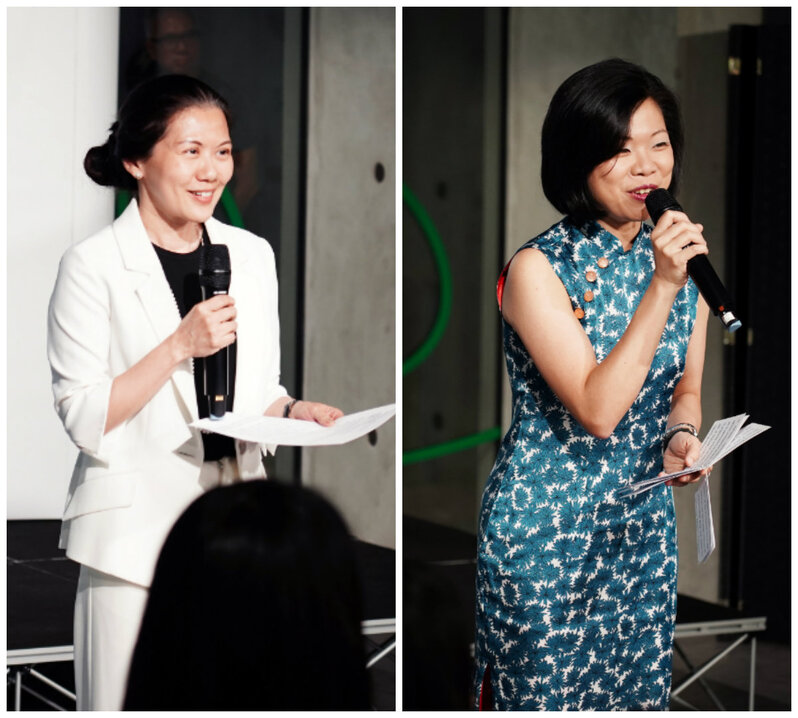 The evening began with opening speeches by TaFF CEO Ms. Semun Ho and Guest of Honour, Senior Minister of State Ms. Sim Ann.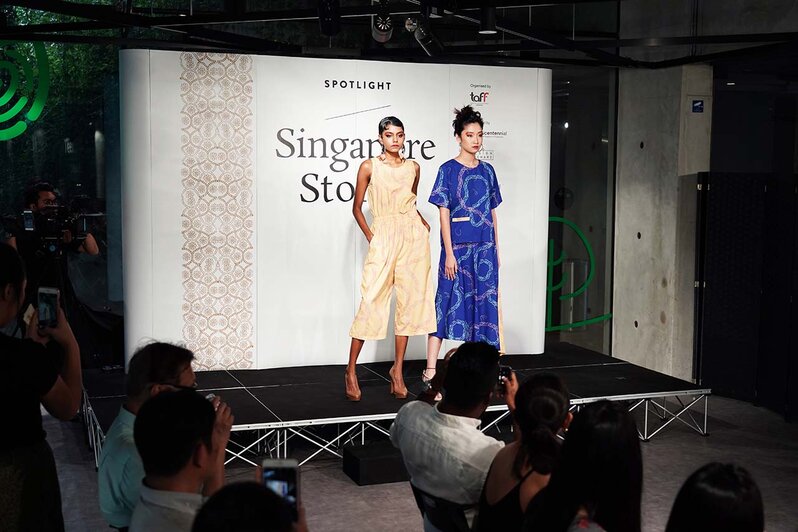 Inspired by the local childhood game of zero point, Weekend Sundries' collection titled "A LEAP OF FAITH" features a limited edition print reminiscent of the rubber band ropes frequently used by children as hurdles upheld at varying heights to jump across.
Named "OUR FORE-MOTHERS" for the women who contributed to nation-building efforts in their own unique ways, this collection pays tribute to them through nine unique prints illustrating the work they did back in the day.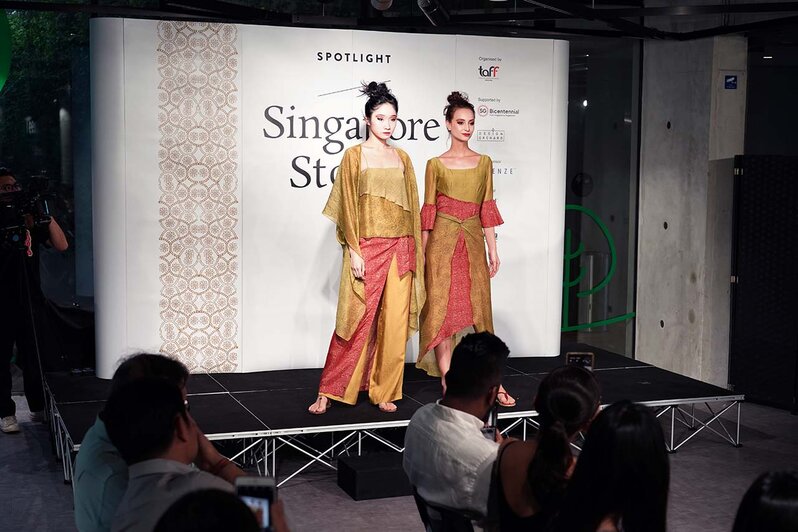 Inspired by the growth and development of Singapore, Esther Tay's Singapore Stories collection pays homage to the nation's past while also anticipating the future, through a fusion of traditional and contemporary prints that result in modern, yet playful designs.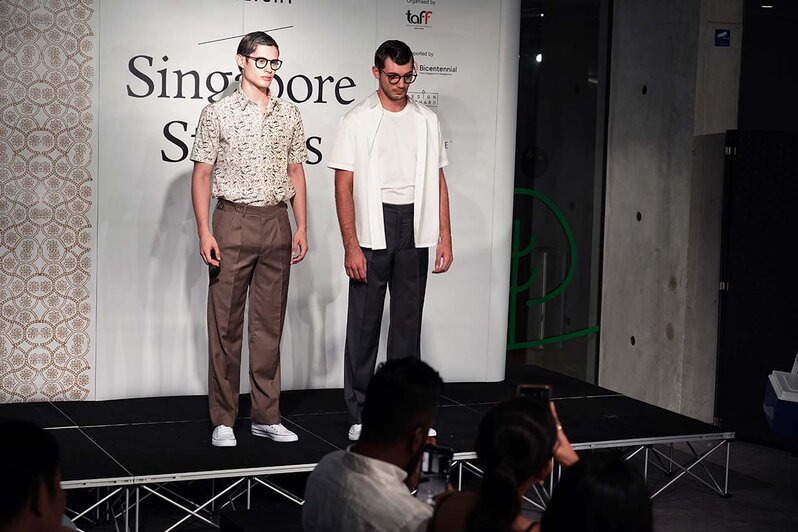 Drawing inspiration from the chapter 'Singapore is an 80-storey Building on Marshy Land' in Lee Kuan Yew's book, CYC's collection features casual printed shirts and shirt dresses emblazoned with unique prints celebrating Singapore's natural beauty and architecture.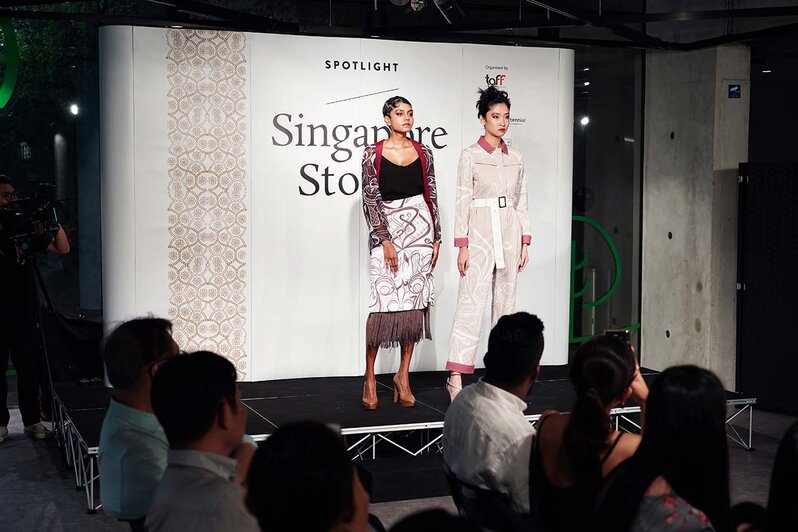 In hopes of reminding older generations and spreading awareness among younger Singaporeans, the Singapore Story Joan Guo tells draws a connection between the spiral and flames in the traditional Lion Dance and Peranakan art.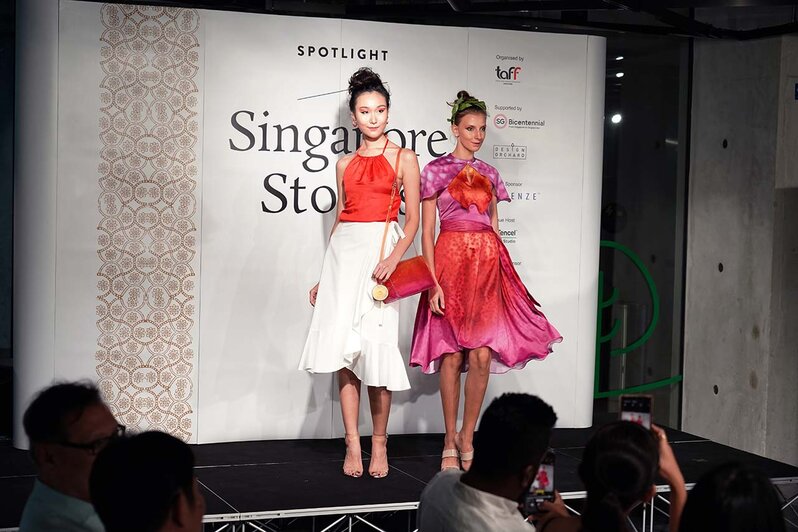 Kanyeka's Singapore Stories collection focusses on Singapore's history, infrastructure, environmental conservation, cultural preservation, and its strategic impact. This is made evident through the incorporation of visual elements such as the Vanda Miss Joaquim, Singapore's national flower, and accessories that serve as a nod to other elements of our nation's story.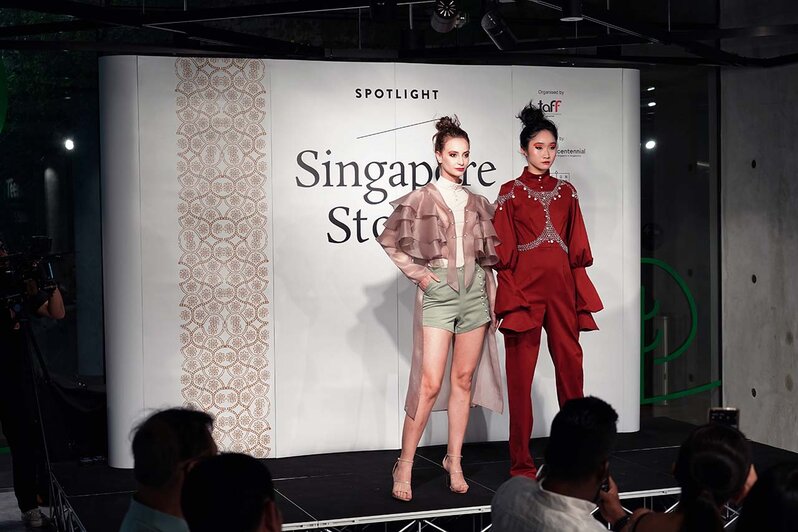 A Singapore Story told through the combination of bold colours, elements connected to historic traditions, CAYRA's collection draws inspiration from the Chetti Melaka, a group of Peranakan Indians whose culture expresses the rich diversity within the country.
Closing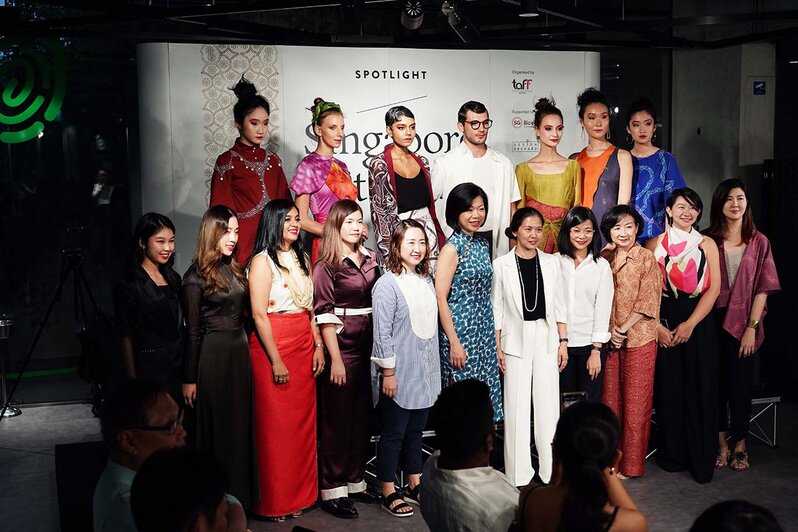 Front row, from left to right: Kyra Chang, Caylandrea Chang, Kanchan Gaitonde, Joanne Quek, Audrey Chen, Senior Minister of State Ms. Sim Ann, Semun Ho, Cara Chiang, Esther Tay, Kristin Loo, Michelle Chan
Comments, questions or feedback? Email us at [email protected].