Parenting is often known as the toughest 'job' in the world. Single parenting? It may be even more challenging, but it can be done when love, strength, and a strong support system are by your side.
In celebration of International Day of Happiness on 20 March, beauty brand Ange Gardien Paris joined hands with non-profit organisation HCSA Dayspring SPIN (Single Parents INformed, INvolved, INcluded) to host an event to honour single parents.
Through this cosy affair, the parents had the chance to create moments of love and joy for themselves and their children. Read on to learn more about the parents' heartwarming experiences during the #SpreadHappiness event.
Finding joy in their single parenting journey


"What makes you happy? Why is being part of a trusted community important to you?" The parents reflected on these questions as they opened up about their single parenting journey. They shared about their hardships of raising a child and talked about how #SpreadHappiness had gently reminded them to prioritise their self-care needs too.
Sharing sweet parenting stories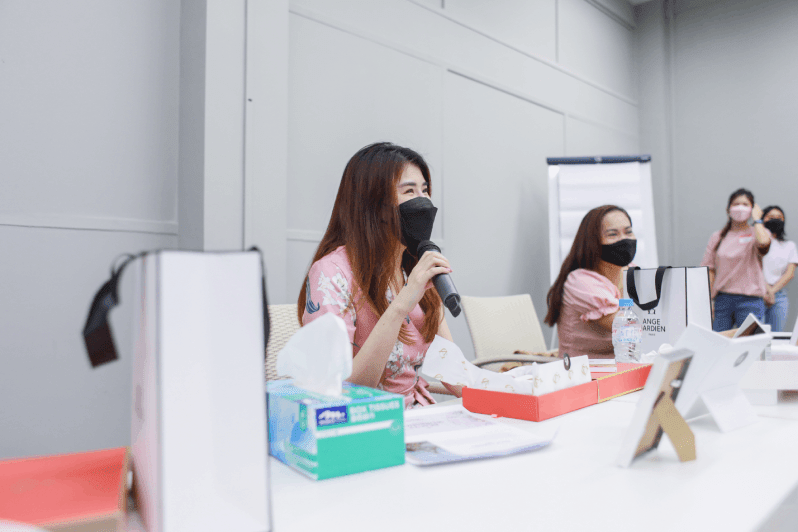 The event commenced with an icebreaker activity that saw the parents exchange candid stories of their single parenting experiences. As the children occupied themselves with arts and craft activities in the indoor play area next door, the parents shared about their hopes for the future and gave one another advice on keeping calm whenever they face frustrating moments with their children.
Many of them also talked about the goals that they wanted to accomplish for themselves — they agreed that they should learn to feel less guilty — and more encouraged about making time for rest.
Putting their best face forward with Ange Gardien Paris
After the sharing session, Ange Gardien Paris hosted a hands-on beauty workshop featuring useful tips and tricks on accentuating the eyes. It was a fun, confidence-boosting 'exercise' that showed the parents how to create a more presentable first impression. It also allowed the parents to take their minds off worrying about their children for a short while, and to enjoy a few moments to relax and beautify themselves.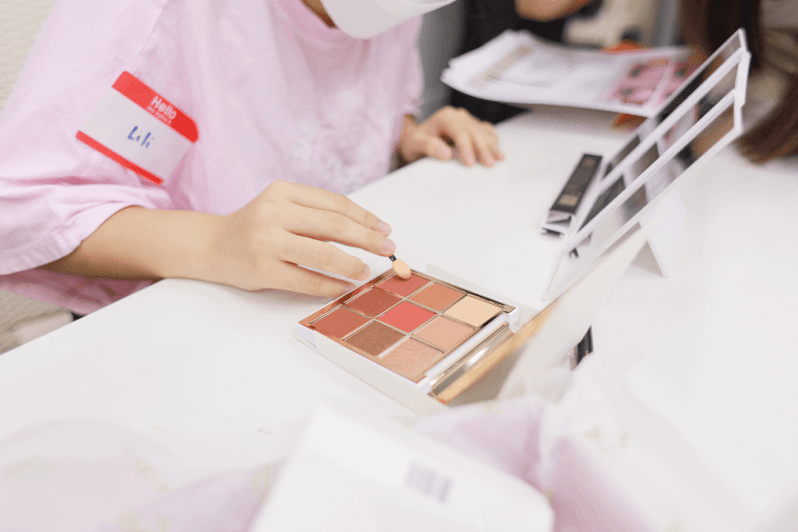 To empower them on their beauty journey, the parents were each gifted an Ange Gardien Paris 'All Eyes On Me' set, which included a Sleek Artistry Eyebrow Pencil, a Vitamins Showtime Eye Palette, a Vivid Precision Ink Liner, and a Here's Proof Volumising Mascara. They emerged from the session with groomed brows, defined eye makeup and lush-looking lashes.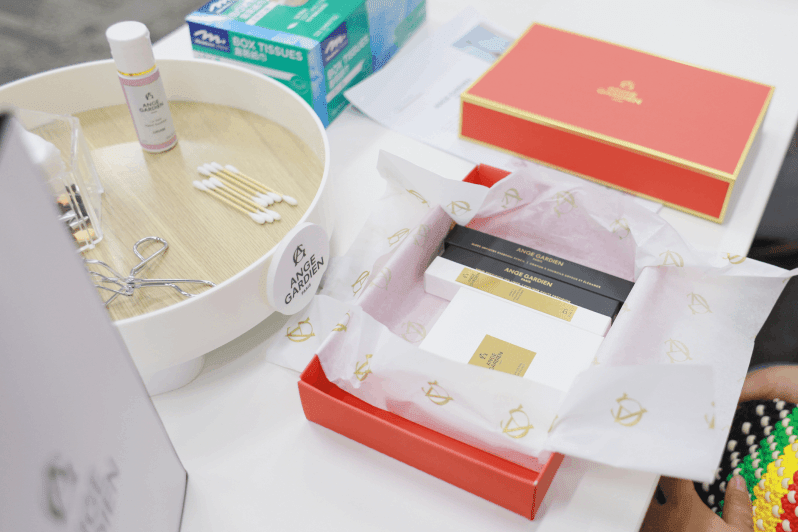 Sharing sessions from fellow single parents
After the mini beauty makeover, a few single mums led a meaningful dialogue on the joys and challenges of solo parenting, and the importance of self-love. They talked about building a strong support system to feel less alone in their parenting journey and encouraged one another to be brave enough to speak up and seek help where needed.
Sharing about self-care, Jaylene revealed: "We are often afraid of being judged by others when we take time off to care for ourselves. But, we must remember that when we're happy, our children will be happy too."
Customised gifts prepared by the children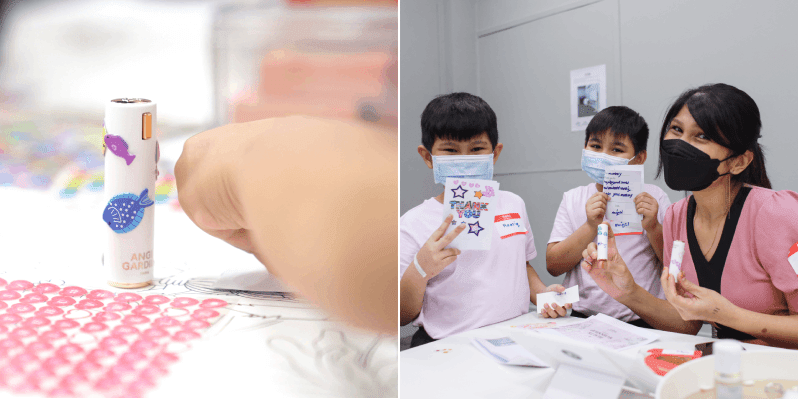 Next came a heartwarming surprise: The children presented their gifts to their parents, which included an Ange Gardien Paris Velvet Cloud Lipstick decorated with colourful stickers and a handwritten 'Thank You' card. The thoughtful gesture instantly put a smile on the parents' faces. Some of them were overwhelmed with emotions and took their children in for tight hugs.
Turns out, the children had used their playtime to prepare the thoughtful gifts. The children picked out the best lipstick shades for their mums, as well as decorated the lipsticks by pasting stickers and writing their names on them.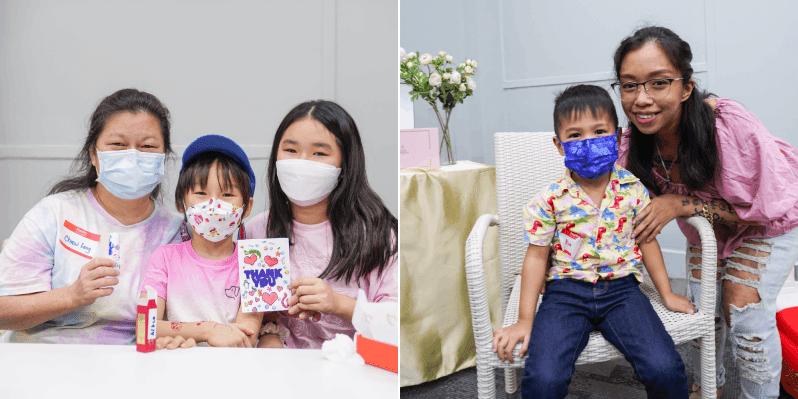 "One of my favourite moments from today's event was receiving the customised lipstick and thank you card from my son Kieran. I didn't expect him to know about my favourite colours and animals, but he did! That was so sweet of him," shared Nathelie.
Capturing moments as a family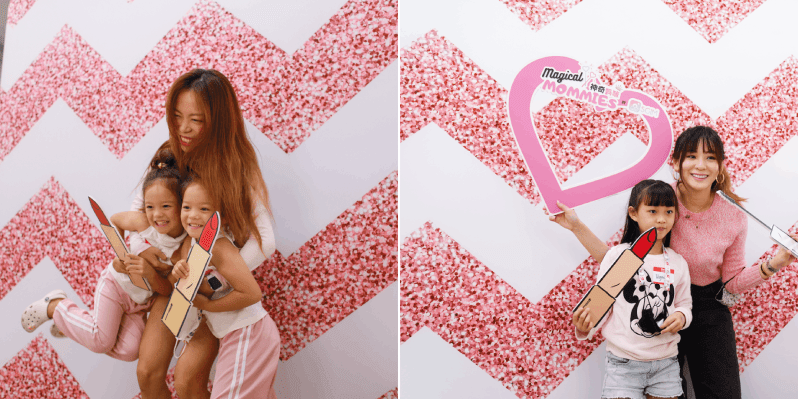 An event isn't complete until the guests have snapped a few photos! The parents and their children took turns posing for photos and GIFs at the instant photo booth.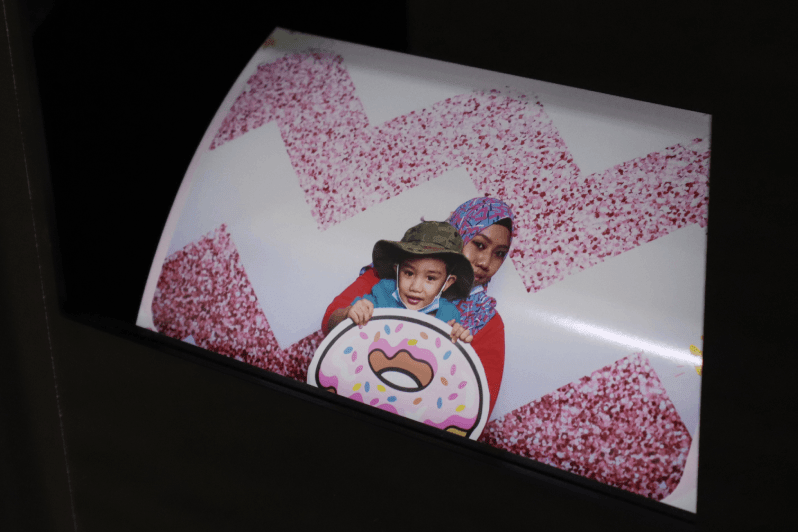 Before heading home with their new gifts in tow, the parents also visited the Ange Gardien Paris beauty pantry, where they sampled the brand's range of fragrances and makeup products.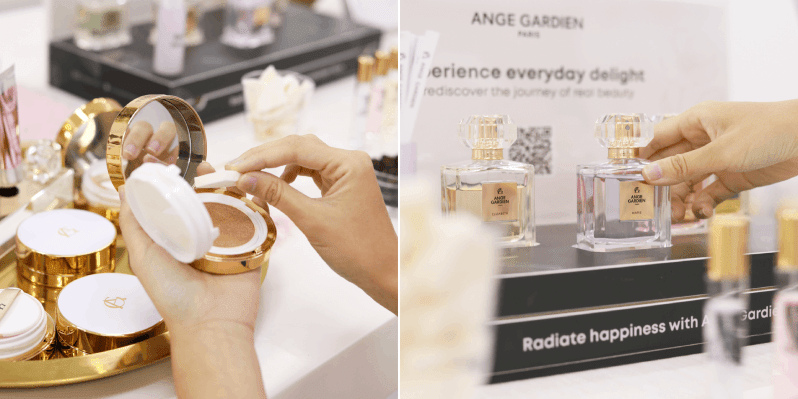 Single or solo parenting may be challenging, but a parent's love for their child is infinitely more resilient and stronger. Here's to all single parents — the brave mums and strong dads — who inspire us and are deserving of joy, happiness and fulfilment not just on International Happiness Day, but every single day.
Ange Gardien Paris has partnered with HCSA Dayspring SPIN (Single Parents INformed, INvolved, INcluded), where 5% of all sales proceeds in March will go towards supporting single parents in their parenting journey. Learn more here.
Comments, questions or feedback? Email us at [email protected].