"Ding!" goes the door charm as a woman enters the cafe with a spring in her step and an unassuming smile on her face. As she approaches the counter and lifts her head to study the chalkboard menu, you can't help but be drawn to her quiet confidence. "There's a certain ease about her," remarks someone in a hushed tone. "That artfully dishevelled hair. That classic manicure. And those shoes! Who makes them?" "Clarks," she replies.
In her latest tie-up with the British footwear brand, Singaporean fashion blogger Andrea Chong has curated six classic and comfortable designs from Clarks' Spring/Summer 2021 collection, which are presented as a thoughtful edit that she endearingly terms as Ease About Her to celebrate the effortlessly chic woman on the go. Read on as Andrea tells us more about her creative venture with Clarks, her style identity and why trusting her intuition matters more than anything to her.
How important is creativity and intuition in your line of work?
I lead with my intuition 100 per cent of the time as I see myself as a very "at-the-moment" kind of person. I'm the sort who likes to assess the situation and improvise from there. Once I'm interested in an idea or passionate about something, I tend to go all out to achieve it.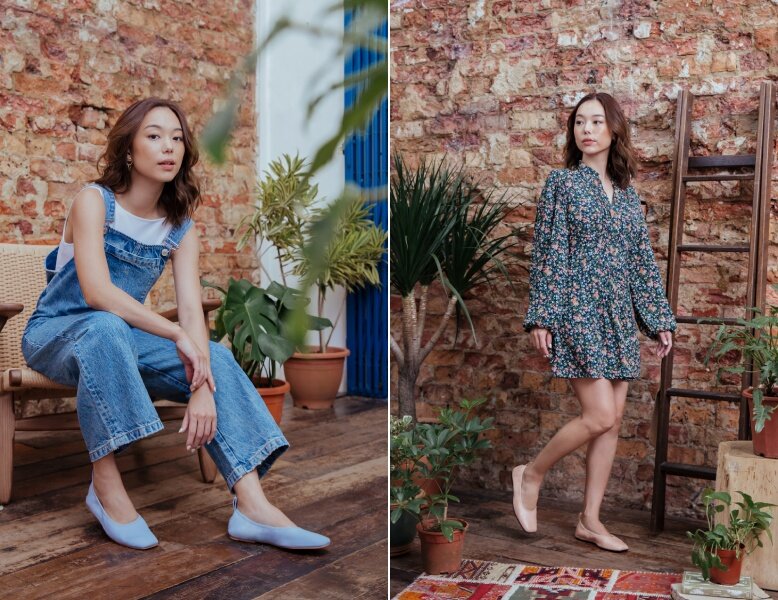 Creativity's extremely important to me as well because I play a big role in a lot of the projects that I take on — which is evident in what you see in this collaboration that I've worked on with Clarks. A lot of the creative direction comes from me — whether it's conceptualising ideas for a campaign or handling post-production work. I'm always thinking on my feet and I believe it's really helpful to have someone with whom you can bounce ideas off with. I also love browsing Japanese magazines as well for styling inspiration.

You've launched more than a few successful brand collaborations thus far and shoppers have responded really positively to what you've created. What are some of your considerations before entering a major partnership?
It definitely has to be a brand that resonates with me and my style. This applies to any project that I take on — be it for skincare, fashion and even footwear. If I'm not wearing it or styling it in a way that's authentic to my personal style, it's not going to work.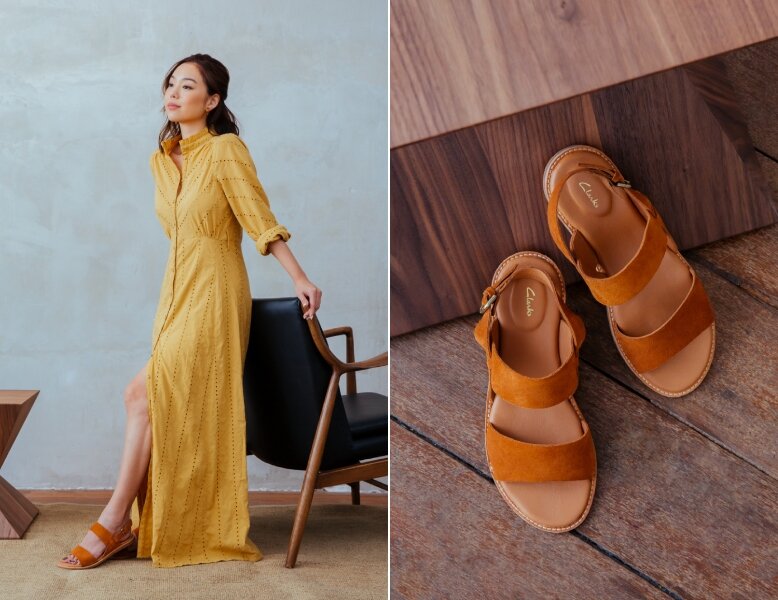 How did you discover your personal style identity?
I'd say it's ever-changing as I would not wear what I wore five years ago! I think my style grows with me. However, at the heart of it, I believe my fashion philosophy has been the same — casual, effortless and sleek. In short, easy-sleek; where you look put-together without requiring much effort at all.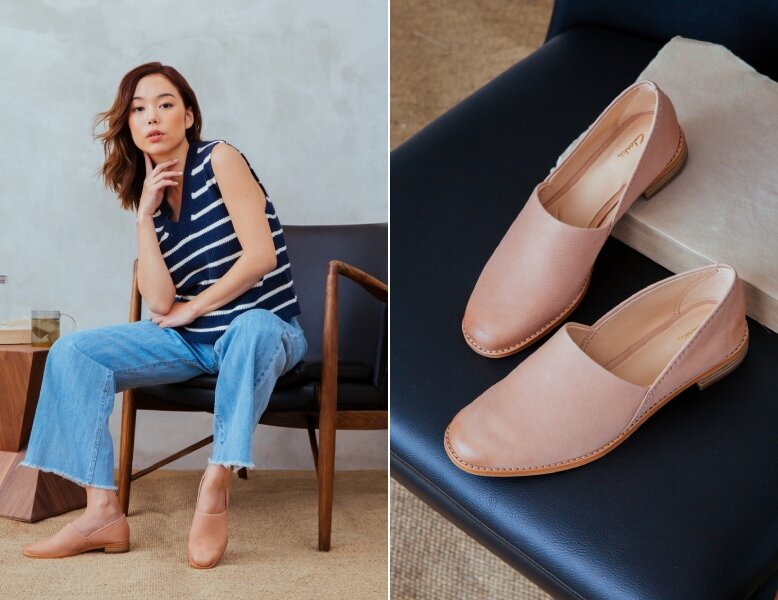 Let's chat more about your latest Ease About Her collaboration with Clarks, which features six footwear designs from their Spring/Summer 2021 collection. How did this partnership come about?
I went on a press trip with Clarks in 2019 and that was when it sparked the idea of curating a selection of footwear with the brand. They've seen the success of the collaborations I've done with other brands and we felt that working on a curation together would bring a fresh, new perspective towards wearing Clarks. I hope that through this collaboration, people are able to see how stylish, easy and essential Clarks shoes are and why they are deserving of a spot in your closet.
Which is your favourite piece from the curation, and why?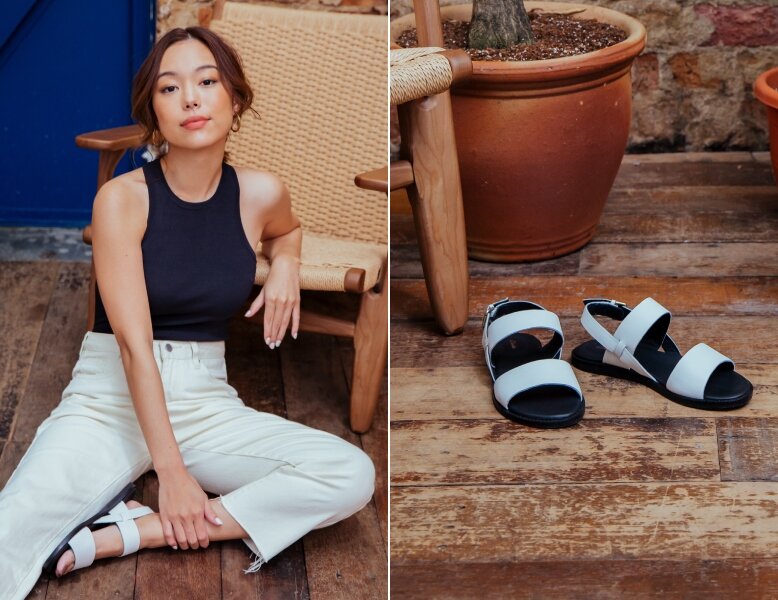 All six of them are my favourites! But if I had to choose, I would go with the Clarks Karsea Strap sandals in white or tan. Sandals are very much on-trend right now and they go with almost everything — whether it's a dress or a skirt.

You and your team have specially shot the visuals for this collaboration. Take us through the inspiration behind it, and how they embody Clarks' distinct brand identity.
I felt the term "Ease About Her" was the perfect way to describe this curation. I was inspired by the people I came across the street — the ones who don't need a lot of clothes or makeup, and yet are able to look so effortlessly chic and beautiful. That's the vibe that I wanted to convey through this collaboration.
In terms of shooting the visuals for this collaboration, I didn't want to stray too much from the main visuals, which incorporated a lot of plants and evoked a relaxed, at-home style. With this in mind, we worked with a studio that had brick walls and I even specifically sourced for the plants a day before the shoot (note: they are now sitting happily inside my house).
We'd love to know: Which footwear designs from your Ease About Her curation with Clarks would you wear for these three different scenarios?
Mother-baby picnic date with your son at the Singapore Botanic Gardens?
The reality of #mumlife is that you're required to be quick and fuss-free with your outfits. I'd go with a breastfeeding-friendly dress or something as casual as a button-up shirt with a pair of denim shorts. For shoes, I'd go with the Clarks Karsea Strap sandals in White Leather sandals.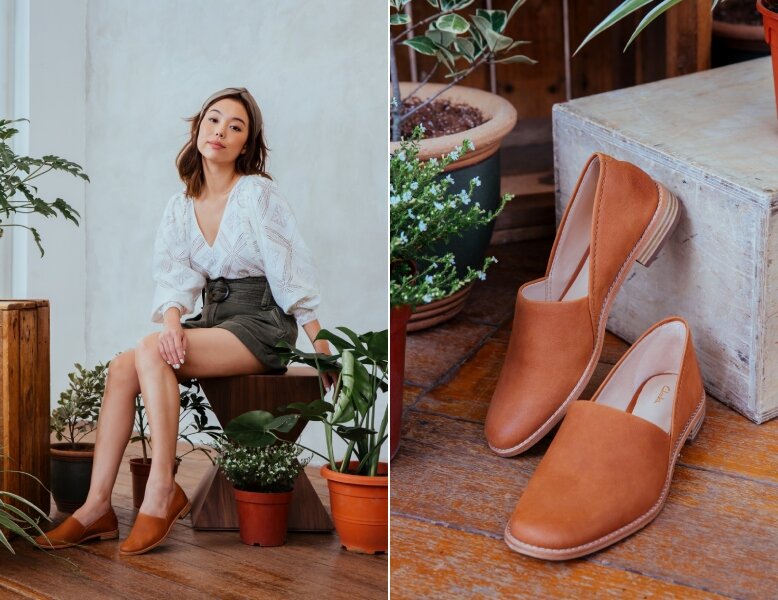 Brunch meeting at a cafe?
I'd style the Clarks Pure Easy mules in Tan Leather with a comfortable pair of jeans and an oversized, boyfriend shirt. And of course, a canvas tote bag to store all of my essentials.
Relaxing evening of good food and drinks with friends?
I'd pair the Clarks Pure Ballet flats in Light Pink Leather with a sleeveless white linen dress, preferably one with an off-shoulder design.
Last but not least, any advice for fellow women on discovering their own style identity?
I'd say try everything! You might be surprised by how good you'd look in new styles that you've never tried before. Experiment with different colours too. One way to discover your own style identity is to identify and emulate the styles of personalities whom you like on Instagram and go from there. At the end of the day, I believe you should be comfortable in whatever you're wearing too.
Click here to discover Andrea Chong's "Ease About Her" curation in collaboration with Clarks.

Comments, questions or feedback? Email us at [email protected].