It's easy to feel intimidated by investing if you've been accustomed to using traditional saving and budgeting methods your entire life. However, with the uncertain future and rising living costs, it may be wise to view it as an opportunity to safeguard a more secure financial future for yourself and your loved ones.
Furthermore, with International Women's Day just around the corner, there's no better time to #BreakTheBias and debunk the stereotype that women aren't capable of taking charge of their finances.
So, how do we start? And can anyone do it?
We checked in with four Singaporean working women, who told us how they overcame their fear of investing and why achieving financial freedom is far from a pipe dream for them. Rather, it's a goal that they're confidently working towards. Already feeling inspired to kick start your investment journey? Read till the end of this story to redeem a TBL-exclusive promo code from digital wealth platform Syfe!
It's okay to not know everything…
… but it's not okay if you don't try to learn by doing it. 35-year-old Shn Juay says that the "greatest challenge" that she faced when it comes to investing was "getting started." "It took me a while to adjust my mindset from 'I am not ready to invest' to 'I want to start. I don't know yet but I will learn by doing it,'" she confesses.
As a mother of three young children, the vice president of product and marketing admits that her current progress towards achieving her financial goal is "slower" than she intended due to her family commitments. Still, she finds joy in the learning process and enjoys speaking to and hearing from people who are more knowledgeable about different forms of investments.
That eventually led her to learn more about robo-advisors.
"[Robo-advisors] take the complexity out of investing for beginners like me. They come with low fees, well-designed investment portfolios and easy-to-use interfaces, which greatly eliminated my fear of 'buying blindly," Shn explains. With the help of these platforms like Syfe, she is given the opportunity to "invest for the long term" without feeling anxious or the need to make "rash decisions" during market fluctuations.
Shn's savvy investment tip: "Start by educating yourself on how investing works because there are simply so many resources available. The more you know, the less you fear." You have the power to shape your financial future — take that first step and embrace the learning process.
Make money moves that make the most sense to you
"Investing is unique to each person. I've realised that each person has their own strategy, risk appetite and preferences," shares Lisa Chan. The 35-year-old manager asserts that while financial advisors and friends can share their investment insights and recommendations, she felt that she "needed to know enough" in order to make her own informed decisions.
Lisa had her fair share of apprehensions prior to joining Syfe. However, she was soon able to "dip her toes into the water" and built the confidence to "dive in deeper" after attending the platform's webinars and speaking to a trusted Syfe wealth expert.
Syfe has become her "favoured choice" among the robo-advisors available to her as she appreciated that the platform "kept the barriers to entry low." "They don't require a minimum sum invested or charge hefty management fees," she explains. Like many other investors, while Lisa wishes that there was a way to be ahead of the curve in knowing where best to invest her money into. But she's also learnt the importance of "doing her homework" and lives by the age old adage, "Don't invest what you're not prepared to lose."
Lisa's savvy investment tip: "Everyone's motivations and inclinations are different. Assess the product and platform to see if it's suitable against your needs." Your path will not be the same as others and that is all right. Always be prepared and remember that you are in control of your financial journey.
Branch out and brave through the risks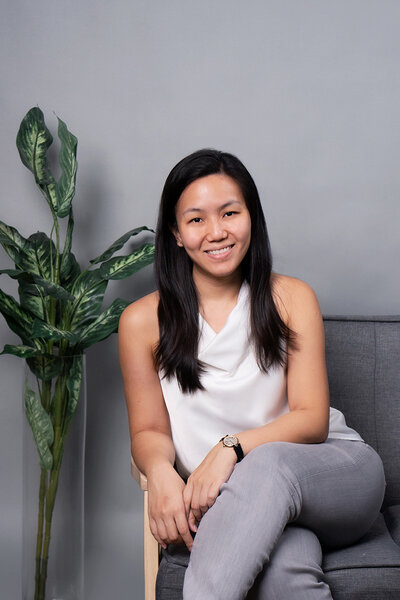 Taking calculated risks has been Stephanie Fong's modus operandi as far as investing is concerned.
"My number one fear when it comes to investing is losing money because of an investment gone bad," she admits. However, the 34-year-old insurance broker ultimately overcame her fear after acknowledging that she had to take some "calculated risks" to make a return.
She also believes that investing is "essential", even if you're only putting in a small sum. "It helps you to diversify your income streams. It can also help with the general anxiety we feel these days about inflation and rising living costs," she advises.
Stephanie views robo-advisors as a "fantastic" way to get started on investing. However, when embarking on new investment opportunities, she still advises others to proceed with caution and to conduct their own research. This includes understanding the services provided and learning more about the potential risks.
Stephanie's savvy investment tip: "Be aware of the many different avenues of investing. Then, pick the mix that you are most comfortable with. Don't just follow trends." Women are known to be intuitive for a reason. Couple this with ample research and make it your mission to become even more confident and financially independent.
You don't need a lot to start. Really.
"When I was younger, I used to associate stock investments with gambling. I also thought that I didn't have enough money to invest; clearly not knowing that there are so many different kinds of investment platforms available to us," admits 30-year-old Wang Liying.
However, as the project manager saw how bank returns weren't able to keep up with the impending year-on-year inflation rates, she came to the following conclusion: Having the same amount of money in your bank account cannot fetch you the same amount of returns you could potentially get from investing.
Since then, she has learnt to separate her investments comprising of various risk levels into different 'baskets', which includes giving Syfe a go.
"Robo-advisors such as Syfe give you a great start into the world of investing, especially if you are unsure of what and where you can invest," enthuses Liying. She finds the platform's equity exchange-traded funds (ETF) to be the "most attractive" type of investment for her as it offers "a good projected return." ETFs are known to be ideal for beginner investors. "Plus, someone is doing the heavy lifting for you — literally. When the market opens, you can just rest easy and go to bed," she concludes.
Liying's savvy investment tip: "Start today! It's never too late and you're never too early either. You don't need a lot to start." The first step is always the hardest. However, it can also mark the beginning of your path towards attaining financial freedom.
Take your first step with Syfe using "TBL20"
This International Women's Day, be inspired to take control of your finances and kick start your investment journey with Syfe. With its simple, all-inclusive pricing model, there is no minimum amount to get started.
Take your first step with Syfe, which caters to investors — new and experienced — who seek greater transparency, smarter personalised portfolios and better investment outcomes. Syfe is a Monetary Authority of Singapore (MAS)-licensed digital wealth platform and is headquartered in Singapore.
Download Syfe today on the Apple App Store and the Google Play store.
Use our exclusive promo code "TBL20" to receive a SGD20 cash bonus when you invest more than SGD1,000 with Syfe Wealth. Learn more about Syfe here.

Comments, questions or feedback? Email us at [email protected].