If you often travel to Bangkok for some serious retail and massage indulgence, you might have seen the stores and spas of local beauty brand, THANN, located along the city's famous shopping malls like Emporium, Gaysorn Village and Siam Paragon. Now, with a holistic wellness lifestyle in mind, the brand welcomed us to their THANN Wellness Destination nestled in the tranquil city of Ayutthaya. Because, you know, wellness is more than just products and two-hour spa experiences.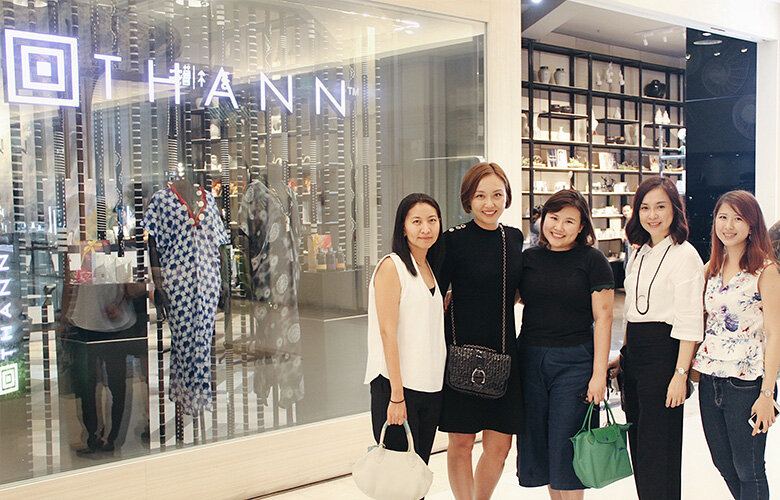 Founded in 2002, THANN offers a botanical range of body, hair and skincare products that marries the art of natural therapy with modern dermatological science. One of the key ingredients in their well-loved Rice Collection, Rice Bran Oil — which contains three types of vitamin E and acts as a natural antioxidant, emollient and sunscreen — is specifically extracted from Japanese rice because of its smaller molecular structure for deeper skin penetration.
Another popular range — and one of our therapeutic favourites — is the Aromatic Wood Collection. Uplifting Nutmeg is balanced with the sweetness of Orange and Tangerine for a joyfully gentle scent that relaxes the mind. If you're new to the brand, you must try their bestselling Aromatic Wood Aromatherapy Shower Gel.

As advocates of sun protection, we reached out for the Oil-Free Facial Sunscreen SPF 30 PA+++ with Nano Shiso (a type of leaf you often see used in Japanese dishes — it contains 300 times of vitamin A more than the kiwi, and 160 times of vitamin C than lemon) and White Tea Extract. It's so popular that each customer is limited to only three sets for every purchase. More than just a sunscreen, this product soothes the skin after sun exposure and lightens skin over time.
Onwards to the THANN Wellness Destination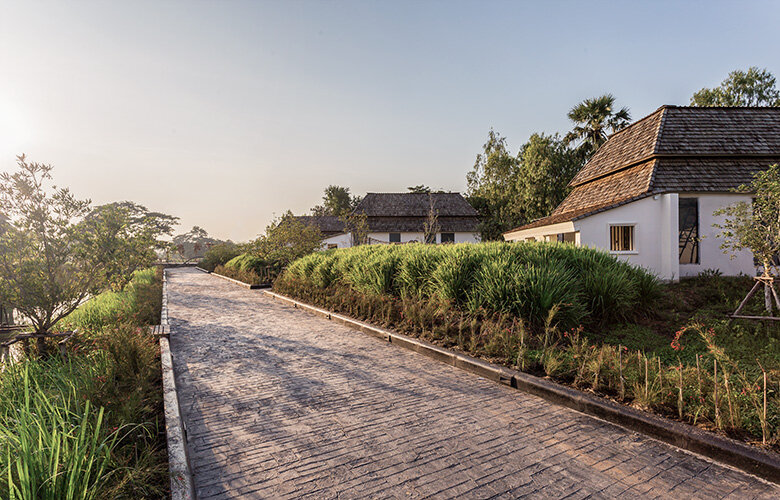 After an afternoon of touring the THANN boutiques in bustling Bangkok, we embarked on an hour's car journey to the THANN Wellness Destination in Ayutthaya. It comes as no surprise that this historical, old capital of Thailand was chosen as a home for the national brand's guests to spend some quality time for rest and rejuvenation. For the history and heritage buffs, you'll be glad to know that the THANN Wellness Destination is just 30 minutes away from the Ayutthaya Historical Park, which was declared a UNESCO World Heritage Site in 1991.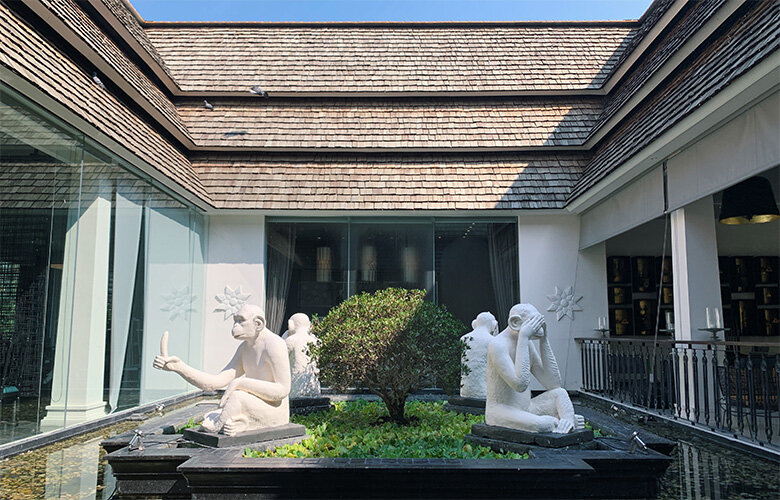 With serenity as a consistent theme, the architectural design of the resort is flowered with discreet influences from ancient Ayutthaya art and design. Greeting guests at the center of the lobby building are four monkey statues: three "wise monkeys" that embody the proverbial principle of 'see no evil, hear no evil and speak no evil', and a fourth monkey statue with a banana in hand, which symbolises mercy.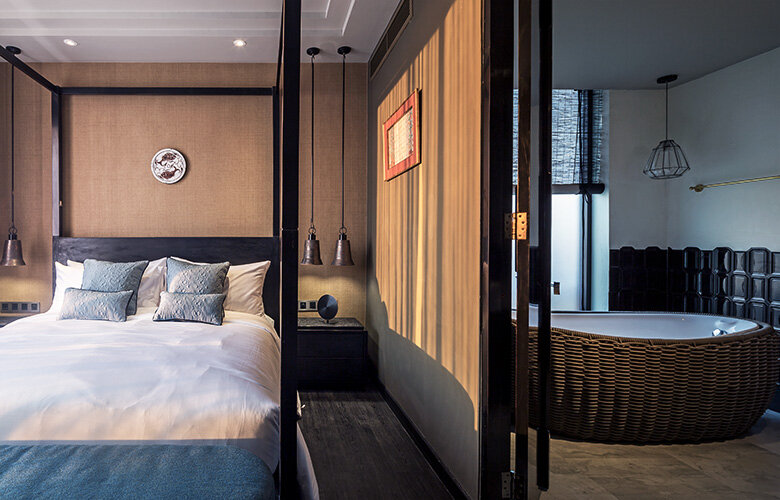 The resort offers 46 luxuriously spacious guest accommodations which include river view suites, tree houses and pool villas. Each accommodation is equipped with a complimentary in-room healthy drink and snack bar and of course, a bestseller range of THANN's natural skincare and aromatherapy products. To support environmental sustainability, you will notice that plastic bottled water is not used throughout the resort.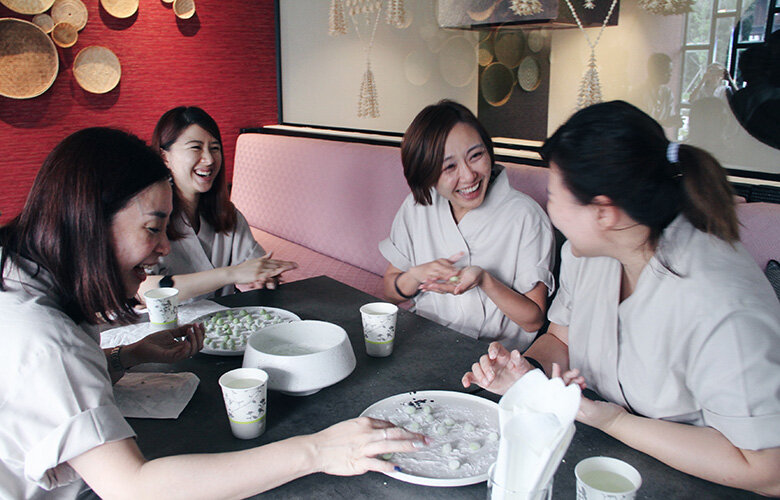 Upon arrival, we were asked by one of the friendly staff to complete a questionnaire that will help them determine our meal, exercise and relaxation options at the resort. We were also given a resort attire to change into, as if to encourage us to let go of our fashion and our ego, and to just be in our basic elements. It felt liberating, to say the least. One less thing to worry about and more time to focus on our personal well-being.
Unlimited wellness activities for the ultimate R&R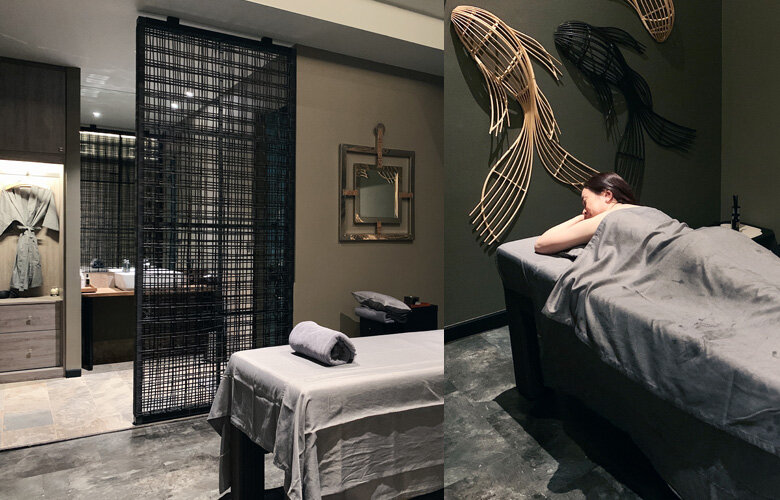 At the heart of the establishment sits the Spa Complex. The complex features 15 treatment rooms, an aromatherapy bathhouse, an aromatherapy steam room, three activity studios and a fitness gym. Each night of stay gives you a complimentary 90-minute spa treatment and unlimited access to all wellness activities.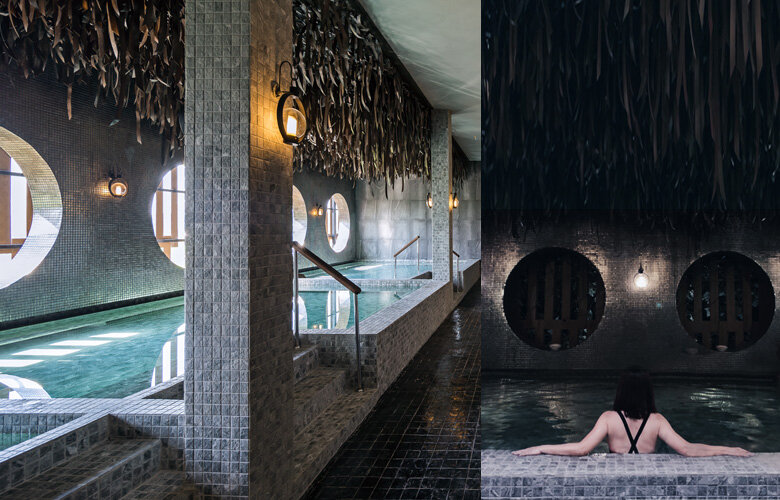 After a long day of activities, we particularly enjoyed soaking in the hot baths at the aromatherapy bathhouse. Choose to indulge in any of their three baths set at different temperatures and infused with essential oils: a cool bath at 25°C to stimulate the lymphatic and immune systems, a warm bath at 30°C to pamper tired muscles and joints, or a hot bath at 39°C for improved circulation and metabolism. Imagine soaking in the hot bath without having to travel all the way to Japan for an onsen experience!

Pedal boating we've heard of, but river cycling on river Noi was certainly a memorably new experience for us. We tried our, well, legs at river cycling just before the sun set. It was a bit of a workout, but we were greeted by a peaceful sight — and a scrumptious meal awaited.
Savouring The Art of Plate
Aside from the wellness activities, all main meals at the THANN Wellness Destination are also part of the room charge. Designed to retain natural flavours and deliver nutritious values, every menu is developed to uplift the mind with its fresh ingredients. And mind you, dishes created for wellness does not have to be bland or boring. Our tummies were treated to a feast that was pure bliss.
The Passion Behind THANN Wellness Destination
We had the privilege to spend time with Tony (Thitipat) Suppattranont, the heart and soul behind THANN and this magnificent destination. Inspired by the Australians' love for DIY body care using natural ingredients from Mother Nature during his four-year MBA stint in Australia, he launched THANN so we get to enjoy the goodness of this natural brand today.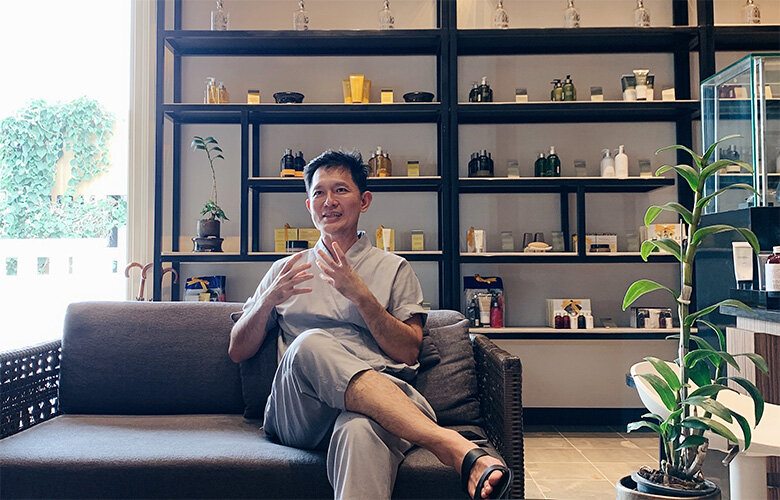 From leading the design of the resort and conducting training for all new staff to the plating of each dish and the development of exercise routines, Tony is an intelligent, thoughtful, humourous, and incredibly down-to-earth man with a passion for nature, culture, heritage, and the human connection. He witnessed how happy his customers were after their two-hour spa sessions, and with the new THANN Wellness Destination, the destination to holistic wellness will be well within reach.
And Tony's personal favourite product? The Shiso Body Butter — good for dry skin, not greasy, and mildly scented so you get to wear your perfume too!
Comments, questions or feedback? Email us at [email protected].