This article was first published on 22 August 2022.
Thai massages are best known for strategically targeting pressure points and using stretching techniques to relieve the body of any muscle pain and improve good circulation and flexibility. That's why massage studios specialising in this technique have been growing in popularity, even in Singapore. Curious to know which ones are worth visiting? Below are 13 Thai massage studios in Singapore to book for your next pampering session.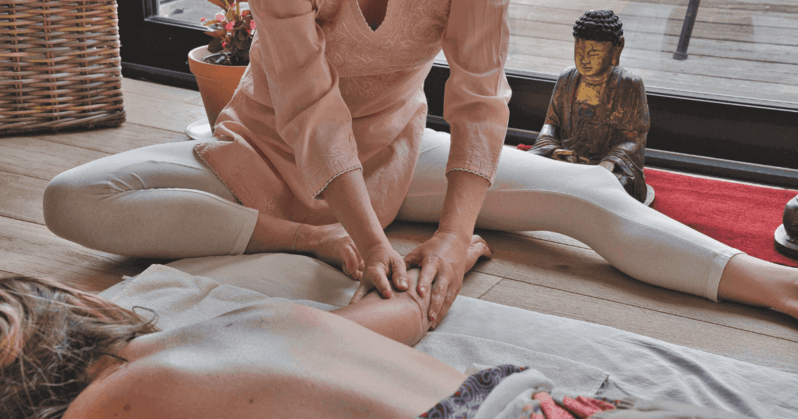 1. Healing Touch Spa
This award-winning Thai massage studio in Singapore has over nine branches scattered all over the island, making it easy for you to book a relaxing session wherever you are located in the +65 grid. It's best known for its Thai fusion massages, which combine traditional Thai techniques with massage styles influenced by Chinese practices.
Address: Various locations
Book an appointment here.


2. Sabaai Sabaai Thai Massage
'Sabaai' means 'happy' and 'comfortable' in Thai and you'll surely feel both after a visit to this massage studio. Upon entering the vicinity, you'll be transported from Singapore's busy Boat Quay area to a tranquil Thai-inspired sanctuary where you can enjoy ache-relieving massages, including those using herbs and massage oils that also stimulate the senses.
Address: 49A Boat Quay, Singapore 049838
Book an appointment via +65-6536-3306 or through their website.


3. Balinese Thai Traditional Massage
Why book a flight to Thailand and Indonesia when you can visit this Singapore-based massage studio instead to experience massages from these countries? Its massage therapists use various remedies specially created to deal with any tight muscle knots, improve blood circulation, and more. It also has massage services for
pregnant mums
.
Address: 235 Upper Thomson Road, Singapore 574366/ 311 New Upper Changi Road, #B1-05, Bedok Mall, Singapore 467360
Book an appointment here.


4. Healing Thai Massage
Whether you're looking for an oil-free Thai massage or an aromatherapeutic massage, this massage studio has options fit for your every preference. It also has other services like ear candling with matching head massage and more for a holistic pampering session.
Address: 39 Jalan Besar Singapore 208802
Book via +65-6294-0139.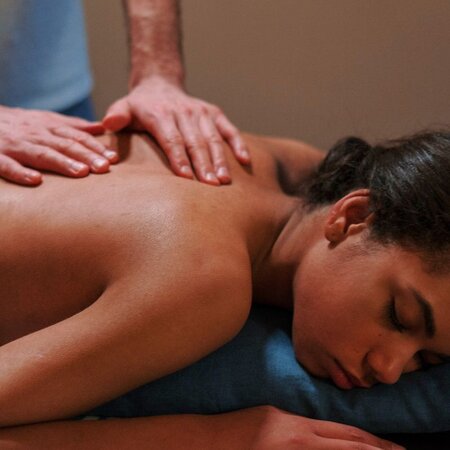 5. Hatyai Thai Massage
Hatyai has been operating in Singapore for over two decades, making it one of the most reputable Thai massage studios in the country. From the relaxing atmosphere and friendly staff to the wide selection of Thai massage techniques, this massage studio will definitely keep you coming back again and again.
Address: 58A Temple St, Singapore 058603
Book an appointment here or via +65-9023-3129.


6. Ayuthaya The Royal Thai Spa
You deserve a luxurious massage experience and this Thai massage studio in Singapore will deliver just that, from the ambience to the top-notch service. Its highly skilled masseurs will assist you in curating the perfect massage experience suited to your needs. It also sells premium self-care products if you plan to take the indulgent spa experience at home.
Address: 7 Orange Grove Road, Treetops Executive Residences, S258355/ 9 Bras Basah Road, #03-03 Rendezvous Hotel, S189559
Book an appointment via +65-6233-7366 or +65-6223-9180.


7. Healthland
This Thai massage studio offers head-to-toe services that help ease any muscle pain, especially around your shoulders, back, and feet. Its therapy sessions are also said to improve blood circulation and memory while reducing feelings of stress and anxiety. Talk about the perfect place to visit after a long week — or day — at work, right?
Address: 252A South Bridge Road, Singapore 058801
Book here or via +65-6221-3376.


8. The Thai Spa
This massage studio has a wide selection of services that help with overall body relaxation. It also has services that target certain knots and muscles, making it perfect for those with specific ache concerns. It also has services
for couples
for the perfect bonding session.
Address: Unit: 324, Level 3, North Wing, 3 Temasek Boulevard, Singapore 038983
Book an appointment here.


9. TD Spa
This Thai massage studio offers full-body massages and more targetted body-ache easing services that can be tweaked depending on your needs. Plus, it also has ear candling, facials, and other pampering offers to make your visit definitely worthwhile.
Address: HDB Bedok #01-132, 122 Bedok North Street 2, Singapore 460122
Book via +65 -6445-0466.


10. Loy Krathong Fitness Spa
This spa offers Thai massages, foot reflexology, and other pampering services. It also offers three duration intervals — 45, 60, and 90 minutes — that allow you to curate a relaxing experience more fit to your schedule and preference.
Address: 59 Lor 27 Geylang, Singapore 388185
Book via + 65-6745-4533 or +65-6744-5933.
11. Beauty World Thai Massage
This massage parlour offers Thai massages that range from short head/shoulder massage sessions to hour-long full-body massage packages. The place has a simple, cosy atmosphere and houses skilled therapists that will surely get rid of your knots, aches, and pains with ease.
Address: 144 Upper Bukit Timah Road, #01-18, Singapore 588177
Book via +65-6467-1557.
12. Aria Thai Massage
This massage studio has a quiet-speaking policy for the customers and staff to ensure everyone will have a quiet and peaceful experience. They use a variety of Thai massage techniques to achieve deep tissue relaxation, lymphatic drainage, and more.
Address: Blk 163 Bukit Merah Central, #02-3605, Singapore 150163
Book via their website here.
13. Skilled Thai Massage
This Thai massage studio lets its name speak for its service. It offers an extensive range of massages tailored to your needs and schedule, letting you squeeze in a relaxing session even in the middle of a busy workday.
Address: 218 Pasir Panjang Rd, Icon @ Pasir Panjang, #01-07, Singapore 118579
Book via +65-9135-6409.
Comments, questions or feedback? Email us at [email protected].