Protein bars are great for supporting your body's need to build stronger muscles and also keep you energised for the day. And while they're not recommended to be a substitute for an entire meal daily (balanced meals are still essential, after all!), protein bars good to carry around on hectic days when getting a proper bite is a challenge.


Other benefits of a protein bar
Aside from filling your stomach on busy days and preventing muscle loss, protein bars are also good for lowering your sugar intake. This is because instead of reaching for unhealthy eats, you can snack on protein bars at any time of the day to satisfy your sudden cravings. Protein bars are also effective workout supplements as they give you that energy boost needed for muscle training and retention.
Curious which protein bars should you try out soon? Here are 10 yummy but healthy options you can easily get in Singapore.


1. Grenade Carb Killa Protein Bar in Fudge Brownie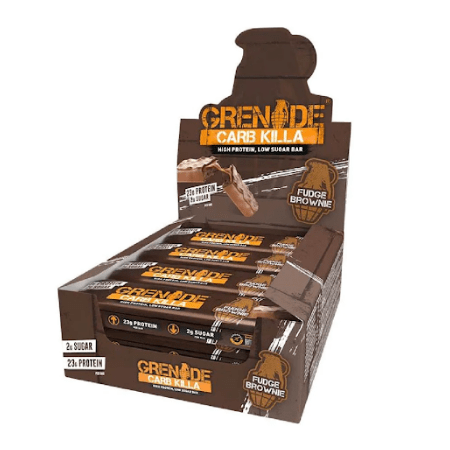 It might look like your regular chocolate bar but it's actually low in sugar and high in protein. It also helps eliminate unwanted carbs, making it a solid pick when you're aiming for healthy weight loss.
Another reason to love it: This bar is triple coated in low-sugar chocolate which makes it indulgent yet totally guilt-free.
Get it at Watsons for SGD58.65 per box of 12.


2. MyProtein 6 Layer Protein Bar in Birthday Cake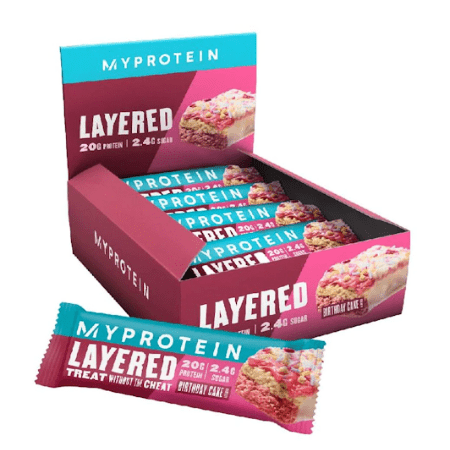 It doesn't have to be your birthday for you to reach out for this treat. This multi-layered protein bar has a 29% protein blend to provide you with a powerhouse boost. It also has 11% soy protein nuggets also help with effective weight loss.
Another reason to love it: The unique birthday cake flavour is not something you usually see in your typical protein bars which makes this a total must-try.
Get it at Watsons for SGD51.75 per box of 12.
3. Clif Bar Builder's Protein Bar in Chocolate Mint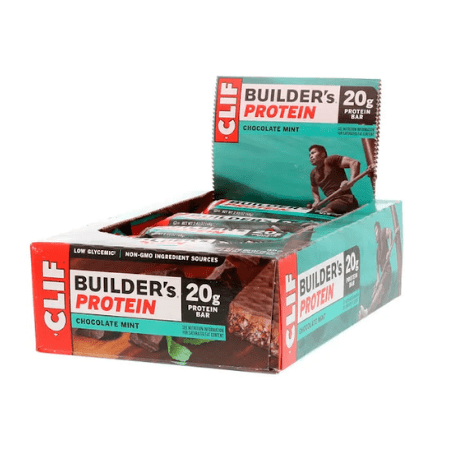 Chocolate mint — you either love it or hate it. Whichever side of the fence you're on, though, we'd like you to consider this protein bar. It's packed with 21 grams of complete protein with essential amino acids that will keep your muscles firm and strong. It also has vitamins B1, B2, B6, B12, and D2, which are all great in supporting protein metabolism and overall skin health.
Another reason to love it: This protein bar is also loaded with just the right amount of carbohydrates that help replenish your body's muscle glycogen stores after intense workouts.
Get it at iHerb for SGD44.74 per box of 12.


4. KIND Bars in Crunchy Peanut Butter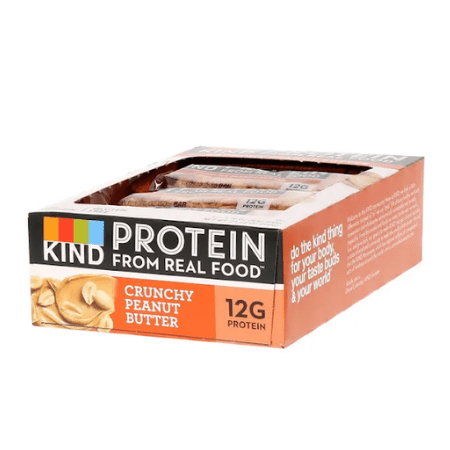 Looking for a protein-packed alternative to your usual peanut butter sandwich? Look no further than this treat. This low-sugar and low-sodium protein bar is made with premium natural ingredients that keep all the health benefits in and the nasties from preservatives out.
Another reason to love it: This pick is also a good source of fibre, promoting good gut health.
Get it at iHerb for 45.69 per box of 12.
5. BNRG Power Crunch in Key Lime Pie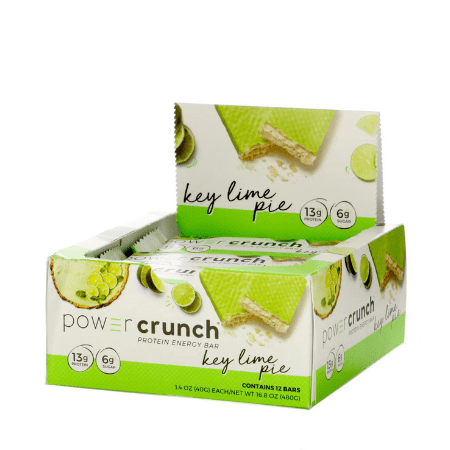 If you love a fruity twist on your protein bars, then this intriguing key lime pie flavour is the one to check out. This product contains the brand's Proto Whey® protein blend which promotes healthy muscle growth and maintenance.
Another reason to love it: The tartness of the citrus matched with a touch of sweetness will surely be a fresh treat to your palate.
Get it at iHerb for SGD32.14 per box of 12.


6. Pure Protein Bar in Chocolate Peanut Caramel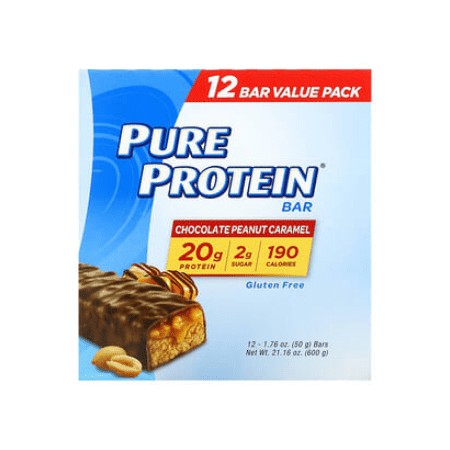 Chocolate, peanuts, and caramel are a killer combo and you know it. Add on 20 grams of protein that support lean muscle build-up and strength and you got yourself a must-try treat.
Another reason to love it: This protein bar also has high levels of calcium and iron which promotes bone health and overall physical growth and development.
Get it at iHerb for SGD31.82 per box of 12.
7. Think! High Protein Bars in Lemon Delight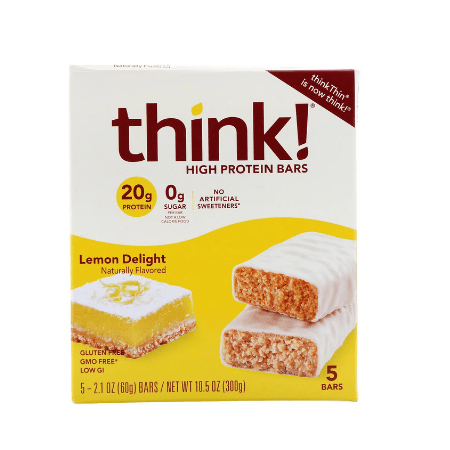 This hunger-fighting protein bar will have you saying goodbye to unwanted cravings, stat. It's free from unhealthy sugars but is packed with the right amount of carbs to keep your energy levels replenished. Plus, the tangy lemon flavour? Irresistible.
Another reason to love it: The product uses natural flavours and ingredients and is free from gluten, GMOs, and artificial sweeteners.
Get it at iHerb for SGD39.21 per box of 10.


8. California Gold Nutrition Bars in Maple, Nuts, & Sea Salt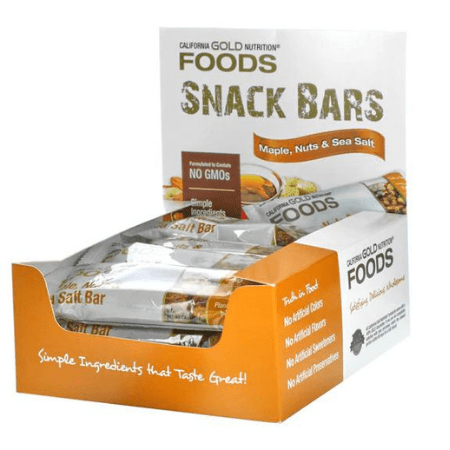 This snack offers a good mix of healthy and tasty with its combination of delicious natural ingredients. It's also free from artificial ingredients, sweeteners and preservatives, and formulated without GMOs.
Another reason to love it: This protein bar is also made from plant-based ingredients that makes this snack vegetarian-friendly.
Get it at iHerb for SGD21.42 per box of 12.
9. Quest Nutrition Protein Bars in S'mores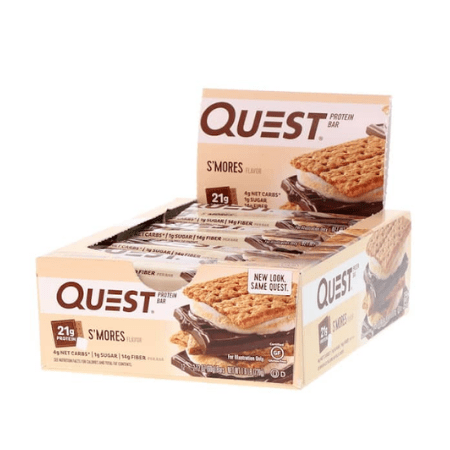 No need to go camping to enjoy this delicious protein bar. This snack is not only packed with flavour but it also contains nine essential amino acids that give your body that extra surge of energy day in and day out.
Another reason to love it: The product also combines a healthy mix of carbs, fibres, and calcium to ensure your muscle and bone health is at its best.
Get it at iHerb for SGD53.04 per box of 12.


10. No Cow Protein Bar in Cookies 'n' Cream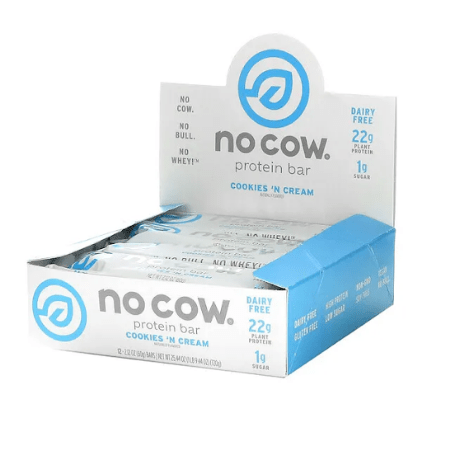 This yummy protein bar contains 22 grams of plant-based protein. It's also high in calcium and rich in potassium which are both essential in maintaining your body's capacity to deal with high-stress physical activities.
Another reason to love it: No Cow products are soy-free, dairy-free, and vegan-friendly, making it a great option for those with dietary restrictions or those avoiding allergens caused by such ingredients.
Get it at iHerb for SGD39.97 per box of 12.
Speaking of health, check out these halal supplements you can also get in Singapore.
Comments, questions or feedback? Email us at [email protected].