We hope you're still trying your best to keep safe and healthy as we wrap up another week of safe distancing. To keep you company — virtually, at least — and ease some of your tension and anxiety, we've listed down some news that will pick up your mood. First up, we have news on Dior's Christian Dior, Designer of Dreams Virtual Exhibit and how you can access it at home. Next, some visuals from the recently opened BAPE Store® COMMES des GARÇONS retail space in Osaka. And of course, the scoop on TikTok's latest beauty trend, the 'sock hair'. Scroll on for more deets!
Visit Dior's archives at the comfort of your home with the Christian Dior, Designer of Dreams virtual exhibit
Been loving virtual activities since social events have been limited due to the pandemic? You'd definitely want to add Dior's popular Christian Dior, Designer of Dreams virtual exhibit to your list. Initially capturing the attention of the fashion world during its installation in the Musée des Arts Décoratifs in Paris back in 2017, this hit exhibit is now made available for at-home viewing via the label's official YouTube channel. It features archives of over 70 years of the fashion house's history and designs, including Christian Dior's original sketches. Unleash the fashion geek within you by giving this a watch!
Here's a look at BAPE x COMMES des GARÇONS newest retail space in Osaka
If you can't get enough of Nigo's and Rei Kawakubo's respective fashion ventures, then this recently opened space in Shinsaibashi, Osaka must be added to your travel and shopping bucketlist — after the current health crisis, of course. A Bathing Ape's BAPE Store® COMMES des GARÇONS combines the laidback-meets-edgy aesthetic of the two brands, combining crisp wooden installations with eye-catching camo walls designed by none other than Kawakubo herself. And, of course, there are pieces from both labels, as well as their first-ever collaborative collection. Neat, don't you think?
Charlotte Tilbury held its first-ever virtual event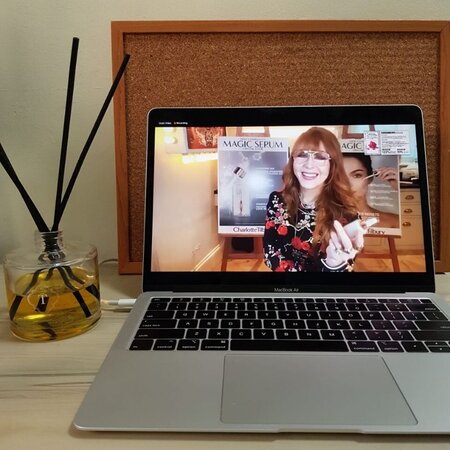 Charlotte Tilbury herself hosted the brand's first-ever Zoom event
Many events got cancelled due to the pandemic, but as they say, if there's a will, there's a way! We got to join Charlotte Tilbury's first-ever Zoom event last 15 April hosted by the brand's founder herself. Over 250 participants and influencers from across Asia celebrated the launch of the brand's Magic Serum Crystal Elixir. As the product name suggests, this serum is meant to deliver youthful and radiant-looking skin by harnessing the power of key ingredients such as polyglutamic acid, golden vitamin C, and more. Despite its digital nature, the event felt as intimate as ever with the participants discussing the exciting new release clad in their best outfits and beauty looks. Talk about putting the 'social' in 'social events' even against limiting circumstances.
Sock hair is the latest TikTok beauty trend on the rise
With many people having more free time in their hands during this period, it seems like a majority of the population turned to social media app TikTok for just about any type of content. From dance challenges to cooking videos to beauty tutorials, this platform is teeming with trends that people can't get enough of. Its latest obsession? Sock hair. This trend, which involves using socks for heatless curls, isn't exactly new to the beauty scene as many YouTube influencers have already talked about this hack for years. However, it seems like the TikTok community is finally catching up. Would you try out this trend to level up your con-call look?
Didn't catch last Monday's roundup? Check out what you missed here.
Comments, questions or feedback? Email us at [email protected].