Most of us may not have had the chance to embark on new adventures during this #stayhome season, however, we still find joy in learning about the latest style trends and in shopping for pieces that satiate our needs during this new normal.
We're passionately curious about the latest fashionable pieces that will help us to step out in style (even if it's a quick trip to the grocer's). Matter of fact, we've noticed how comfort-focused fashion pieces, such as billowy house dresses, chic co-ordinates and lightweight, Zoom call-ready blazers have quickly become our new favourite wardrobe essentials. In terms of footwear, we've been reaching for athleisure-led shoes that will provide the right amount of sporty-meets-casual vibes to our daily ensembles.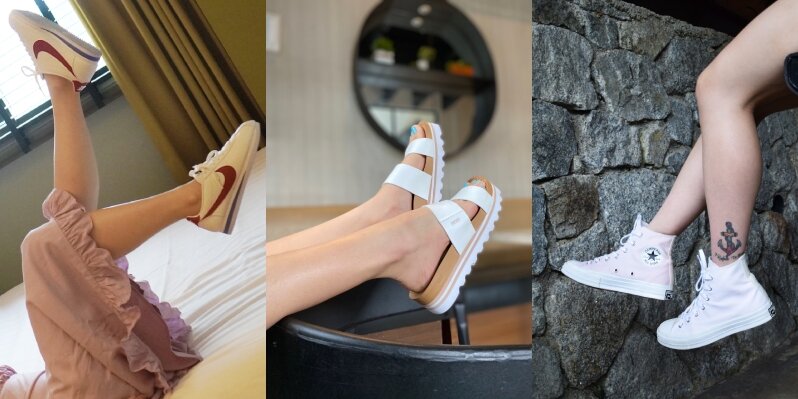 Ahead, three ladies from #TeamClozette — Sabrina (from Singapore), Ave (from the Philippines) and Vania (from Malaysia) — reveal their top trendy kicks and show us how they would rock them in their own unique style.

Varsity 'swoosh' sneakers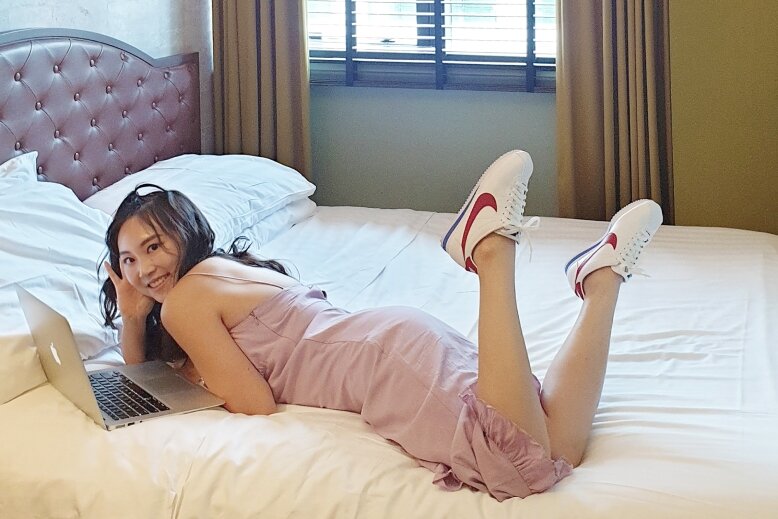 "Nothing beats a classic pair of Nikes! I've been looking for a new pair of sneakers to replace my old ones for a while now, so I was glad to have picked these up when they went on sale," revealed Community Manager Sabrina.
As for her favourite aspect of these kicks, the 27-year-old self-confessed sneakerhead shared that the leading sportswear brand's iconic red 'swoosh' logo was what sealed the deal for her. "Fun fact: Nike used a red and white colour palette for its 'swoosh' logo for a long time before they updated it to black," she quipped.
Above, Sabrina snapped a fun shot of herself during her staycation, where she paired her white Nike kicks with a lilac The Editor's Market dress with ruffle details at the hem. Elaborating on her choice of attire, Sabrina shared: "I'm usually in more minimalistic, streetstyle-inspired looks, however, I wanted to dress up as I haven't had the chance to go out due to the pandemic. I went with a lilac dress as pastels are in trend now."

Sleek, surf-inspired slides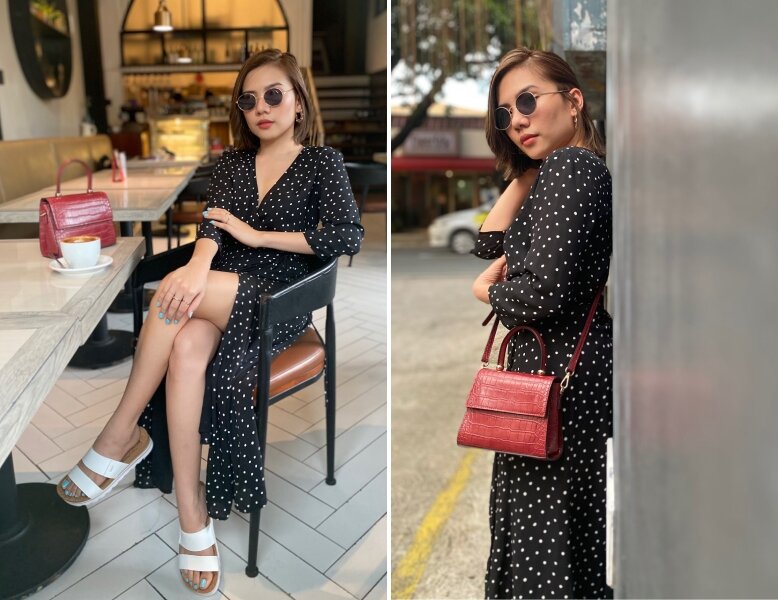 "My friends bought these Reef slides as a gift for my birthday! I've been eyeing them for quite some time now ever since I saw [professional surfer] Coco Ho rocking them on Instagram. I wasn't really a fan of chunky-looking sandals, but I immediately fell in love with these as I know they'd look good for casual city and beach trips," said Content Solutions Executive Ave.
Counting chic yet laidback surfers such as Ikit Agudo and Danika Nemis amongst her favourite style influencers, Ave enjoys living out her 'island life' fantasy by decking herself in sundresses with flowy cuts and floral details. As such, she decided to style her ivory vegan leather slides with a chic Mango wrap dress with polka-dot print during her recent trip to a cafe. She then capped off her look with on-trend accessories, which include a pair of round copper sunnies, a red faux-croc purse and a few minimalist rings.
"I love my Reef slides because they are not only eco-friendly but super comfortable as well. They're perfect for daily errands and they go with anything. I also like that they give me a little height boost too. I'm hoping to take these to the beach but I'll have to wait till the pandemic's over," Ave added.

Colour-changing canvas chucks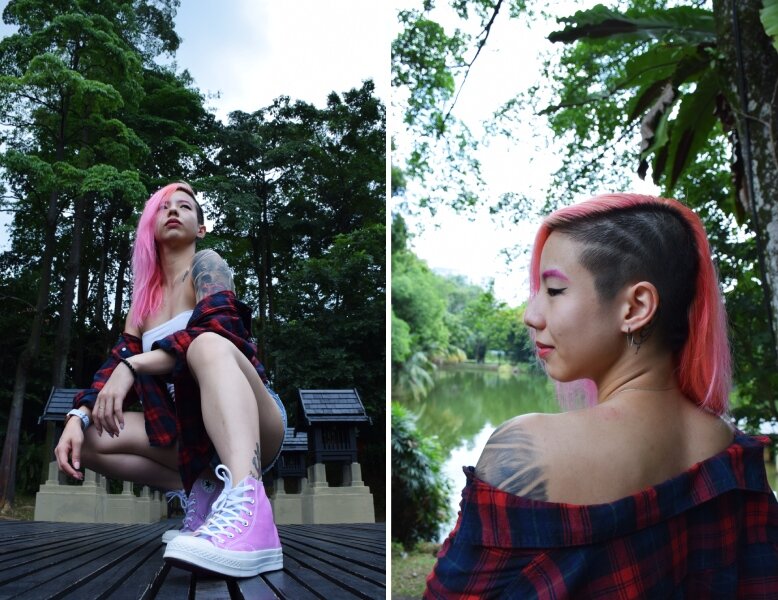 "I bought these Converse sneakers when I experienced a serious case of 'shopping fever' during lockdown! My favourite part about them is how they feature three different tones: white, pastel and bright purple. Although these are on the pricier end, I decided to get them anyway as I loved how their colours would change whenever they're exposed to sunlight. How cool is that!" shared Social Media Manager Vania.
With her flaming pink hair, next-level ink game and bold buzz cut, it's no surprise that Vania is a fan of fashion-forward conversation starters. Her all-time favourite clothing brands include GUESS and Rihanna's luxury fashion line, Fenty, as she loves 'styles that are out there.'
Vania's choice of weekend attire as illustrated above features a mix of casual and eye-catching elements. "I love incorporating a little bit of everything into my outfits. It's all about mixing things up so that they don't look too monotonous. I opted for my go-to basics, such as my simple tube top, flannel shirt and fuss-free shorts as they balance out these standout chucks and my coloured hair," revealed Vania.
What's your favourite fashionable footwear at the moment?
Next, discover 10 simple yet surprisingly useful styling hacks to make your clothes fit better without burning a hole in your pocket.
Comments, questions or feedback? Email us at [email protected].