How is it already the second half of the year? July-ing! Step into the new month with a smile and uncover cool spots to eat, shop and explore with our guide to the best events and happenings in July 2023 in Singapore — from store opening specials to immersive pop-up events — that you should add to your calendar, stat.
Things to do in Singapore: July 2023
1. Samsung Singapore Galaxy Flip Festival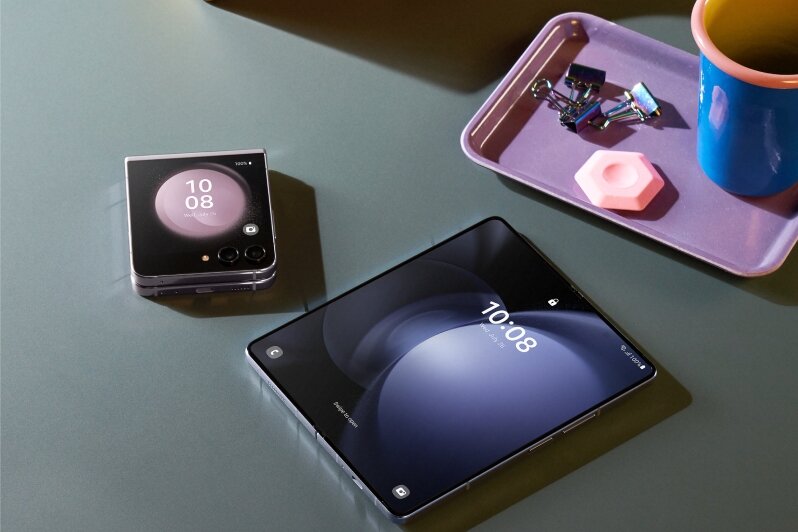 Have you heard? Samsung has finally unveiled its latest Galaxy line-up in Seoul, South Korea! To celebrate this launch, the brand is hosting a Galaxy Flip Festival featuring local acts, fashion and lifestyle brands with a Y2K twist. Festival highlights include a random K-pop play-dance evening presented by Unfiltered Presents on 28 July. For a closer look at the latest Galaxy devices, fans can also head over to the Galaxy Studio at Funan that's open till 13 August, to check out the brand's exclusive tie-ups and stand to win prizes.
Address: Outdoor Plaza @ Capitol Plaza, 13 Stamford Rd, S 178905
Time: Varies according to programmes.
Price: Admission is free for all programmes with limited slots available.
2. Weekend pool parties at 1-Altitude Coast
Looking for an exciting way to keep your chill in the sweltering heat? Head to 1-Altitude Coast on Sentosa Island, and take in panoramic views of the Singapore Straits as you sip on an iced cocktail or two and enjoy their dance-worthy tunes.
Address: 1-Altitude Coast, Level 7, The Outpost Hotel, 10 Artillery Avenue, Sentosa Island, S 099951
Time: From 4PM
Price: A minimum spend of SGD100++ per person is required on Fridays to Sundays, on the eve of Public Holidays and on Public Holidays. Reserve your table here.
3. New restaurant Brasserie Astoria at Victoria Concert Hall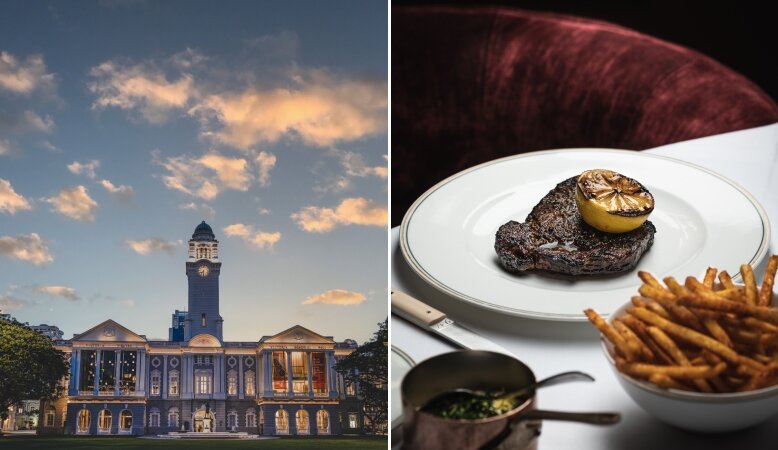 Swedish restaurant Brasserie Astoria is offering a more casual and accessible take on its Stockholm flagship with its brand-new 100-seater establishment at Victoria Concert Hall. As the restaurant's first outpost outside of Sweden, it will present signature flambé trolleys, tableside service and noted Swedish chef Björn Frantzén's unique spin on classic brasserie dishes.
Address: Victoria Concert Hall, 11 Empress Place, #01-01, S 179558
Time: Open from Tuesday to Sunday. Lunch from 11:45AM to 2:30PM, dinner from 6PM to 10:30PM.
Price: À la carte items are priced between SGD4 for a buckwheat canele and SGD210 for a 50G serving of Waffles & Astoria caviar. Place your reservations over email here.
4.Viktor & Rolf Flowerbomb Ice Cream Café pop-up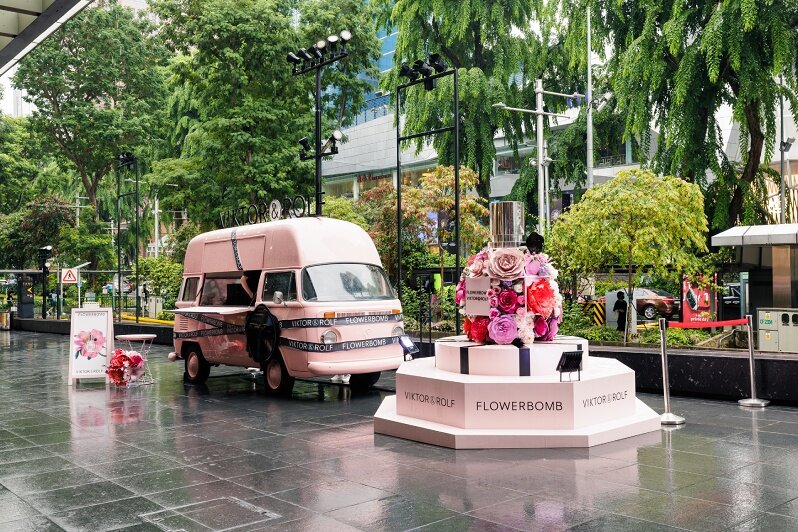 Fragrance lovers, have you had the chance to catch a whiff of the iconic Viktor & Rolf Flowerbomb fragrance? Now's your chance to do so at the brand's pop-up outside Tangs Orchard Plaza while redeeming special perks.
Stand to redeem a complimentary 1.2ML Viktor & Rolf fragrance sample with every photo uploaded on IGS with the larger-than-life Flowerbomb Bottle display at the pop-up. Plus, receive a complimentary gelato ice cream and three complimentary 1.2ML Viktor & Rolf fragrance samples when you purchase any Viktor & Rolf fragrance bottle of any size at the pop-up.
Address: Outside Tangs Orchard Plaza Level 1, 310 Orchard Road, Tang Plaza, S 238864
Time: Open from 10:30AM to 9:30PM from Monday to Saturday. Open from 11AM to 9PM on Sunday
Price: Admission is free
5. Heineken 'Destination Good Times' event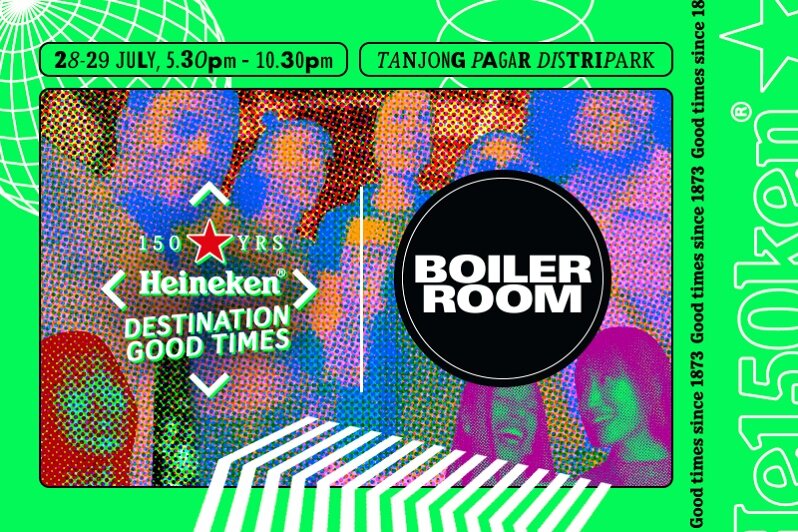 Heineken is celebrating its 150th anniversary this year with a series of celebrations, including a two-day event in Singapore's Tanjong Distripark featuring good music, great drinks and the sale of exclusive merchandise.
Look forward to witnessing the local debut of London-based underground music event organiser The Boiler Room. Then, sip on beer cocktails at the He150ken World Bar, organised in partnership with Sago House. Finally, you will have the chance to shop and bring home one of three exclusive t-shirt designs by local brand The Salvages, which are inspired by Heineken's archive of classic posters and design elements. A number of local eateries will be serving up their signature dishes at the event as well.
Address: Tanjong Pagar Distripark, 39 Keppel Rd, S 089065
Time: 5:30PM to 10:30PM
Price: From SGD28 for an early bird 1-day ticket, which is inclusive of 2 Heineken beers. Get your tickets here.
6. Singapore Food Festival 2023
Foodies, listen up! The Singapore Food Festival 2023 (SFF 2023) will be celebrating its 30th birthday this year with its largest Festival Village yet. Go on an SG Food Walk, which features a curation of 50 hawkers and restaurants; be part of the Food Cartel immersive dining experience; dive into a sugar rush at the Sweets Alley with mouthwatering desserts, and enjoy coffee and pastries at Cafe Boulevard.
There's also an SG Mama Shop to relive your favourite childhood memories with new and classic snacks; a Gourmet Market for foodies to browse a premium selection of meats, seafood, wines and more, and a Food of the Future zone to learn more about sustainability in food production and consumption. Rounding up this gastronomic experience is live music and entertainment, hands-on workshops and masterclasses hosted by esteemed local and international chefs.
Address: Festival Village at Bayfront Event Space, 12A Bayfront Event Space, S 018970
Time: Open from 5PM to 10:30PM on Monday to Friday. Open from 10:30AM to 10:30PM on Saturday and Sunday.
Price: Tickets are priced from SGD8 for a Single Entry Pass, which grants you access to most zones, such as the SG Food Walk, Sweets Alley and SG Mama Shop. UOB Cardmembers will enjoy priority access and special benefits. Get your tickets here.
7. Weekend picnic at the Gardens with Bee's Knees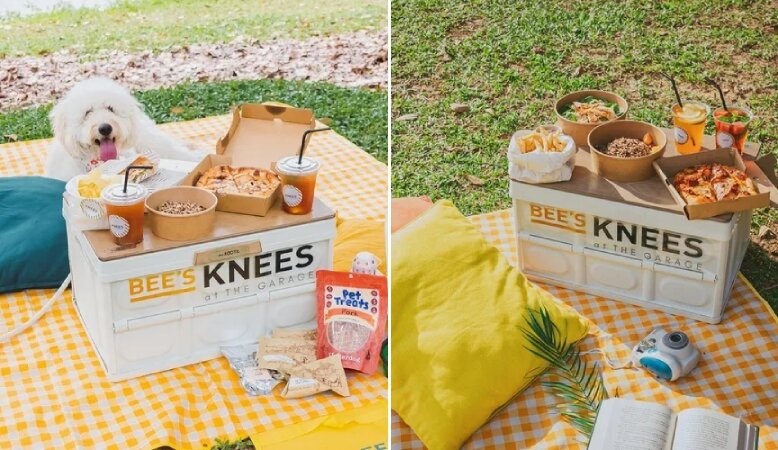 Paw-rents, this one's for you: Bee's Knees at The Garage will be offering ready-to-set-up kits for you and your dog to enjoy a lovely picnic at Botanic Gardens. Available for a limited time only, each 'buzzket' comes with a reusable mat, battery-operated candles and food for two or four persons. You may also choose to enjoy add-on options, such as a Chandon Garden spritz at SGD16 for a glass and a dog-friendly picnic 'buzzket' which includes dog toys, a dog bowl, treats and a bandana.
Address: Bee's Knees at The Garage, 50 Cluny Park Rd, Level 1, Singapore Botanic Gardens, S 257488
Time: Available daily from 8:30AM to 9:30PM. Reservations are to be placed at least three days in advance.
Price: From SGD70 for a picnic 'buzzket' for two, which includes two beverages, a side and two mains. Reserve your spot here.
8. Marina Bay Sands' 'Where Music Takes Over' Music Festival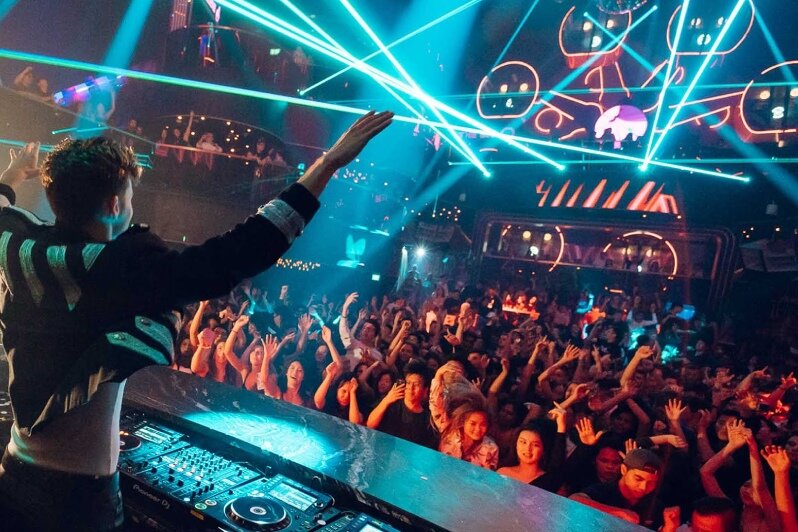 Music fans are in for a sweet treat as more international acts will be in Singapore — more specifically, at Marina Bay Sands — to perform their chart-topping hits. This is also Marina Bay Sands' first-ever, music festival. Spanning multiple genres, the festival kicks off with Chinese superstar Cai XuKun making a stop here on 15 July as part of this world tour and will conclude with American rock band The Strokes on 2 August. Notable acts also include Ellie Goulding, David Tao and The 1975.
Address: Marina Bay Sands, 10 Bayfront Ave, S 018956
Time/Price: Varies according to performances. Book your tickets here.
9. UNIQLO flower service at Orchard Central
Buying yourself a bouquet of UNIQLO flowers? You read that right. Popular casualwear brand UNIQLO has opened a permanent flower service outside of its Orchard Central Global Flagship Store. This is just one of the ongoing services that the brand is offering to its customers at its Global Flagship Store — you can also tap UNIQLO's MY UNIQLO embroidery service for your new UNIQLO items, repair your well-loved UNIQLO clothing at the RE:UNIQLO Studio, and personalise your UNIQLO T-shirt and tote bag with the UTme!: Customisation Service.
Address: Level 1, UNIQLO Orchard Central, 81 Orchard Rd, S 238896
Time: Open from 11AM to 10PM from Monday to Friday. Open from 10:30AM to 10PM from Saturday to Sunday.
Price: The flowers are priced at SGD4.90 per stalk, SGD9.90 for three stalks and SGD14.90 for five stalks.
10. Fenty Beauty Singapore Flyer Premium Experience
Wanna take your love for all things Fenty to the skies? Fenty Beauty has taken over capsules at the Singapore Flyer to give fans and makeup lovers the 'Premium Champagne Experience with a 'Fenty Beauty Special'.
The experience includes a 30-minute rotation on the Singapore Flyer in a shared capsule, priority boarding to skip the queues, a glass of champagne or mocktail, an assortment of nuts and a complimentary admission to the Time Capsule, post-ride. The brand will also be giving away a swag bag worth SGD60 (consisting of deluxe-sized Fenty Beauty products!) to those who purchase an adult-priced ticket on a first-come, first-served basis.
Address: 30 Raffles Avenue, S 039803
Time: Daily at 3PM, 4:30PM, 5PM, 6:30PM, 7PM, 7:30PM and 8PM
Price: Tickets are priced between SGD31 for children aged 12 years and below, and SGD79 for adults. Sephora Beauty Pass members will receive 20% off for adult tickets here with the promo code "SFXFB20".
11. Sigi Skin x fieldnotes National Day pop-up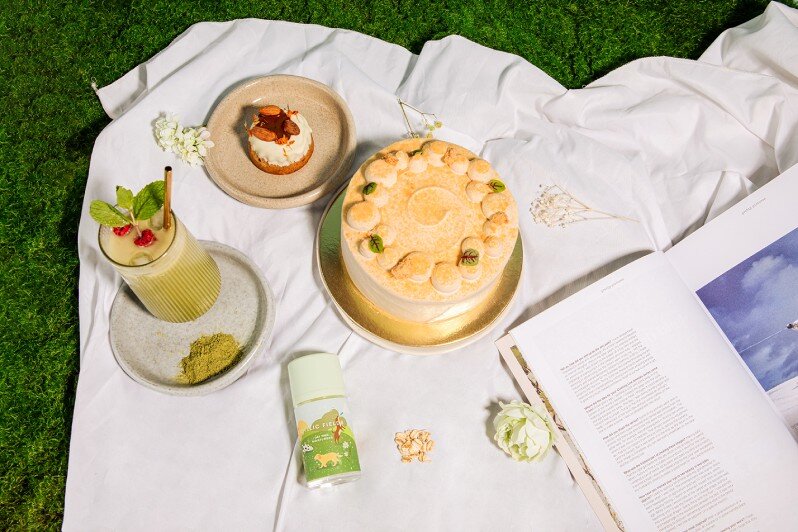 Local skincare brand Sigi Skin is collaborating with cake boutique fieldnotes to host a National Day pop-up, which will showcase a special dessert set inspired by the former's superfood ingredients. The pop-up will also introduce Sigi Skin's new, limited-edition packaging of its Idyllic Fields Daytime Moisturiser.
With every purchase of the special dessert set, you will also get a chance to Spin the Wheel and stand to win prizes such as Sigi Skin products and Sigi Skin-branded accessories.
Address: 41 Neil Road, S 088824
Time: Open from 13:30AM to 9PM from Sunday to Thursday. Open from 11AM to 11PM on Friday and Saturday.
Price: Admission is free. The Sigi Skin x fieldnotes dessert set is priced at SGD21.90 and consists of a Matcha Kinako Cake, a Brown Rice Peanut Tea Cake, and a Strawberry Matcha Oat.
12. Sentosa Food Fest
Sentosa Food Fest returns for its second edition and will centre around the discovery of flavours. This year's 10-week-long food extravaganza will feature three signature events: Sentosa GrillFest, Sentosa Restaurant Trail and Sentosa Food Truck Fiesta.
Sentosa GrillFest, which will take place from 7 to 30 July 2023 at Siloso Beachfront from Fridays to Sundays, 5PM to 9PM, will see 35 F&B establishments serving up delicious charred delights. Next is the Sentosa Restaurant Trail, which will be held from 14 to 25 August 2023 at participating eateries throughout Sentosa from Mondays to Fridays.
Capping off the Sentosa Food Fest will be the Sentosa Food Truck Fiesta, which will take place at Palawan Green from Fridays to Sundays, 5PM to 9PM. The event will also feature music, movie screenings and an artisanal flea market.
Address: Sentosa, 39 Artillery Avenue, Singapore 099958
Time: Varies according to the signature events indicated above.
Price: Admission to Sentosa Food Fest is free. Prices of food vary according to brands. Learn more here.
Discover: 10 Italian restaurants in Singapore that we love.
13. Stranger Things - The Encounter: Singapore at Bugis+
Strangers Things fans, you won't want to miss this: The Mighty Jaxx Group has teamed up with Netflix to present an interactive retail experience showcasing iconic locations from the TV series. Be prepared to journey through 'The Lab', 'Joyce's House', 'The Upside Down', and 'Creel House' before treating yourself to Scoops Ahoy ice cream and Surfer Boy Pizza.
Fans are also welcome to make a pit stop at the Starcourt Mall Arena to get their hands on special Stranger Things merchandise and the Stranger Things Visitor Center for photo opportunities.
Address: Level 2 and 7, Bugis+, 201 Victoria St, S 188607
Time: Open daily from 2PM to 10PM on weekdays, and 10AM to 10PM on Fridays and weekends
Price: Tickets are priced from SGD15 for access to the Starcourt Mall Arena. Get your tickets here.
Watch: New to the world of 'Stranger Things'? Learn more about the Netflix series here.
14. Limited-time Peranakan showcase at Starbucks Jewel Changi Airport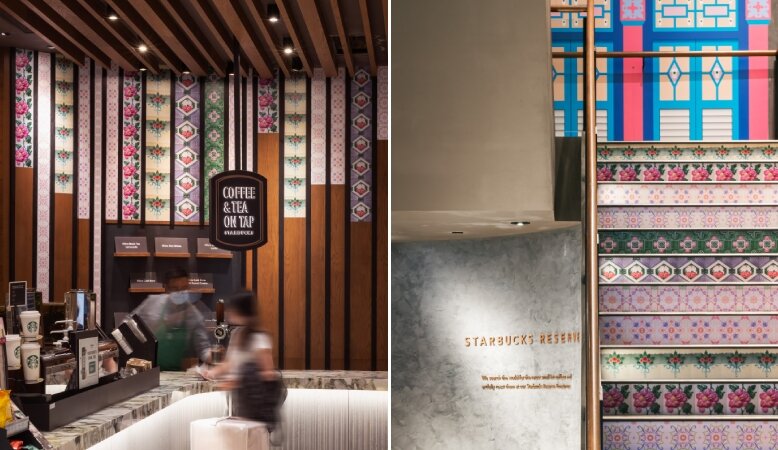 Starbucks Singapore has teamed up with the local private home museum The Intan to design an exclusive, three-piece drinkware collection as well as present a vibrant Peranakan showcase at its Jewel Changi Airport store.
The brand's flagship store currently boasts several elements that celebrate Peranakan culture, such as specially designed Starbucks Peranakan tile designs that are artfully combined with actual Peranakan tile designs at the Nitro Bar and the stairway leading up to its second floor.
Address: Jewel Changi Airport, 78 Airport Boulevard, #02-04, S819666
Time: Open from 8AM to 10PM from Sunday to Thursday. Open 24 hours on Friday and Saturday.
Price: Admission is free
15. GREEN-HOUSE at Castlery Orchard Flagship
If you've been wanting to spruce up your living space with chic and Earth-conscious goodies, this is your sign to do it. Pass It On, a homegrown retail platform of sustainable lifestyle goods, has organised the second edition of GREEN-HOUSE, a retail experience that brings together over 70 sustainable home and lifestyle brands.
Held at Castlery's Orchard flagship store, the event space will be segregated into key main zones that speak to different personas, such as married couples, youths and families with growing children. You can expect to browse a wide range of products from categories such as beauty and personal care, fashion, food and beverages, home décor, and apparel and accessories for the little ones. What's more, the two-day event will also feature a lineup of workshops, talks and activities to promote sustainable living.
Address: Castlery Orchard Flagship, Liat Towers, 541 Orchard Rd, #02-/03-02, S 238881
Time: 10Am to 9PM
Price: Admission is free. Learn more here.
Get inspired: Sustainability advocate Pamela Low tells us about the power of choices for effective climate advocacy.
16. Cetaphil pop-up at Suntec City
Sensitive skin sisters, listen up: Skincare brand Cetaphil has launched a new Hydrating Foaming Cream Cleanser that's suitable for users with sensitive skin. The product has a cream-to-foam formulation and is ideal for Singapore's hot and humid climate.
Visit the brand's pop-up to shop and experience the new product. You can also enjoy gifts with purchase and try your hand at a sure-win lucky dip with every SGD60 spent.
Address: Suntec City Tower 3 & 4 Atrium, 3 Temasek Boulevard, S 038989
Price: Admission is free
17. INNISFREE 'The New Isle' pop-up at Mandarin Gallery
INNISFREE has staged a pop-up in town that showcases its latest Vitamin C Green Tea Enzyme Brightening Serum along with its bestsellers — all dressed in rebranded packaging. In addition to introducing the features of its new product in the 'Glow-up' at Curated Experience Zone, the brand has also put together a product experiential station and a 'Ready, Pose, Slay!' experiential photo zone.
This is your chance to enjoy several pop-up exclusive promotions too: Purchase the new serum at SGD45 (Usual price: SGD50) and you'll receive an orange puffer pouch, a 15% off return voucher and a GLOW WITH VITA C sparkling drink. You can also walk home with a complimentary INNISFREE deluxe sample kit when you register as an INNISFREE member and follow the brand's TikTok or Instagram account.
Address: Mandarin Gallery (outside Michael Kors), 333A Orchard Rd, S 238897
Time: Open daily from 12PM to 9PM
Price: Admission is free
18. Daily&Co Korean lifestyle concept store at Marina Square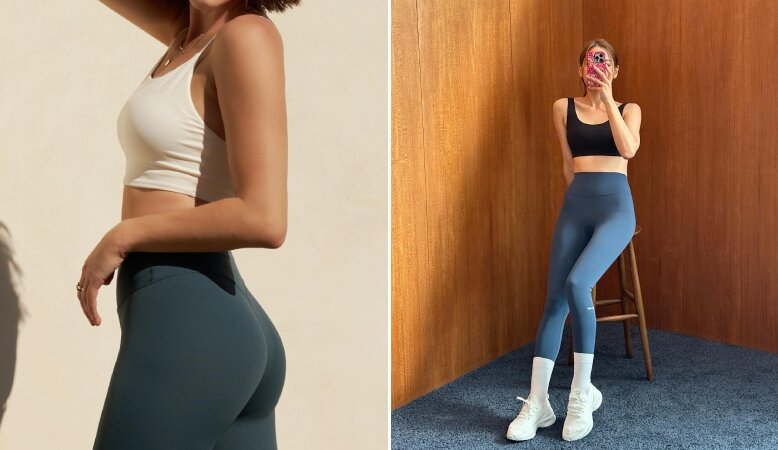 Korean lifestyle concept store Daily&Co will be opening the doors of its first store in Singapore very soon. The store will carry five brands, including activewear brand Andar, which has reportedly sold over seven million pairs of its Airywin Signature Leggings in Korea.
To celebrate its grand opening, the brand has invited its ambassador Woo Jin-Yong, the winner of Netflix's fitness reality competition Physical 100, to host a 'live' fan meet at the event. The first 100 people in line will receive a free A.R.M T-shirt.
Address: Daily&Co, Marina Square, #02-110, 6 Raffles Blvd, S 039594
Time: Open daily from 10AM to 10PM
19. Museum of Ice Cream Singapore's Ice Cream Giveaway
Ready to satisfy your sweet tooth? Singapore's Museum of Ice Cream (MOIC) will be giving away 10,000 complimentary scoops of ice cream in celebration of National Ice Cream Day over two days.
In addition to this giveaway, MOIC will also be bringing Asia's largest sprinkle pool to the event venue for a little extra fun. They will also be offering Anytime Tickets to their Museum at a special price of SGD30 (Usual price: SGD74), which will be valid for one-time entry between 15 July and 21 July 2023. The ticket gives you access to premium ice cream flavours and a complimentary drink.
Address: Plaza Singapura, 68 Orchard Rd, S 238839 (Courtyard outside Five Guys)
Time: 2PM to 6PM
20. LEGO BTS Dynamite experience pop-up at Orchard Road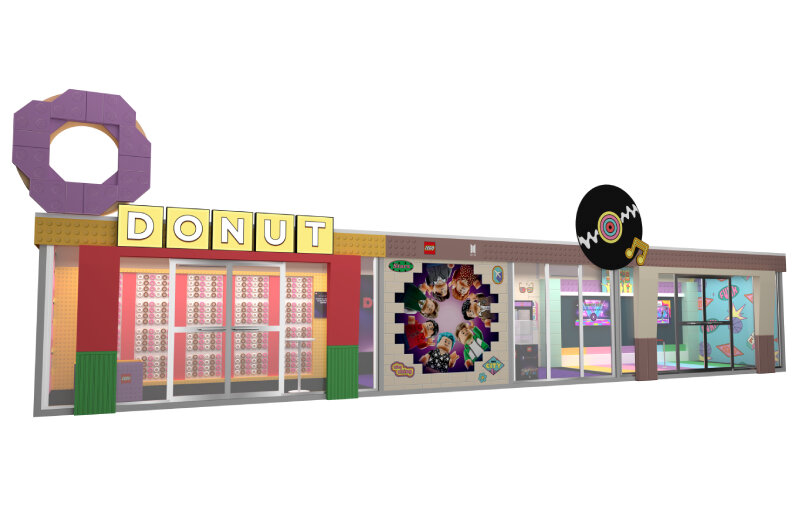 Attention, ARMY! The LEGO Group is bringing the LEGO BTS Dynamite experience to Orchard Road. Inspired by the LEGO IDEAS BTS Dynamite Set, the pop-up will immerse you in a Dynamite town comprising three zones.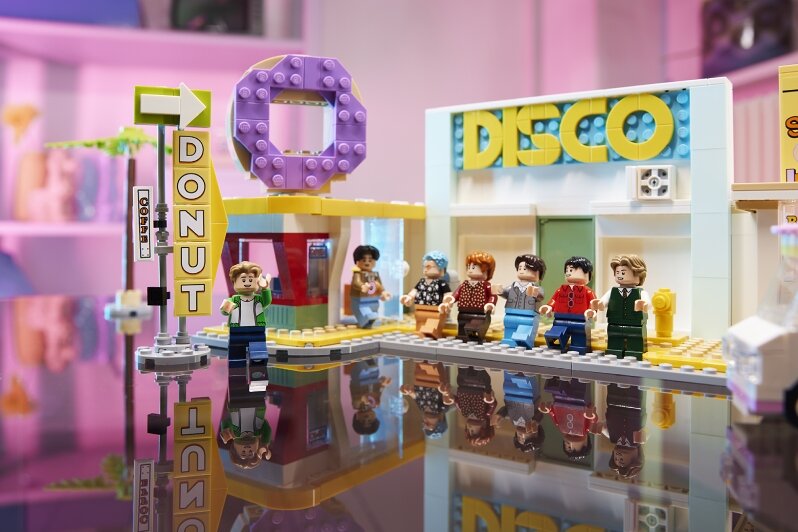 It includes a LEGO BTS Big Builds stage for photo opportunities with the band in their LEGO minifigure forms, a Disco Retail Zone featuring a large-scale LEGO BTS Diorama build that is inspired by the scenes of BTS' Dynamite music video, housing a photo booth and shopping opportunities, and a Record Discovery Zone for more interactive activities. Collect stamps upon completion of the five activities across all zones for a chance to play the LEGO Claw Machine.
Address: In front of Ngee Ann City, 391 Orchard Rd, S 238873
Time: Daily from 11AM to 9PM
Price: Admission is free
21. Asahi Super Dry Presents: The Art of Taste pop-up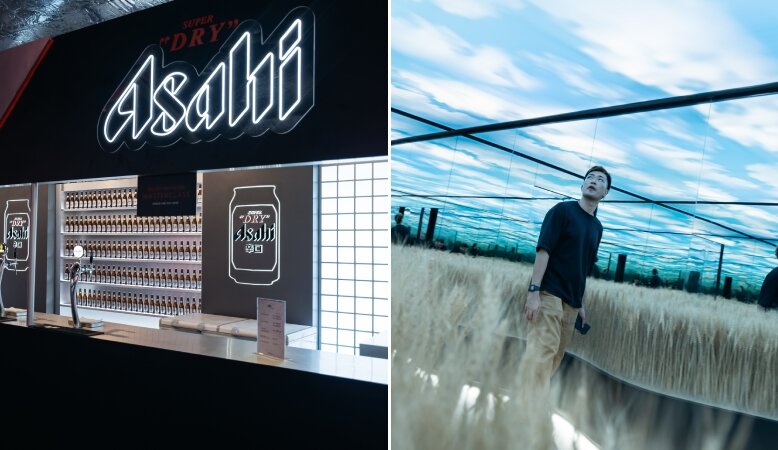 Get to know the new Asahi Super Dry at its pop-up, which will feature Super Dry Brewery installations, a beer-tasting masterclass, a tasting zone and live performances. Held at the Visual Arts Centre, the pop-up aims to provide visitors with a "sensorial experience" and a taste of the unexpected vibrancy of modern Japan. This is your chance to try various types of Japanese food that pair well with Asahi beer as well as pick up exclusive beer bundles.
Address: Visual Arts Centre, 10 Penang Road, #01-02, Dhoby Ghaut Green
Time: 4:30PM to 10PM Price: Admission is free. Tickets to the Tasting Masterclass are available at SGD6 each via Klook.
Savour: 10 Japanese restaurants in Singapore that gourmands swear by.
22. Racial Harmony Day Open House 2023
Racial Harmony Day falls on Friday, 21 July 2023. To commemorate this special day, the National Heritage Board (NHB) has put together 'Let's Walk - Celebrating Harmony', an event that invites visitors to walk in another person's shoes to understand and appreciate another's culture.
Taking place across two of NHB's Heritage Institutions — the Indian Heritage Centre and Sun Yat Sen Nanyang Memorial Hall — the event features a variety of multicultural programmes and interracial experiences that highlight the unique customs and traditions of our diverse communities.
Address: The Indian Heritage Centre is located at 5 Campbell Lane, S 209924. The Sun Yat Sen Nanyang Memorial Hall is located at 12 Tai Gin Road, S 327874
Time: 10AM to 6PM
Price: Admission is free but there will be ticketed activities
23. AFA Creators Super Fest Singapore 2023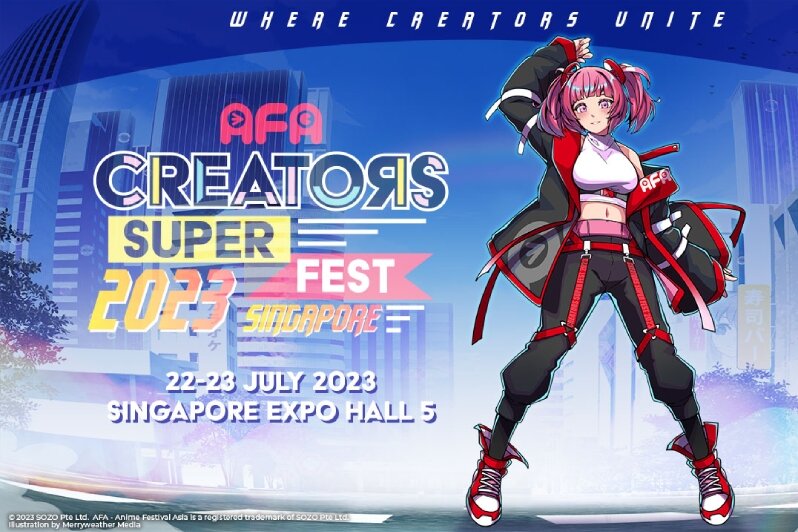 The AFA (short for Anime Festival Asia) Creators Super Fest Singapore 2023 is set to make its debut this July, where it will host over 350 creators from 15 countries and 38 top cosplayers. Fans will be able to check out a range of artwork and merchandise from the creators, catch artists in action, and make friends with fellow art enthusiasts.
The festival will feature four main components: a Super Akiba Stage for creators to organise their talk shows, performances and showcases; a Creators Lab for the region's top talents to host workshops and provide hands-on demonstrations; a Creators Hub for artists to display their unique artwork, merchandise and apparel, and a Cosplay Hub for meet-and-greets with some of the region's top cosplayers.
Address: Singapore Expo Hall 5, 1 Expo Drive, S 486150
Time: 10AM to 8PM
Price: From SGD19 (excluding a booking fee). Get yours here.
Discover: Our Top 5 Anime x Fashion Collections on our sister site, CoolJP.co
Can't get enough of buttery, flaky croissants? Here are 10 spots in Singapore where you can get your hands on these lovely French pastries.
Comments, questions or feedback? Email us at [email protected].