Happy Pride, everyone! Rainbow-themed collections started popping up again recently in celebration of the occasion this June.

The event is held this month each year in the US and many other countries (though Moscow celebrates theirs in May!). In the US, the movement came about as a commemoration of the Stonewall Protest in 1969, where members of the LGBTQIA+ community stood against discrimination and brutality. At present, it is held to push forward initiatives about gender equality, LGBTQIA+ representation, diversity and inclusivity, as well as HIV and AIDS prevention.

While there are so many ways to show #Pride — speaking out against LGBTQIA+ community discrimination, buying art like books and paintings from members of the community, reading more about the topic and continuing to educate yourself, or listening to a friend, and more — one fun way to show your solidarity is by dressing up in pride colours.

Whether you're part of the LGBTQIA+ community or an ally you can find are fashion brands that celebrate Pride Month.


Coach Pride 2021 Collection
Coach goes all out with a collection of bags, shoes, and apparel for Pride 2021. The brand also launched a series of campaign videos on their social platforms featuring testimonials from members of the LGBTQIA+ community about their stories of coming out and empowerment. The prices of the pieces from the collection range from USD 55 to USD495.
But that's not all. The Coach Foundation is also coordinating with various LGBTQIA+ organisations like
Hetrick Martin Institute
,
AKT Charity
,
Point Foundation
, and
LGBT CenterLink
to create "empowering spaces" for LGBT youth.
Levi's All Pronouns, All LOVE campaign
Levi's introduced its collection for Pride Month 2021 along with dressing its logo in rainbow colours. The collection includes their signature denim pieces like dungarees and jackets as well as other apparel options like tops and hoodies. The brand's tagline "All Pronouns, All LOVE" aims to encourage respect for all pronouns because doing so "is to see how they move through the world". Products retail from USD17 to USD88. Catch the collection in all Levi's outlets worldwide or shop online
here
.
Levi's also donates annually to LGBTQIA+ organisation
OutRight International
.
Savage x Fenty Pride 2021 Capsule Collection
Savage x Fenty launches its first ever Pride collection this 2021. The collection is modeled by famous LGBTQIA+ personalities like Ru Paul's Drag Race finalist
Gigi Goode
, Buzzfeed talent
Jazzmyne Robbins
, and more. It features lingerie designed with rainbow embellishments and comes in the brand's inclusive size range. The pieces are priced from USD14 to USD89.95.
USD250,000 from the sales of this collection will be donated to five LGBTQIA+ organisations in partnership with Rihanna's
Clara Lionel Foundation
.
Learn more
about the initiative and shop this collection
here
.
Versace Born This Way Pride 2021 Collection
Does this collection name sound familiar? If you thought of Lady Gaga, then you're right! The collection references and showcases designs inspired by Gaga's hit 2011 album Born This Way, which includes the iconic title track that centres on acceptance of one's self no matter what you identify as. The collection consists of two limited-edition shirts and a beret. Prices start at PHP14,000/~USD294. Check out the collection
here
.
Sales from the collection will go to Lady Gaga's
Born This Way Foundation
, which helps support youth communities and LGBTQIA+ initiatives.
You can also donate directly to the Born This Way Foundation via
Omaze
and stand a chance to win Lady Gaga's iconic Versace jacket from her Las Vegas show and meet Mother Monster herself with your friend.
New Balance Everybody's Welcome collection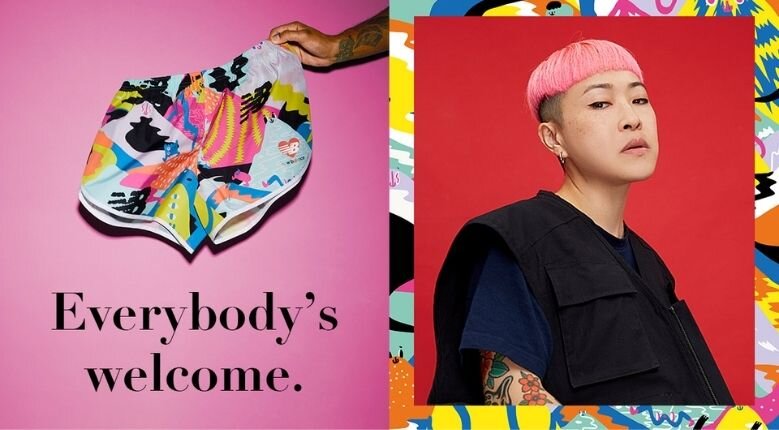 New Balance joins the roster of brands celebrating Pride Month 2021 with itsEverybody's Welcome collection. The collection's apparel and shoes are dressed in art created by queer visual artist
Zoie Lam
. The designs feature "quirky" and "genderless" characters that burst in colour, symbolising the vision behind this collection to make everyone feel welcome "no matter their how [they] identify".
The collection is available globally starting today, 3 June 2021, in New Balance outlets and the brand's official
website
. Prices range from SGD45/~USD34 to SGD179/~USD135.
The brand will also launch two short films in line with this year's Pride Month initiative.
The first is the Singapore-set "Let's Talk Pride" video, which talks about how ignorance and indifference often prevent further acceptance of the LGBTQIA+ in society and aims to open a more positive discourse about the matter.
The second zooms in on the history of the 40-year-old Front Runners Pride Run®. Its central personality is Urie Dvorozniak, a non-binary New Yorker who started to compete in marathons to feel a sense of community and belonging as they come into terms with their own identity.
Republiqe.co Make Love, Not War collection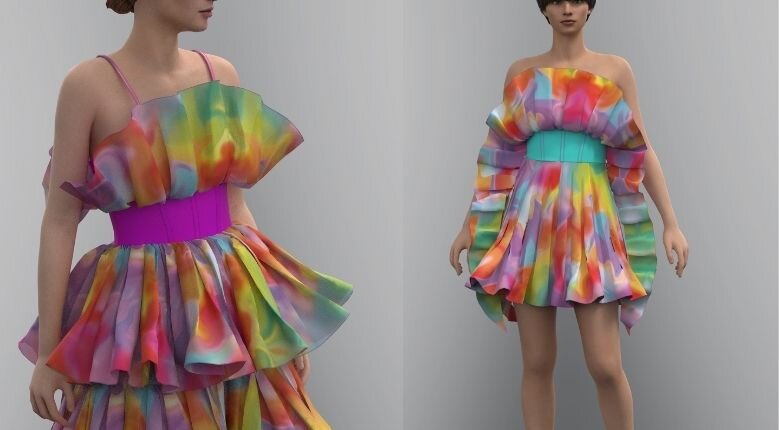 ICYMI,
NFT (Non-Fungible Token)
fashion is now a thing. It's basically digital fashion that you buy for a virtual you. Now, NFT brand Republiqe.co is launching its own Pride Month five-piece collection and it's looking pretty promising.
The brand's Make Love, Not War collection takes inspiration from the colourful and psychedelic look of the 70s, representing inclusivity, diversity, and openness in self-expression through clothing. Browse through the collection
here
. Each digital outfit retails for GBP40/~USD62.
So many amazing pieces to check out, right? Just a reminder: it doesn't end here. Show support not just through clothing this month and beyond Pride Month through honest action towards LGBTQIA+ peers and causes on all occasions.
(Cover photo from: New Balance)
Comments, questions or feedback? Email us at [email protected].