Did you know that for over a decade now, South Koreans have continually expressed their love for Chanel? Idols and personalities like Jessica Jung, Kim Go-Eun, BLACKPINK's Jennie, Lee Dong Wook, and G Dragon are just a few who are proudly Chanel-clad in most social media posts and public events. But allow us to take a closer look at Jessica's love affair with the French fashion house here.
ICYDK, the 32-year-old multi-hyphenate star of Girls Generation fame now has her own YouTube channel, where she talks about anything and everything about her life. One of her most recent videos features her gushing over her collection of Chanel bags (which she calls her "babies").
Jessica opens the video by saying, "If you wear a pretty and quality purse, it always upgrades your look." While we couldn't exactly afford her huge Chanel handbag collection, we highly agree with the statement. And, to be honest, we covet some of the pieces too. So here we are dreaming up these outfit ideas featuring Jessica's favourite Chanel designer bags.
Chic femme x Mini Trendy CC Clutch With Chain
Jessica started off her list with this cute nude-coloured micro-clutch gifted to her by her sister (and fellow multi-hyphenate K-star), Krystal. She said that it was a Christmas and birthday present. Jessica admitted that she "gave [Krystal] a hard time" when she received this, saying that it's too small to put anything in. But it's only sisterly banter as she confessed that she loves this piece as "mini bags" are now on-trend.
Clozette's styling suggestion:
We want the dress to complement the nude shade of the bag so we're choosing one in a peach colour. Then, we're finishing it off with neutral-coloured sandals and a cute pair of earrings.
Chill & laidback x Vintage Satin Box Bag
Jessica shared that her vintage Chanel bags are like her "treasures" because they are "rare and unique". The Satin Box Bag is made of lightweight satin, making it her preferred bag when travelling. She also mentioned that despite the size, it can carry quite a lot because of its boxy design.
Clozette's styling suggestion:
Going by Jessica's description, we decided to go for a versatile travel outfit. The bandana hanging from the denim trousers add a certain throwback feel to the look. Meanwhile, the mismatched earrings give the ensemble a quirky but still classy feel.
Romantic elegance x Classic Medium Flap Bag
Jessica shared that her Chanel Classic Medium Flap Bag in Black is her "forever favourite, forever best friend" from the entire bag stash. She said she loves this design's versatility since wearing it as a crossbody makes it look casual, but a quick shift to using it as a purse or a one-sided shoulder bag gives it a formal appeal.
But while we felt her love for the style in black, we were delighted to see the pink version of the Classic Medium Flap Bag getting a special shoutout in her video. She said it is an old purchase but still looks brand new because she wears it only on Valentines' Day or on special occasions because of its vibrant colour. Cute, right?
Clozette's styling suggestion:
When we think of romantic outfits, we immediately imagine flowy and frilly pieces. But for this look, we want the softness and playfulness to come from the pink handbag which stands out from the rest of the 'fit's colour palette. The slight showing of skin, as well as the soft texture of the jacket also exudes a feminine appeal. This gives the look a more polished but still charming overall vibe.
Casual glam x Round As Earth Bag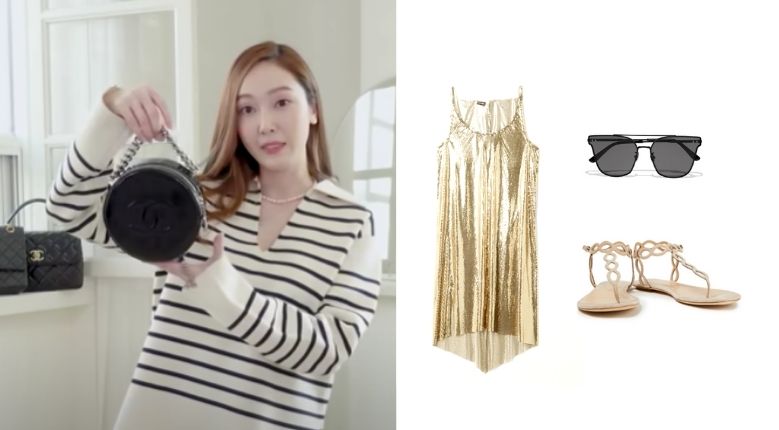 Another discovery we made from Jessica's vlog is that she loves distinctly shaped bags. This is why when she saw this one, she felt "love at first sight". She said that it's not the most practical given its shape and space, but it's so beautiful that she loves it anyway. Totally relatable! Don't we all have a fashion item that makes us feel the same way?
Clozette's styling suggestion:
We want something that matches with this round bag but still lets it stand out. That's why we went with a casual glam gold-and-black number. It's perfect for brunch or hanging out with your girlfriends or a day-date with your S.O. It's the right kind of over-the-top.
Jessica's vlog outfit x Gabrielle backpack
Can we end this without trying to cop Jessica's look on the vlog? But before that, real quick, let's talk about her Gabrielle backpack. Jessica said it took her a while to decide whether or not she'll get it. When she made up her mind, it was already sold out in Korea. Good thing that during her visit in Spain with her sister, she saw it displayed at the Chanel store. We totally loved the anecdote!
Clozette's styling suggestion:
Jessica posed a couple of times with this bag on the vlog, convincing us that the bag pairs well with the look she was wearing in the video. And while we couldn't find the exact pieces she's wearing, we still rounded up some picks that are a close match. The bejewelled slip-ons are our addition to the look but hey, you can't tell us Jessica isn't wearing something as stylish.
(Cover photo from: Jessica Jung YouTube)
Comments, questions or feedback? Email us at [email protected].