Lately, all we've been seeing on our feeds (and even on our current Netflix obsessions) are those airy, light dresses that remind us of afternoon naptimes. Who knew that the house dress, nap dress, or the nightgown — whatever you might call it — would become all the rage these days, no longer relegated to just being those pieces only our mums would wear at home? Still, it makes perfect sense. In this time when staying at home is the best and safest option for all, there's a newfound appreciation for the carefree comfort it offers. So what are you waiting for? Ace the house dress trend and browse the following fashion brands to find the one for you.
The Fleur Label
Ace contemporary dressing and score affordable finds from The Fleur Label, a blogshop in Singapore. It's a treasure trove for chic office wear and casual pieces in fun colours and patterns to fit your own personal style. Just past two weeks, they've launched a bunch of items that are comfortable enough for chilling all while being sophisticated enough for a date out.
We're eyeing: The Eleanor Eyelet Midi Dress. It's completely airy and is especially pure in white. Plus, its floral eyelet details make for a subtly charming look.
Ohvola
Founded by sisters Lucinda and Jolene Zhou, Ohvola is a haven for polished yet light clothing that's perfect for any occasion. Check out the Singaporean brand's wide array of modern designs that speaks elegance — you're bound to find essentials that fit right in your unique wardrobe.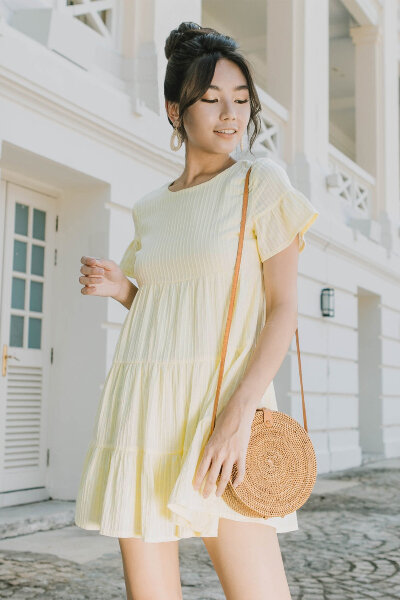 We're eyeing: The Ashton Round Neck Babydoll Dress. We'd love to wear this yellow dress to add a bit of brightness to our days, rain or shine, in or out. Its ruffle sleeves are totally cute — and the best part? It even has side pockets to boot!
We Enjoy Simplicity
This Malaysia-based online fashion boutique makes dressing uncomplicated for all of us. Since their establishment in 2007, We Enjoy Simplicity has been offering timeless staples, helping you build your own sustainable wardrobe. And for their releases this month, they've added new pieces that sprinkle a bit of joy to our day to day. Showcasing relaxed fits, their new capsule includes a few dresses perfect for settling in at home.
We're eyeing: The Sea Cotton Linen Bareback Cami Dress. Featuring a minimalist bareback strap, this dress is a perfectly stylish choice for beating the perpetual heat while getting on the house dress trend.
Lola and Daisies
To create your own whimsical look, browse through Lola and Daisies' stylish selection that is ethically handmade in the Philippines. If you have a penchant for all things pretty, you better bookmark their site as it'll be your new go-to for bold florals and lovely pastels. Find dresses, tops, and bottoms that you can wear whether you decide to go out to shop or stay in to binge a new show.
We're eyeing: The Charlotte Dress. The smocked bodice and puffy sleeves already give off a dreamy vibe, and when worn off-shoulder, it becomes just a tad bit sexy, completing your romantic ensemble. Since its made from premium cotton, we can already imagine how cosy it is to spend the day donning this dreamy white dress.
Style Staple
Style Staple specialises in fantastic dresses and gowns that are perfect for enjoying great escapades and celebrating special milestones in life. But now that all of that is on pause for the meantime, this fashion brand from the Philippines launched a new collection of dresses to make your stay at home a wonderful experience. With a variety of soft silhouettes and calming textures, their Siesta collection makes every day a fairy tale.
We're eyeing: The Nestle dress. Ace the house dress trend by opting for a country girl vibe with this gingham midi from Style Staple. Smocked and fitted with puffy bell sleeves, the piece hugs the silhouette for a delightfully dainty look.
(Cover photo from: @stylestaple)
Make your time at home even more special. Spruce up your space with home decor from these shops.
Comments, questions or feedback? Email us at [email protected].