Because of social distancing restrictions, intimate weddings are now in vogue. And somehow, with its prevalence comes the inclination towards keeping everything low-key, from the ceremony's location to the bride's wedding dress. Whether you're going for a city hall or courthouse union, a simple church wedding or backyard solemnisation, we picked out some of our favourite casual chic wedding dresses for you to choose from.

For the regal bride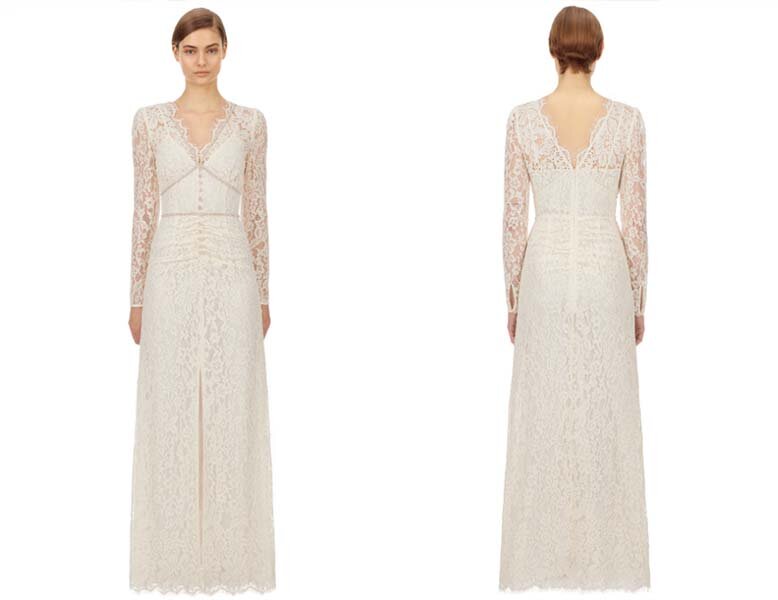 There's a reason why the iconic A-line wedding dress is beloved. It's the most versatile in terms of styling (plus, you can easily adjust any parts if you want it tailored) and it complements almost every body shape. But if you don't want that billowing look for your intimate wedding, you can also go for an understated version like this dress from Self-Portrait Studio. It still has the princess-y vibe but it's more subdued — fit for a modest ceremony with loved ones.
For the dramatic bride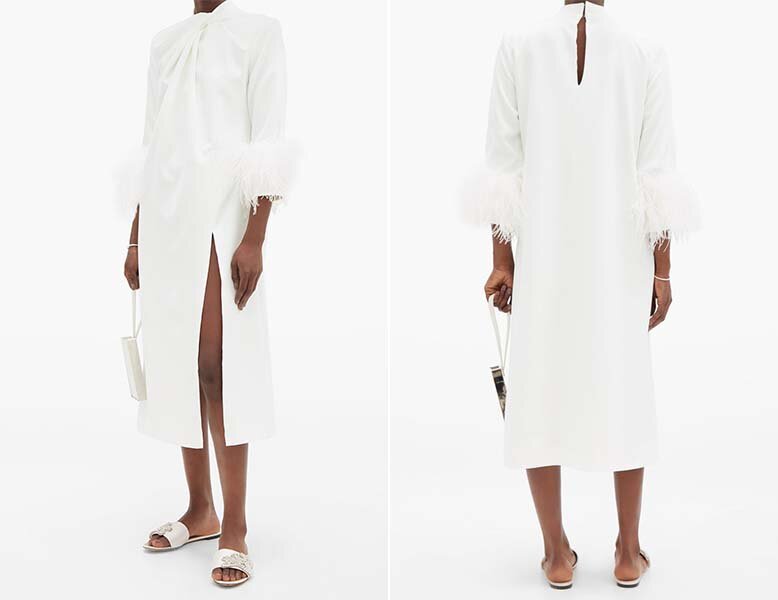 Having a simple ceremony doesn't mean that you can't bring your glam on. If you're wondering whether it's possible to incorporate elements from traditional voluminous wedding gowns in modern dresses but in a subtle way, this feather-trimmed crepe dress designed by 16Arlington proves that it can be done. It's captivating yet still understated enough to fit the theme of your intimate wedding. This beautiful piece truly has the right balance.
For the minimalist bride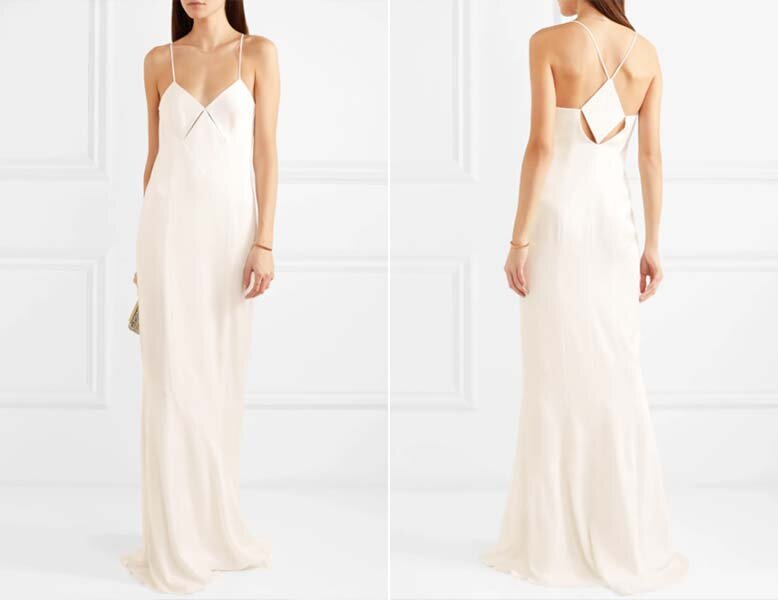 Love simple, sleek silhouettes with extra oomph? This piece from Galvan may just be the perfect pick for you. Its ethereal design matches well with no-fuss makeup and elegant accessories. Complete the classic minimalistic bridal look with a simple branch bouquet.
For the sophisticated bride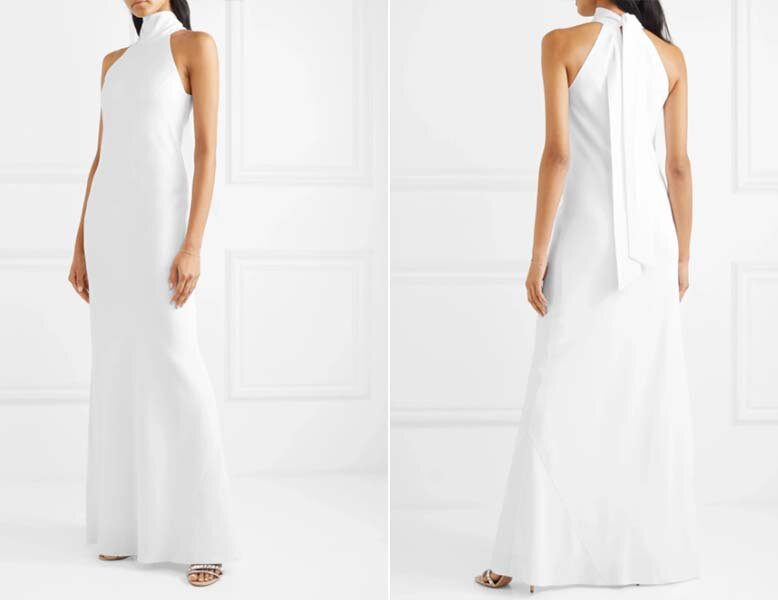 Looking for a wedding dress that you can wear again? It exists and this one is it! This halterneck gown is one of the casual wedding dresses that you can wear in almost any setting, whether it's at the beach or the city hall. Despite having a simple silhouette, it stands out as a sophisticated modern take on the typical wedding dress. If you want to, you can easily dress it up with a pair of show-stopping earrings.
For the tropics-loving bride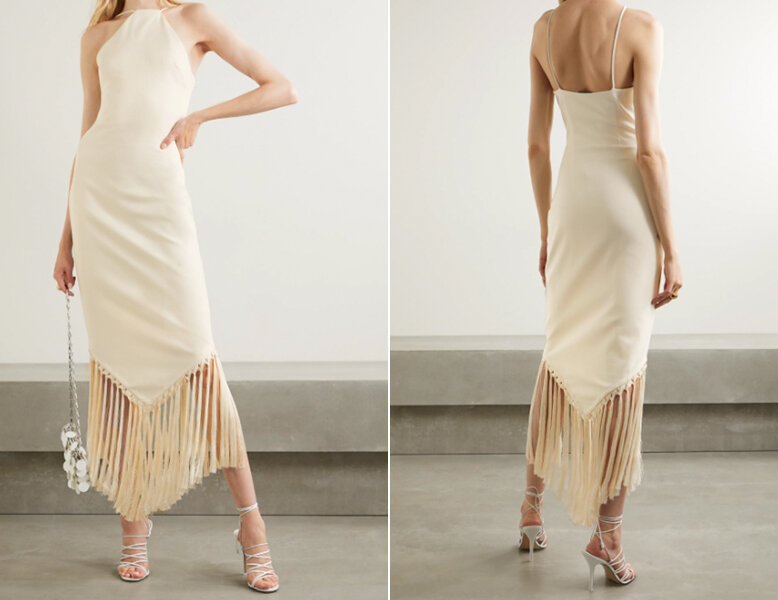 Brides-to-be who are not a fan of strictly white dresses may like this creamy off-white-beige shade as an alternative. It also has a unique hem detail that's perfect for easy-going settings like an intimate beach or garden wedding, although it's also a good pick for courthouse unions if you want to summon the by-the-beach-vibes even if you're in the urban jungle. Its fit-and-flare silhouette evokes the popular mermaid style wedding dress that showcases the body's natural curves.
Even if it sounds like having an intimate wedding will limit your dress choices, you actually have some great options that are just as glamorous as any other wedding gown. Which of these casual wedding dresses will you say "I do" to?
(Cover photo from: Charisse Kenion via Unsplash)
Next, read about the stories of couples who got married during the pandemic.
Comments, questions or feedback? Email us at [email protected].