She lives in her sneakers, baseball caps and hoodies and has an unbothered, laidback personality to boot. Yes, we're talking about the "Bruh Girl". Here's what you need to know about this TikTok-originated aesthetic and read on for a few tips on how you can steal the style.
Who is the "Bruh Girl"?
The "Bruh Girl" is considered "one of the guys" and isn't afraid to display her more conventionally masculine side. She's often described as the opposite of the "Hiii" girl, who is known to be feminine, sweet and sensitive. She feels most at home in a tracksuit and a pair of slides rather than a silky pyjama set. Her idea of a perfect day isn't a brunch date at the latest café in town. Instead, she prefers to kick back with her best friends over pizza and video games. Sounds like you?
Now that we've brought you up to speed on what a "Bruh Girl" means, take notes from these fashionistas who've nailed the aesthetic if you wish to curate your very own "Bruh Girl" outfits.
She sizes up (her ensembles)
Given her love for baseball and basketball, the "Bruh Girl" always sizes up her competition — and her sporty ensembles. Above, Los Angeles-based content creator and model
@lilyvachon
snapped a few shots of herself in a "Bruh Girl" outfit, consisting of an all-black sweatsuit and a moss-coloured vest. For her accessories, she went with a Los Angeles Dodgers cap, silver jewellery and a pair of Air Jordan 1 sneakers.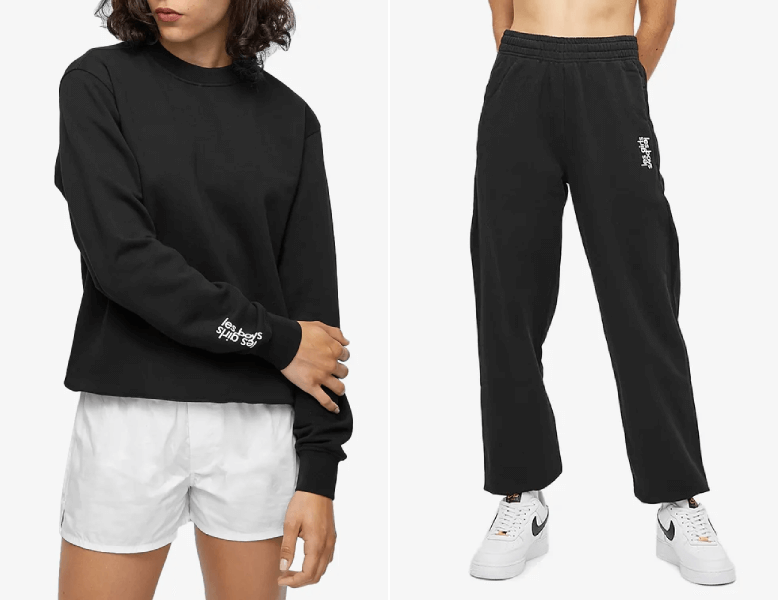 Lily's sweater and sweat pants from Supreme New York can be notoriously difficult to get your hands on because the highly coveted streetwear label produces limited quantities for each collection. Plus, its products often command sky-high prices in the resale market. As a more accessible yet still streetwear-approved alternative, go with les girls les boys' sweatshirt and joggers.
These 100% cotton separates boast an oversized slouchy fit just like Lily's and feature a subtle logo brand on the side as well. (Fun fact: Les girls le boys is considered relatively new to the streetwear scene as it was established in 2017. However, the sustainable, gender-fluid label was founded by Serene Rees, the fashion designer who co-founded luxury lingerie label Agent Provocateur in 1994.)
She lives in her graphic t-shirts
Crop tops
and knit blouses? More like baggy tees from the noughties. Comfort is key for the "Bruh Girl", hence she loves living in graphic t-shirts she's sourced from the local thrift store. Melbourne-based fashion blogger
@stefneyv
got this look down pat; she snapped a few mirror selfies in her "Bruh Girl" get-up composed of a t-shirt featuring basketball player Michael Jordan, a pair of blue cargo jeans, and a pair of Nike sneakers.
Follow Stefney's lead by opting for a roomy graphic tee. Your tee shouldn't look too "new" though, so look for one that has a faded wash or vintage elements if possible. Our pick goes to the In Memory Of When I Cared t-shirt from Urban Outfitters as the shirt's tagline perfectly reflects the confident yet unbothered attitude of the "Bruh Girl." For your bottoms, go with the Tommy Jeans Relaxed Cargo Jean, which comes with functional cargo pockets just like Stefney's. These are made with recycled cotton too.
She loves a good chain accessory
The "Hiii" girl's idea of dressing up typically involves a pair of high heels, a slip dress and dainty jewellery. As for the "Bruh Girl", dressing to the nines means showing up in her best chunky chain accessories. Above, fashion content creator
@from.1994_
completed her cream-coloured outfit with a gold-coloured chain necklace and a black purse with a chain shoulder strap.
Link yourself up with the Leonie Paper Clip Chain Coin Necklace from Elli Vail, which is made from gold-plated stainless steel. For your purse, go with this black crossbody handbag from ALDO, which is an affordable alternative to @from.1994_'s Prada Re-Edition 2005 nylon bag.
So, did you find yourself relating to the "Bruh Girl" fashion aesthetic and lifestyle? Even if you don't, we hope you still have fun experimenting with different TikTok style trends while you discover a look that's uniquely yours.
(Cover photos from: Mike Von via
Unsplash
)
Comments, questions or feedback? Email us at [email protected].