How we choose our smartphone often relates to our personal needs and current lifestyle. This is because aside from connectivity, it's now inarguably a reflection, if not an extension, of our personal identity. However, due to our ever-evolving 'needs' and 'wants', finding a device that can match a fast-paced tempo has surely become challenging. With the overwhelming number of brands available, various 'innovative' designs, and product specs to sift through, how do you know which smartphone is your perfect fit in 2022?
We list down 10 of the best smartphones you can get in Singapore right now to make your gadget upgrade easier.


Samsung S21 FE 5G
This latest addition to the Samsung Galaxy S21 flagship line not only looks chic and sleek with its four colourways (Olive, Lavender, White, and Graphite) but also carries powerful software (Android 12, One UI 4) and hardware (topnotch Qualcomm and Snapdragon chipset) in its slim design. It has new multi-tasking capabilities that are perfect for someone who's always social or on the go. See how it fared when we took it for a spin
here
. P.S. Don't miss out on the giveaway at the end of the review!
Huawei P50 Pro 4G
Huawei is one of the leading brands smartphone brands in terms of camera quality and the addition of the P50 Pro 46 in its lineup affirms that. The phone has a powerful rear quad-camera inclusive of 50MP True-Chroma Colour, 40MP True-Chroma Mono, 13MP Ultra-Wide Angle, and 64MP Telephoto lenses; the latter zoom up to 200x. The 6.6-inch OLED True-Chroma display also ensures the best colour accuracy to make sure your screen reflect the beauty of what you're trying to capture in real life. M1 offers various device plans
here
.
Vivo Y76 5G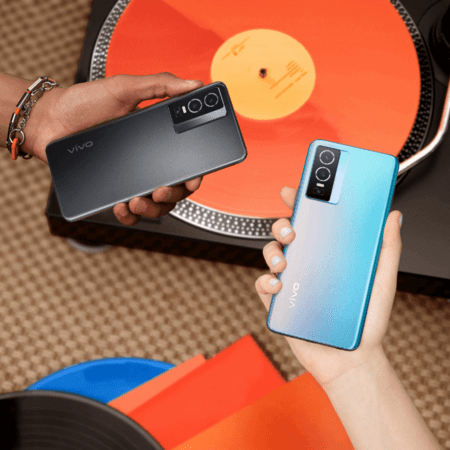 Need a phone that's as energetic as you? The Y76 5G has 44W FlashCharge capabilities that allow you to recharge your phone faster than usual to get you going wherever, whenever with less waiting time. It's also equipped with a 50MP main rear camera for stunning wide shots and a 2MP macro camera and 2MP bokeh camera for amazing close-up shots. The phone is available on Vivo's official store on
Lazada
,
Qoo10
, authorised retailers, major telcos (for plans), and Vivo's flagship store at Causeway Point.
Xiaomi 11 Lite 5G NE

This device is only 158 grams, is very slim at 6.81 mm, and is ergonomically designed for the most comfortable grip. Its 6.55-inch AMOLED screen and minimal external bezels maximise what you can see and do on your device. It can also record up to 4K quality with its combination of 64MP, 8MP, and 5MP rear cameras. It also supports fast-charging and has a solid 4250 mAh battery, which is not bad considering its mega-slim design. Get this here.
Sony Xperia PRO-I
Sony's reputation when it comes to both cameras and audio devices is unparalleled. That's why it comes as no surprise that its smartphones, like the Sony Xperia PRO-I, are also stellar.
Its 24mm lens, ZEISS Tessar Optics, and dual aperture camera perform just like many of Sony's handheld cameras. Its audio is powered by Dolby Atmos®, 360 Spatial Sound, and 360 Reality Audio which deliver outstanding quality both during playback and while recording. Other notable features include IPX5/IPX68 water resistance and IPX6 dust resistance. It has a steeper price than other devices but is definitely worth the investment. Get it
here
.
Oppo Reno 7 Pro 5G
Gorgeous multichromatic body, 4,500mAh battery, smooth interface when gaming or video streaming — Oppo Reno 7 Pro has it all. Its main highlight, however, is its AI Deblur Technology that reduces the face-blurring effect, which happens when there are sudden movements while taking images during Portrait Mode. Its 50MP main camera with an 8MP ultrawide lens and 2MP macro lens also delivers amazing photo quality. You won't regret getting this smartphone
here
.
Realme 6
Realme 6 is built for all your heavy-duty gaming and streaming with its MediaTek Helio G90T Processor that promises no lag and no overheating. Its 119-degree ultra wide-angle camera provides four times the usual view, giving the most amazing landscape photos with just one steady shot. Plus, that 30W FlashCharge capability? This device will definitely have you doing more with less waiting time. Get it now
here
.
OnePlus 9 Pro
OnePlus has had its hits and misses over the past few years. But the OnePlus 9 Pro is definitely a true champion. Its no-nonsense design, 6.7-inch LTPO OLED display (which is said to lessen phone power consumption by up to 50% compared to previous models), and incredible camera colour science that's unique to the brand's Swedish technology are some of its best assets. Its biggest advantage, however, is its 50W Fast Charging capability, which is one of the fastest on the market today. Get that phone upgrade now by clicking here.
ASUS ROG Phone 5S Pro

Do you consider yourself an avid gamer or a heavy-duty phone user? ASUS ROG has a 6,000mAh battery that will last through long hours of use and gameplay. It's one of the first devices to carry a Qualcomm® Snapdragon® 888+ 5G mobile platform processor, ensuring the smoothest and highest-performance interface and display quality (as of writing). Don't miss out on getting this device here.


iPhone 13 Pro
Capping off this list is Apple's iPhone 13 Pro. This device is much-coveted globally not just because it's trendy but because it has more-than-stable performance and has incredible photography and videography capabilities. It also has new and improved hardware that promises up to 19 hours of playback and longer battery life compared to previous iPhone versions. Plus, its Ceramic Shield material makes it tougher than the typical smartphone glass, increasing its durability as well as water and dust resistance. Get it
here
.
(Cover photo from: Vivo, @sonyxperia, @asussg)
This article was first published on 3 February 2023. Last update: 26 September 2023.
Comments, questions or feedback? Email us at [email protected].