Miss travelling to the Land of the Rising Sun, where delicious local fare, amazing culture and traditions and breathtaking sights are aplenty? We do too. Plus, if you've been feeling restless and anxious regarding the developing pandemic situation and its effects in delaying cross-border travel around the globe, know that we're right there with you too. All things considered, here's a lighthearted distraction that might just satiate your Japan travel yearnings: Treating your tastebuds to Japan Airlines' (JAL) in-flight meals, which are now served 'off-air' at the Japan Rail Café.
From air travel to 'land travel'
In this first-ever collaboration between the Japanese flag carrier and the travel-themed café, diners are given the opportunity to enjoy two of Japan Airlines' in-flight meals in the café: Salmon Miso Yaki (SGD25) and Chicken Takiawase Tamago (SGD23). Both menu varieties were chosen due to their popularity among passengers and each of them includes two appetisers, a main and a dessert. Only 600 meals are available for this special initiative, which will run till 31 January 2021.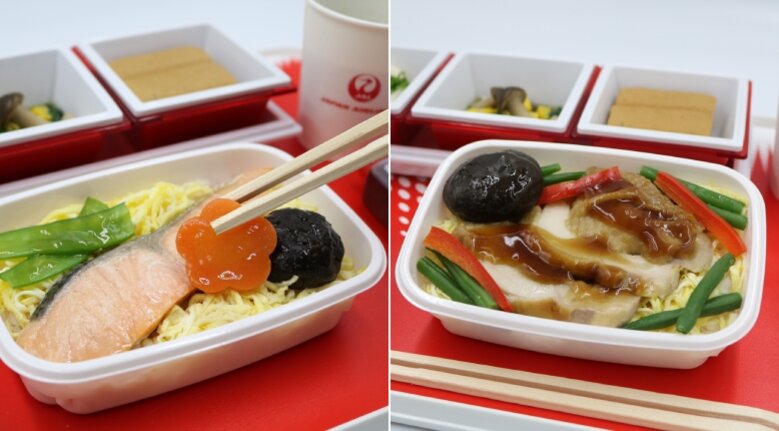 According to a representative from Japan Airlines, both meals have been frequently sold out since it first rolled out on 2 January 2021. (Folks, this means we're not alone when it comes to reliving happy moments from our past air travels!) To further sweeten the deal, diners who order Japan Airlines' in-flight meal will stand to enjoy up to 28 per cent off their airfare too, which will be valid for travel till 31 March 2022. Plus, they will receive a chance to enter a grand lucky draw, where two winners will each receive a complimentary pass from the East Japan Railway Company (JR East).
The Salmon Miso Yaki meal features a grilled miso-marinated salmon fillet, shiitake mushrooms, carrot, snow peas and shredded tamago (folded omelette) on Japanese rice, while the Chicken Takiawase Tamago meal stars chicken thigh meat with shiitake mushrooms, green beans, red peppers and shredded tamago on Japanese rice.
Both varieties feature the same appetisers and dessert, which are the Zaru Udon (chilled noodles served with wasabi and soy dipping sauce), Kobachi (a side dish of spinach, corn and shimeji mushrooms in a savoury broth) and JAL Signature Earl Grey Chiffon Cake respectively. For beverages, diners can choose between coffee (hot drip coffee or cold brew) or tea (detox blend tea or beauty blend tea), which are prepared by Japan Rail Café.

Fun with 'furoshiki' and origami
Beyond serving up meals at the Japan Rail Café, the airline has also specially arranged for its Singapore-based cabin crew to share handy tips on furoshiki gift wrapping and origami folding with diners as well. Catch them at the café on Saturdays or Sundays, anytime between 12PM and 6PM from 9 January. Consider this as a fun weekend dining spot which you can check out with your fellow Japan-loving friends.
Exclusive merchandise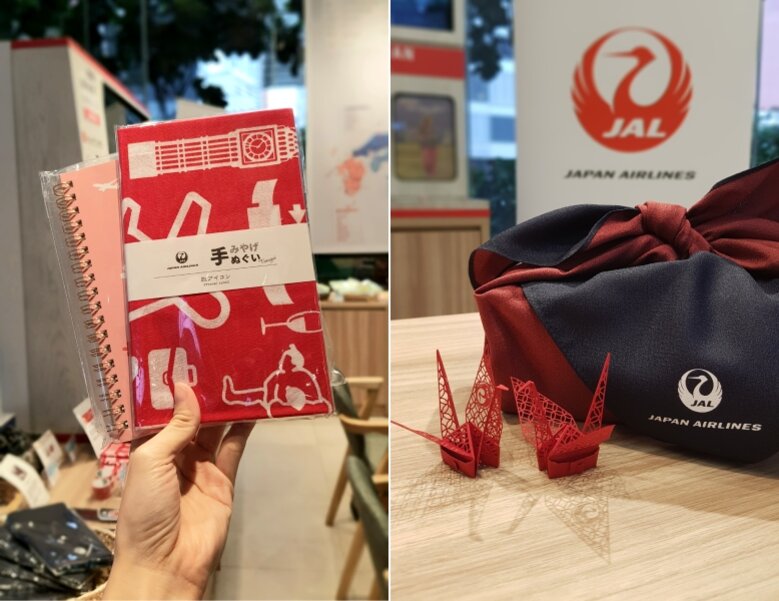 If filling your belly with Japan Airlines' feel-good meals aren't quite enough, you can also bring home a memento of your 'journey' by shopping their range of merchandise which are available exclusively at Japan Rail Café. Pick up their pretty-pink notebook if you need some motivation to kick start your 2021 planning or purchase the navy and red coloured furoshiki to surprise that special someone.
(Cover photos from: Japan Airlines)
Now that you're familiar with Furoshiki, learn more about the unique Japanese shopping tradition Fukubukuro.

Comments, questions or feedback? Email us at [email protected].