Fine lines and decreased firmness are some of the earliest signs of skin ageing people experience in their lives. But the Sulwhasoo Concentrated Ginseng Renewing Serum EX promises to improve these skin woes. Powered by Ginsenomics™, the luxurious anti-ageing serum claims to boost skin resilience, density, and elasticity after only a week.
#TBLBureau Head of Creators Collective April tried the serum to see if it can help make her skin more resilient against the effects of time. Read on for her full review.
*The product was sent as a press gift. The views and opinions of the reviewer are independent and purely editorial.
Sulwhasoo Concentrated Ginseng Renewing Serum EX packaging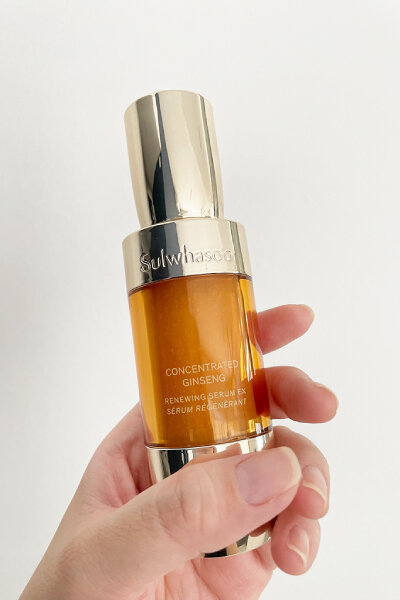 "It's literally a gold serum in a gold bottle in a gold box!" April was enthused upon seeing the serum's luxurious packaging. "I like that it's an airless pump bottle — not exactly what I'd call reinventing the wheel, but it's definitely hygienic, and a single pump delivers just the right amount of product for my face."
The serum comes in a shiny gold bottle, which can be a double-edged sword. On one hand, it looks amazing on your vanity. On the other hand, you may be slightly bothered by any fingerprints or smudges you'd leave after applying the serum. "It makes me want to wipe down the bottle after every use so that I don't have to see my fingerprints," April shared.
Sulwhasoo Concentrated Ginseng Renewing Serum EX first impressions
"While wrinkles have yet to surface on my face, I've definitely noticed that I've been waking up with fairly obvious sleep lines from my pillow as of late," April shared. "It's definitely something I didn't have an issue with until recently." Will the Sulwhasoo Concentrated Ginseng Renewing Serum EX seems to be the answer to this skin woe?
Applying the Sulwhasoo Concentrated Ginseng Renewing Serum EX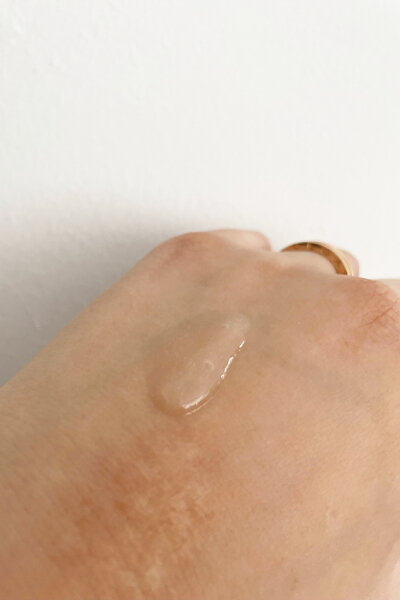 There's only one way to describe April's experience: luxurious. The serum features Sulwhasoo's Ginsenomics™ ingredients in a new capsule form that makes it easier for the skin to absorb. "The texture is definitely more similar to a gel moisturiser than a liquid serum," she said. "It's thick enough that it holds its shape after being pumped, which is surprising for a serum!"
"Because it's quite thick, it actually spreads across my face quite effortlessly," she added. "Surprisingly enough, it actually manages to still feel light and absorbs very easily." She also noticed a slight cooling and soothing sensation that was a pleasant and welcome surprise.
The serum also has a light and refreshing scent. "It reminds me of those ginseng candies my parents used to keep in little bowls around the house for guests. It's pleasant and fades after application so it isn't cloying."
After using the serum for a month, April says she's observed visible improvement in her skin. "I have noticed that I've been waking up with fewer pillow lines on my face, and when they actually do show up, they 'bounce back' a lot faster," she shared. "My skin has been recovering more quickly from my little cycle- and stress-related breakouts too."
Would you try this ginseng-powered serum?



Final verdict on the Sulwhasoo Concentrated Ginseng Renewing Serum EX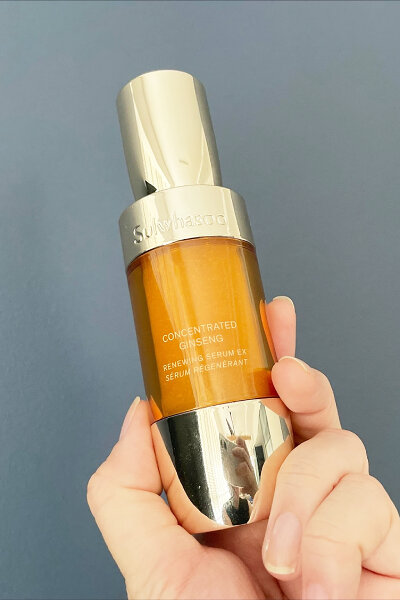 So is this skin-renewing serum a must-try? If you're looking for an effective anti-ageing product and are willing to invest in it, this one is worth considering. "It claims to improve skin elasticity, firmness and resilience, and based on my morning observations, it does work as promised."
Since the serum is priced at SGD275 per 50ML, April said she'd consider splurging on it long-term and she'd definitely recommend it to those who are willing to try it. "I'd definitely recommend this to anybody who's beginning to take an interest in pre-ageing skincare and anybody who's concerned about the effects of gravity on their skin."
The Sulwhasoo Concentrated Ginseng Renewing Serum EX is available at the brand's online store and Sephora.
Want an easy-access anti-ageing product? Level up your sunscreen game with this hydrating K-beauty sunscreen.
Comments, questions or feedback? Email us at [email protected].