Ever received comments about looking "tired" or "washed out"? Don't be discouraged! You may just have dull-looking skin, which is caused by premature skin ageing and oxidative damage. It's pretty easy to address too; you just need a hydrating and antioxidant serum.
In this episode of BeauTea Talk, hosts Roanna and Becks discuss the benefits of two potent skincare ingredients — vitamin C and hyaluronic acid (HA) — and how you can find both in the new ARTISTRY Skin Nutrition Vitamin C+HA3 Daily Serum. Plus, discover how you can redeem a free sample below.
Benefits of vitamin C and hyaluronic acid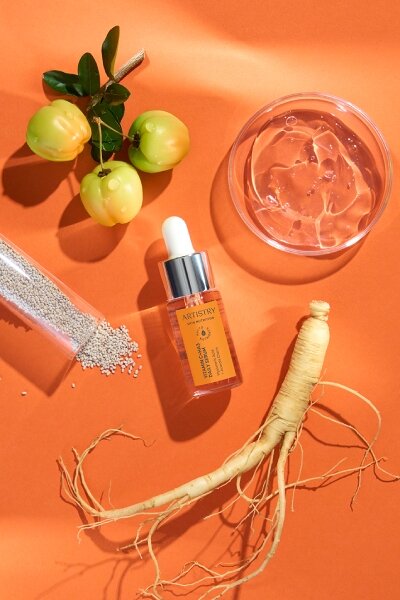 Vitamin C poses multiple benefits. Since it's an antioxidant, it can help even out and brighten skin tone, protect against free radicals, and reduce the appearance of fine lines and wrinkles.
Hyaluronic acid is a potent hydrating skincare ingredient. It can bind more than 1,000 times its weight in water, which increases skin hydration. And contrary to popular belief, hyaluronic acid is not just for dry-skinned folks! Everyone needs more hydration in their skin, even people with oily skin. Aside from hydrating the skin, it also delivers a powerful plumping effect.
ARTISTRY Skin Nutrition Vitamin C+HA3 Daily Serum review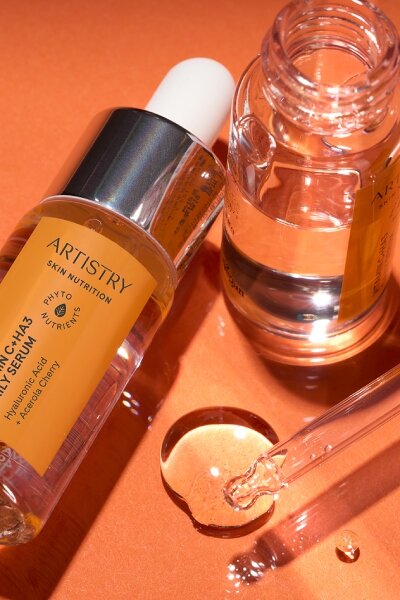 You can benefit from vitamin C and hyaluronic acid in the ARTISTRY Skin Nutrition Vitamin C+HA3 Daily Serum. It's formulated with 10% pure L-ascorbic acid vitamin C sourced from Nutrilite™-grown Acerola cherries. Fun fact: one acerola cherry has the same antioxidant power as one orange! The serum is also powered by a hyaluronic acid blend made of macro, medium, and micro HA to keep your skin hydrated and plump.
It's also infused with ginseng for added antioxidant benefits, a peptide blend to prevent lines and wrinkles, and Nutrilite™-grown white chia seeds that strengthen the skin's barrier.
It has a fresh-mix formula, meaning the vitamin C comes in powder form and keeps it stable for longer. You just have to "inject" the vitamin C into the liquid base, shake it up for 30 seconds, and you got yourself a daily serum.
Roanna and Becks tried the serum to see its effect on their post-acne hyperpigmentation. Becks, who prefers a more matte skin finish, prefers to use the serum at night to keep her skin hydrated as she sleeps. Meanwhile, Roanna uses the serum twice daily and doesn't mind the dewy finish since it's lightweight and fast-absorbing. She does recommend letting the serum absorb for two to three minutes before going in with other skincare products. Roanna uses it as a pre-serum and observed that her skin looks well-rested and hydrated, even if she didn't have a full eight hours of sleep the night before.
Where to buy the ARTISTRY Skin Nutrition Vitamin C+HA3 Daily Serum in Singapore
The serum available for SGD95 per 15ML at the brand's store and website.
Want to try it for FREE? We have you covered! Redeem complimentary ARTISTRY Skin Nutrition Vitamin C+HA3 Daily Serum samples with secret code "C you, HAppy skin" at Amway's shop (331 North Bridge Road, #01-01 Odeon Towers, 188720) from 8 to 16 October 2022. This promo is available for Singapore residents only.
Catch the previous episode of BeauTea Talk here.
Comments, questions or feedback? Email us at [email protected].