Here's a quick beauty forecast: eye makeup popularity will continue to rise in the coming months, if not years. You see, mask-wearing protocols have made eye colour products (that is, eyeshadows and eyeliners) the most bought items under the colour cosmetics category last year. Since we don't see ourselves retiring our face masks anytime soon, it's safe to say we'll continue to enhance our eyes with makeup for the foreseeable future.
Luckily for us, there are a lot of new eyeshadow palettes contending to be the Internet's new fave. Still, we can't help but go back to the Urban Decay NAKED palettes, the instigator of the eyeshadow craze, according to the Seattle Times. The neutral and "universal" selection of eyeshadow shades in the original NAKED palette made it iconic. Sadly, the brand discontinued it in 2018. Nicole Richie even gave a eulogy.
In comes the Urban Decay NAKED Wild West palette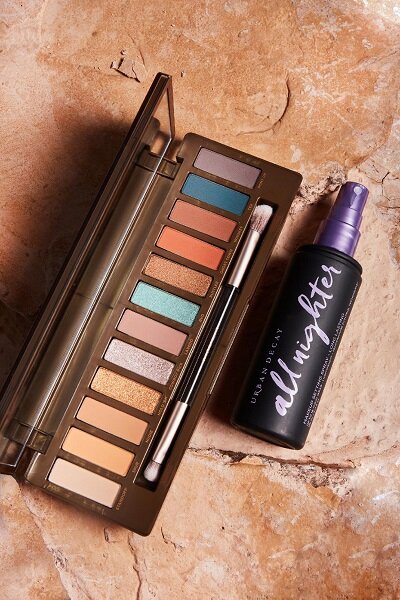 That's not to say there aren't any new Urban Decay palettes to love. Case in point: the new desert-inspired and completely vegan Urban Decay NAKED Wild West Palette that's arriving in Singapore and Malaysia in March (on the 18th and 25th, respectively). It's said to be inspired by Western USA's desert landscape, represented by sand dune-reminiscent bronze shades, succulent green hues, and midnight blue tints in matte, satin, metallic, and shimmery finishes. The snake-skin packaging hints at the palette's bolder (dare we say, wilder?) colour story that makes it different from previous NAKED palettes. Like other NAKED palettes, it comes with a dual-ended brush, which is now also cruelty-free.
Hearing about it made us feel a bit nostalgic and we can't help but reminisce about all the NAKED palettes we've loved before. So, we're sharing our fave Urban Decay palettes ahead of the Urban Decay NAKED Wild West's Southeast Asia launch.
Urban Decay NAKED 3
Do you feel intimidated by bold, colourful makeup looks? You're not alone. Just ask #TeamClozette Fashion Features Writer Sheryl Tng. "I'm not the most adventurous person when it comes to creating eye makeup looks, hence this palette is perfect for me as its versatile rose-hued shades are great for everyday wear." But if the fancy happens to occur, the Urban Decay NAKED 3 Palette has deeper bronze and burgundy shades for "whenever I'm feeling bold enough to attempt a smokey eye look for special occasions".
Also, it's a good buy if you're a sucker for packaging. "As always, Urban Decay's packaging is stunning! Apart from the rich pigments and thoughtful variety of matte and shimmer eyeshadow finishes, I'm very appreciative of the double-ended eyeshadow brush that comes with the palette too (something that not a lot of eyeshadow palettes include). It's very easy to use and of good quality."
Urban Decay NAKED Cherry
If you like berry hues like Senior Features Writer Amanda Arambulo, the Urban Decay NAKED Cherry Eyeshadow Palette is for you. "I just love the good mix of pinks and peaches as well as deep reds and mauves in this palette. I think it suits most skin tones and has a nice shade range for creating fun and sultry looks."
She adds that this palette is very versatile. "It has a nice colour selection that you can use whether you're going for a bold Western-inspired look or something soft and cheeky like an Asian drama heroine. I'd definitely recommend it to a friend who likes that level of versatility." In our opinion, that's what also makes this the perfect palette for nailing the Red Tea makeup trend.
For #TeamClozette Senior Features Writer Therese Lim, the Cherry palette is a foolproof option for those who want an easy-to-use palette. "I'm not good at eyeshadows and too lazy to overcome my non-artistic tendencies to do nice smokey eye looks so I don't think I'll have much use for a palette. But I still covet the NAKED Cherry. I love the subtle pinks and peaches and it looks like they're easy to blend."
Urban Decay NAKED Heat
NAKED Heat is our top pick from our Urban Decay NAKED palette recommendations list for those who love the warm tones of amber and brown. The shade range in this palette, which is a personal fave of Beauty Features Writer Alyana Olivar, works wonderfully for those with medium skin tones. "I can honestly apply just the shimmer shades all over the lid and have a finished look because the formula packs a lot of pigment. The matte shades, especially 'Sauced', also add a nice light wash of colour for regular days. Just a tiny bit of mascara and you're set."
All in all, the NAKED eyeshadow palettes offer a wide range of options for newbies and makeup mavens alike. It's all a matter of choosing which one suits your tastes best. Whether it's the natural elegance that the NAKED 3 and Cherry have or the rich boldness of the Urban Decay NAKED Wild West and Heat palettes, trust us when we say you're never at a loss for options.
Check out the new releases we know you'll love to have on your vanity.
Comments, questions or feedback? Email us at [email protected].