We hope your wallets are ready because Drunk Elephant dropped not one but two exciting launches. It's time to meet the limited-edition Drunk Elephant Look At That Acid Kit and the Silkaminos haircare collection!
Drunk Elephant Look At That Acid Kit: products, prices & more
It's no secret that our skin loves skincare products with acids, from pimple-busting spot treatments to exfoliating serums. Can't decide which one to add to your routine? Drunk Elephant Look At That Acid Kit has got you covered. Think of this limited-edition set as a skincare sampler that can help you decide which acid is best suited for your skin.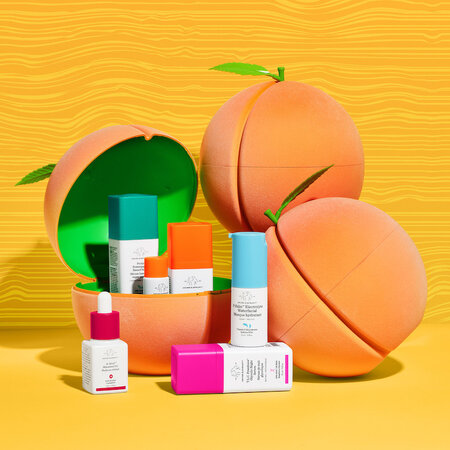 The kit contains mini versions (15ML each to be exact) of C-Firma™ Fresh Day Serum which has L-ascorbic acid for brightening; Protini™ Powerpeptide Resurf Serum which utilises lactic acid to bring bounce and radiance to your skin; A-Gloei™ Maretinol Oil which has vegan retinol that converts itself into retinoic acid that targets fine lines; T.L.C. Framboos™ Glycolic Night Serum which has a formidable combination of glycolic, tartaric, lactic, citric acids and salicylic acid that help minimise pore appearance; and last but not the least, there's the F-Balm™ Electrolyte Waterfacial that can bring deep hydration to the body thanks to hyaluronic acid.
The icing on the cake is its super cute peach packaging that you can upcycle as a jewellery box, hair tie container and so on.
Drunk Elephant Silkaminos haircare collection: benefits, ingredients
Drunk Elephant's new Silkaminos haircare range is formulated to strengthen and moisturise locks and leave "even the driest, most damaged hair" look healthier. Sounds good to us!
The collection features three new products: the Silkamino Mega-Moisturizing Shampoo, which is free from sulfates and silicones (meaning it's curly girl method friendly); the Silkamino Mega-Moisturizing Masker, which uses marula butter, sunflower fatty, and panthenol to hydrate damaged and chemically treated hair, and the Silkamino Conditioning Leave-in Milk, which features hair-bonding proteins and serves both as a styling milk and heat protectant.
Where to buy Drunk Elephant Look At That Acid & Silkaminos in Singapore
Drunk Elephant's limited-edition Look At That Acid kit is now available at Sephora stores at ION, Ngee Ann City, West Gate, Tampines 1 and NEX Mall for SGD160.
Meanwhile, the Drunk Elephant Silkaminos haircare collection is scheduled to be launched on 6 June on the brand's website. However, Drunk Elephant doesn't offer international shipping but let's keep our fingers crossed that it will also launch in Singapore soon.
This article will be updated with Drunk Elephant Silkaminos haircare collection's local price and availability in Singapore.
Comments, questions or feedback? Email us at [email protected].