We love empowering stories, and if you do too, here's something that'll make your day. Bianca Bustamante — the first female driver to represent McLaren in the racing scene — has landed a major partnership with beloved beauty brand Anastasia Beverly Hills.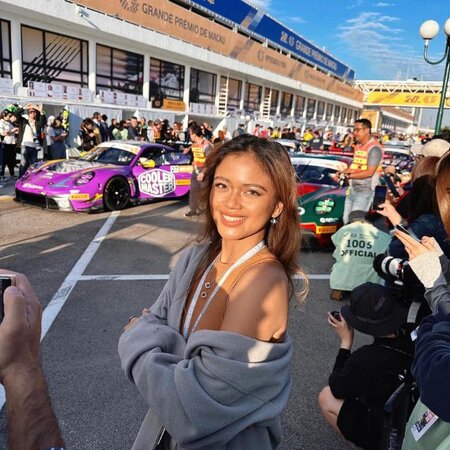 Bianca Bustamante: nationality, age, and more
Professional racing driver Bianca Bustamante was born and raised in the Philippines. At 18 years old, she's shaking up the racing scene with her skills. She made her Macau Grand Prix debut last weekend and fearlessly competed, but she was not able to finish in the last race for reasons outside of her control.
We know that this is only the start of her rise to the top since she has been consistently bagging a host of achievements in the past. These include winning the China Grand Prix Kart Scholarship four times and the famed Macao International Kart Grand Prix three times. She also qualified fourth out of 91 participants at the 2015 SKUSA SuperNationals, one of the biggest kart races in the USA. She was also the only contestant from Asia who ended up with the 2021 FIA Girls on Track - Rising Stars scholarship.
Bianca Bustamante on racing and makeup
Bianca dreams of showing the world that Asian drivers can compete on the global stage and that women can rise to the top in a male-dominated sport.
While her love for racing runs deep, Bianca has always used makeup as a creative outlet and as a way to enhance her features. Partnering with Anastasia Beverly Hills (ABH) allows her to unite these two and a new way of showcasing her femininity.
In an interview, she shared that makeup has been a part of her pre-race routine, and this fuels her confidence when she's out on the track. Some of her favourite ABH products include the brand's Brow Freeze, foundation, and bronze contour.
We're rooting for this girl, and we can't wait to see more of what this impressive girl has in store.
We also hope that Bianca's achievements in this field will open up the possibilities for more sponsors from the beauty industry. Recent data shows that there's a growing number of female viewers in the Formula 1 and NASCAR races, so it's definitely a great way to showcase the strengths of a beauty brand in a physically challenging environment.

(Cover photo from: @racerbia)

Comments, questions or feedback? Email us at [email protected].