In a 12-minute set of hip shaking, pole dancing, and on-point belting of their iconic hits, Jennifer Lopez and Shakira slayed and sparkled at the Super Bowl stage. It was a display of fierceness and Latina power, and also a spectacle of show-stopping metallics.
Decked in silver and gold, J. Lo and Shakira wore designer costumes that took military precision to wear — one of the outfits of J. Lo was hand-crafted over the course of 900 hours, but her longest costume change lasted eight seconds. Ahead, we look at how the stars, and their respective designers, went to great lengths to rock the metallics trend.
Jennifer Lopez's Sparkling Silver Versace
Jennifer Lopez has a long-running relationship with Atelier Versace. Case-in-point: her iconic Green Versace Dress of Jennifer Lopez has become a category on its own, even meriting a Wikipedia entry by itself. It came as no surprise that for her career-defining Super Bowl number, J. Lo would also run to the House of Versace. After all, the costume had to be done by only the best, given that the occasion would be a rare opportunity for her and Shakira to show their prowess to the world, at a time when Latinos face tremendous tensions in America.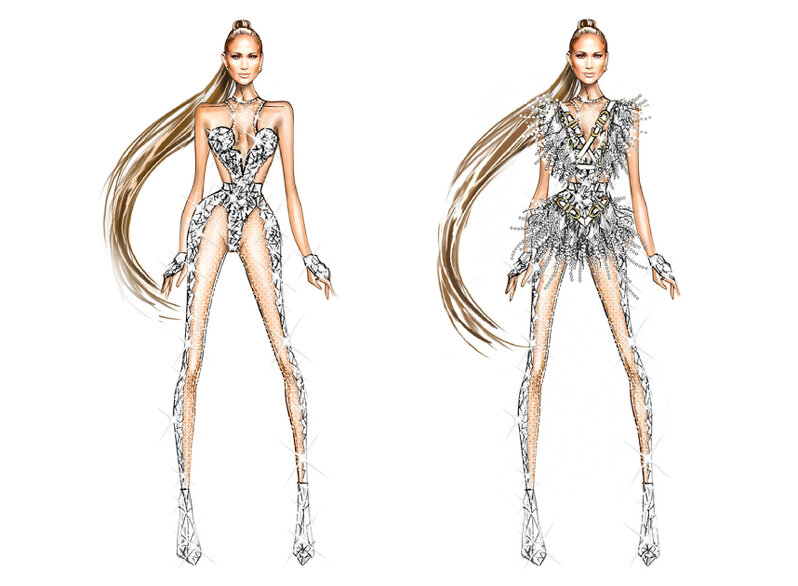 Sketches of Jennifer Lopez's Super Bowl halftime show costumes (Photo from: Versace)
Among the different costumes she wore, J. Lo's silver-toned bodysuit best exemplifies Atelier Versace's "dedication to hand-craftsmanship." According to Versace, the painstaking process of creating this piece started by manually twisting signature metal mesh, followed by attaching clear, white and silver Swarovski crystals into a fringe. The metallic fringe was then hand-sewn onto a tulle base with crystal mesh and leather bondage-inspired belts. This detail-heavy piece was worn with a custom coat depicting Puerto Rico's flag on one side, and the United States of America's stars and stripes on the other. While the use of feathers drew flack from PETA, Versace insists that "all feathers used for the flag were sourced ethically."
Shining, Shimmering Shakira



Meanwhile, Shakira, who hails from Colombia, also rocked Swarovski crystals — nearly two million of them, in fact. In a press release, her stylist Nicolas Bru — whose clientele includes Mariah Carey, Sofia Carson and Fergie — said: "Shakira embodies the word 'superstar,' so Swarovski crystals were an obvious choice."
Towards the end of the show, Shakira changed into a metallic-and-crystal gold outfit. The sparkling number featured a cropped bomber jacket with a Peter Dundas-designed Shakira monogram and a Dundas panther motif. It was paired with a customised Adidas Originals Superstar specially designed for the event.
The stylist further explains: "Set two is gold for celebration and for the champion that is Shakira." Truly, the metallics trend sported by both Jennifer Lopez and Shakira make them champions in their own right. What better way to call the attention of over 100 million viewers? Decked in metallics, Jennifer Lopez and Shakira did not just perform at the Super Bowl — they won it.
Can't get enough of the female power? Check out how female musicians are empowering women.
Comments, questions or feedback? Email us at [email protected].