Leave it to princess and style icon Jennie to send the Korean fashion industry and Blinks into a frenzy with her latest collaboration with cult eyewear brand Gentle Monster. The singer and rapper of K-pop girl group Blackpink has been teasing about the highly anticipated collection on her social media for a while now, and we finally have ALL the details — from the launch date and the inspiration behind the range to our top picks and the marvellous, monochromatic outfits we can't wait to pair them with. Read on to find out.
Titled Jentle Home, the edgy collection drops on 21 April on Gentle Monster's official website. It includes four stylish frames alongside three special accessories which are accentuated by the Jentle logo. The frames are priced between SGD354/~USD248 and SGD368/~USD258 for a pair, while the accessories are priced between SGD184/~USD129 and SGD198/~USD139, meaning that they are perfect for you if you are looking to reward yourself with a little fashion-forward luxury item.

The campaign images of Jentle Home depict surreal iterations of Jennie's childhood hopes and dreams, where Jennie is spotted wearing pieces from the collection as she lounges around what seems to look like a mid-century modern home. Not forgetting how she's able to carry off the trickiest of outfits with tons of swagger, Jennie also sports a variety of looks, from a tie-dye tank dress to a cream-coloured, ribbed sweater with a matching skirt. We love.
Now, if you are undecided on which pieces to add to cart, let #TeamClozette inspire you as we share our top picks from the collection, and how we are styling them in true, black-and-white fashion.

The spy agent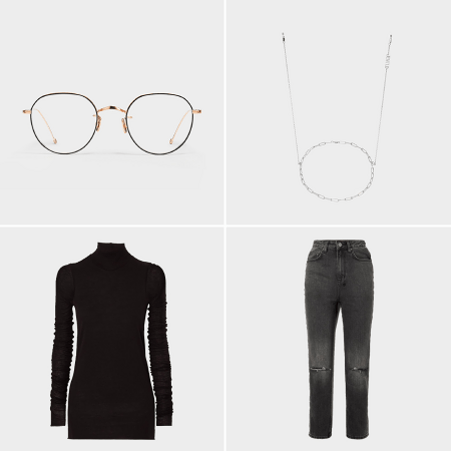 If looks could kill (this love), this will be it. Senior Features Writer Amanda can never resist a high-impact ensemble, hence she has her eyes on the In The Mood optical frames. This design features a triple grooved metal lining on the frame and is accompanied by temples that are accented with signature circular tips. For an added touch of bling (or should we say, blink?), she has chosen the Moonlight chain.
She shares: "Pairing [the frames] with a silver chain might seem like an unorthodox choice, but I've always been a rule-breaker in fashion so a subtle but edgy colour-contrast is how I'd rock this pair." Amanda's drop-dead gorgeous outfit consists of a no-nonsense turtleneck top and a pair of cool, distressed jeans.
The feminine Fatale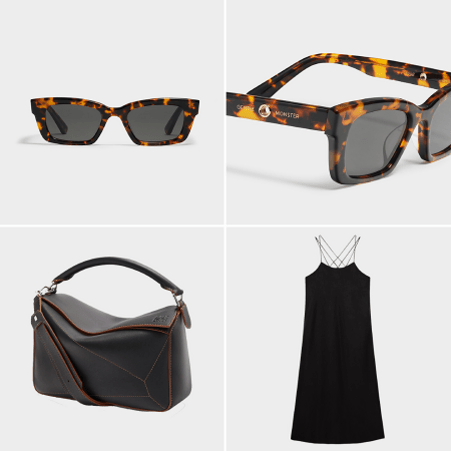 Think modern Audrey Hepburn but with a twist. Senior Features Writer Therese loves living in her tee and jeans outfits, however, she's also been looking for an opportunity to introduce print-tastic elements to her wardrobe. Enter the 1996 sunnies in tortoiseshell print, a pair of modern cat-eye frames that feature a retro twist. These frames keep your peepers protected too, as they are also built with 100 per cent UV protection black lenses.
She shares: "I've always wanted to incorporate bold prints into my ensembles but can't really hop on the trend as I find it challenging to style them without looking like tacky. However, when I spotted the '1996' in this lovely tortoiseshell print, I immediately knew that this was the solution to my fashion woe. It's trendy yet classic and stylish to boot. Plus, it helps inject some subtle fun into my everyday outfits." Therese's silver-screen worthy ensemble requires just one elegant essential: the LBD.
The retro queen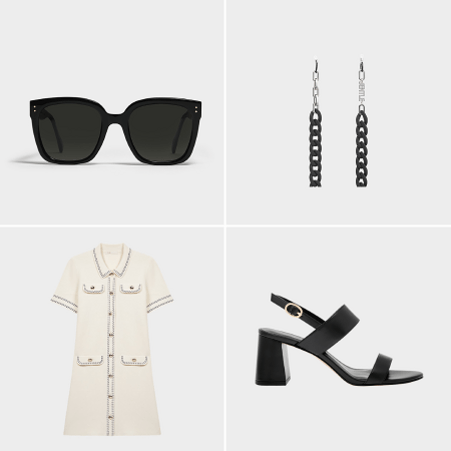 Here's an impactful look that says 'See U Later' to all the haters and naysayers. Features Writer and self-confessed Blink Alyana tends to gravitate towards oversized, angular sunnies as they make a bold statement, hence, she has cast her vote towards the Kuku in black, alongside the Onyx chain for next-level drama.
She shares: "The Kuku in black is a versatile choice since I could pair it with a floral dress for casual days or with an all-black ensemble to make a bolder impact. This stylish combination makes me feel as if I were playing a sophisticated character from a K-drama!" Letting her frames do all the talking, Alyana's look is inspired by this elegant, all-white ensemble worn by none other than Jennie. She completes her get-up with black, strappy heels.
The subtle style maven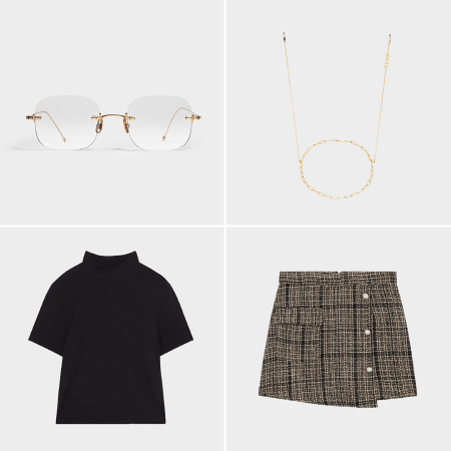 This is truly an everyday piece that brings the right amount of flair to an otherwise ordinary outfit. Features Writer Em loves a good, preppy chic moment, so she's lusting after the Daisy optical frames in a trendy rose-gold hue. There's the gold Sunlight chain too, which she believes will help to bring a little glam to her daily ensembles.
She shares: "Currently, all of the prescription specs that I have on rotation come in variations of vintage-looking circular metal frames. So, for a change, I'm thinking of getting these rectangular-framed ones to see if they'll complement my round face shape better." Em completes her subtle yet stylish look with a versatile black sweater and a classic tweed skort.
Which Jentle Home piece has made it to your wishlist?
(Cover photo from: gentlemonster.com)
Now, learn how you can ace Korean fashion with these wardrobe staples.
Comments, questions or feedback? Email us at [email protected].