Before we inch a little closer to November, let's cruise through the end of October with a few exciting updates from our favourite celebrities, fashion and beauty brands. From Beyonce's second Ivy Park collection with adidas to supermodel Gisele Bündchen playing host to Dior's first-ever digital skincare talk, here's our roundup on the latest news to know now.
Queen Bey set to launch second Adidas x Ivy Park collection
Beyoncé and leading sportswear brand adidas are scheduled to launch their second collection, titled 'Drip 2' on 30 October. According to a report by WWD, the collection will include several apparel pieces with more inclusive sizing and it will feature a gender-neutral aesthetic. In addition, the line will offer accessories and an expanded assortment of footwear as well. The singer's first Ivy Park collection with adidas was launched in January this year.
Shiseido Professional introduces 'Face Line Color'
Mask on or mask off, you should never neglect your crowning glory. Enter the emerging 'Face Line Colour' hair trend, which aims to draw out your best facial features so that you can still look fresh, bold and beautiful even with your mask on.
On this note, Shiseido Professional has just revealed its new 'Face Line Color' makeover service, which encourages style-conscious individuals to consider giving their tresses a much-needed refresh to look their best in this new 'normal'. From 'Flash Blonde', which features white ash highlights framing the face to the subtle, orange-brown ombre effect of 'Secret Orange', the haircare brand has a variety of 'Face Line Color' hairstyles to suit every unique individual. What are your thoughts on this hair trend?
BLACKPINK's Rosé rocks world-first Saint Laurent SS21 looks
Hot off the launch of their latest album, K-pop girl group BLACKPINK has been flooding our news feed the entire week with updates on their latest appearances and performances and we couldn't be happier. Following their special appearance on popular Korean variety programme Running Man and the announcement of Lisa's wonderful new role as M.A.C Cosmetics' Global Ambassador, the group's main vocalist and lead dancer Rosé has now stolen the style spotlight for being the first person in the world to wear two pieces from Saint Laurent's Spring 2021 collection.
According to a report by Vogue UK, details of Saint Laurent's upcoming collection are still very much hush-hush for now, which further proves that Rosé possesses undeniable star power to be given these exclusive rights to rock the latest pieces before anyone else. Go, Rosé!

H&M launches collab collection with The Vampire's Wife
Consider your Halloween wardrobe sorted. Swedish clothing giant H&M has teamed up with British brand The Vampire's Wife to launch a collection of statement pieces that are not only perfect for 'trick-or-treating' but also made from sustainably sourced materials.
Speaking about her favourite piece from the collection, The Vampire's Wife's founder and creative director Susie Cave shared, "I absolutely love the jewellery. It's so playful and joyous and is such a lovely contrast to the dark and beautiful vibe of the dresses." The collection is now available in selected stores and online.
Gisele Bündchen hosts Dior's first-ever digital skincare talk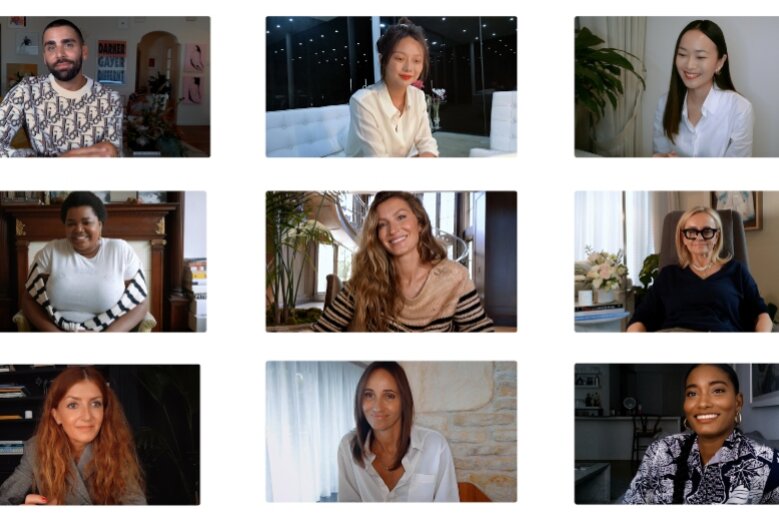 Brazilian supermodel Gisele Bündchen, who's the face of Dior's Capture Totale skincare line, recently caught up (virtually) with seven leading skincare and health experts, along with friends of Dior from all around the world, for a special digital beauty and skincare talk. In this lighthearted yet informative session, the speakers touched on a variety of topics, such as maintaining a healthy lifestyle, their favourite self-massage techniques and more.
Amongst the experts invited for this exclusive session includes Dr Teo Wan Lin from Singapore, who spoke about how Dior's new Capture Totale Super Potent Serum is suitable for women of all skin colours, as well as celebrity facialist Joanna Czech, who demonstrated the ideal application and massage techniques for users to obtain the optimum benefits from the new serum. Highlights from the talk will be launched officially on Dior platforms starting today.
SocietyA holds its 'Great Beauty Sale'
The go-to platform for Asian-designer labels is currently holding its inaugural 'Great Beauty Sale', which takes place from now till 5 November. Stand to enjoy a 20 per cent discount on beauty brands including CELLOOM and BEIGIC from South Korea, Mellow Naturals from Thailand, and Singaporean brands such as Sigi Skin and RE:ERTH. In an effort to establish itself as the definitive platform featuring Asian brands, SocietyA introduced SocietyA Beauty in May this year and is set to offer up to 20 brands by end-2020. Shop the sale here.
Shawn Mendes's 'In Wonder' documentary arrives on 23 November
Here's a new music documentary that's worth adding to your list if you've already checked out our round-up of Asian music documentaries to catch on Netflix. In this unguarded documentary, the 22-year-old Canadian singer and songwriter shows viewers a more intimate side of him, where he opens up about his stardom, relationships and his musical future. The film officially drops on 23 November.
(Cover photo from: @weareivypark)

Click here to check out last week's news highlights.

Comments, questions or feedback? Email us at [email protected].